Dog Days - User Reviews
Thank you for rating this movie!
Read your review below. Ratings will be added after 24 hours.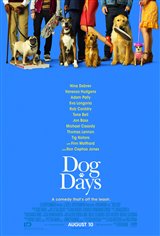 ---
Please rate movie 1 to 5 stars
Showing 1 to 28 of 28
December 22, 2018
Family-friendly fun flick sure to produce that speck of dust in your eye. No, I wasn't crying.
November 24, 2018
I just loved this Movie and I am a cat owner. Dog owners must watch.
August 22, 2018
I loved this movie. Any dog lover would love the.movie. the dogs just acted like dogs. Story was just funny, happy, and sad enough. I would definitely recommend it.
August 18, 2018
I was pleasantly surprised at how much I enjoyed this movie! I took my 8 year old daughter thinking it was another kids movie about dogs but at 41 I found the story line appealing and entertaining. It's cute, funny and will easily appeal to dog lovers both young and not so young!
August 14, 2018
I was pleasantly surprised by this very good movie. Interesting, cute, sensitive, sometimes corny but really good. How one little dog brings a neighborhood together. No violence, no bad language, kids will love this.
August 11, 2018
This was a great summer movie! The actors were great each portraying their own story with humour and empathy. loved the animals as well!
August 10, 2018
Love movies in L.A. , Cars, Palm Trees and Dogs
August 09, 2018
It had a little bit of everything in it, especially for dog lovers. Cute story, predictable but entertaining!
August 09, 2018
We enjoyed this movie. It was sweet with a nice story. Reminded us of Love Actually.
August 09, 2018
This was an enjoyable movie. Three small stories accumulating as one all linked with adorable dogs.
August 09, 2018
A delightful movie. An audience of all ages was able to enjoy the show. An evening of laughs, awws and even a few tears were shed. We left feeling good and with the urge to get a dog.
August 09, 2018
A nice family-friendly summer flick that's well-cast, humorous, fun, sweet, and contains many "positive" messages. There's a little bit of everything in this movie, so I think it will appeal to families, dog-lovers, fans of romantic comedies, and people who are just looking for some light entertainment. Although this movie doesn't break any new ground, it's quite entertaining. Check it out!
August 09, 2018
funny and heartwarming. a good family film!
August 09, 2018
It was a funny, cute movie about dogs being friends with their owners. Also, it showed what mischief, joy, unexpected events dogs can bring into people's lives. Also there was a dog shelter closing down, so there were a great fundraising activities planned to raise money to relocate to another place, it was a very funny, entertaining movie which I would recommend. Thank you for the opportunity!
August 09, 2018
Fun time watching it
August 09, 2018
A feel good movie. Totally enjoyable. Funny, touching and now I want a dog.
August 09, 2018
I enjoyed this romantic comedy.
August 09, 2018
Very enjoyable movie. My daughter and I laughed and cried. The dogs were awesome. Great for the whole family.
August 09, 2018
My daughter and I had a fun time with the movie. It was a fun family film that had cute dogs that my daughter loves.
August 09, 2018
A refreshingly light and funny movie. If you are a dog lover it is a must see and if you are not you will be by the end of the movie.
August 09, 2018
Dog Days is a fun-loving family movie that's filled with lots of laughs and DOGS. It's a feel good movie that will brighten everyone's day.
August 09, 2018
A great warm family movie.
August 09, 2018
funny, touching, feel good movie. well worth a watch.
August 09, 2018
A feel good, warm movie that the whole family can watch. It has some laugh out loud chuckles as you follow the lives of the dogs and their owners. This movie has a bit of love, a bit of loss with a serious amount of dog owner reality. Very enjoyable!
August 09, 2018
This was a fun & funny movie. Heartwarming with some really good actors. I would recommend it for a good comedy, especially if you're a dog lover.
August 09, 2018
Dog Days was such a cute, so funny and a reminder of adopting a pet. Each storyline was a fact of real life. Loved it! Will definitely go see it again
August 08, 2018
There were good themes and a couple of great stories in the movie, but ..... the typical California weird crap and interracial stuff? Blah.... Many of you will disagree with my rating. Don't care. Bye bye now.
August 07, 2018
Great FEEL GOOD movie! Just rolls along so quickly and laughter just follows!!