Don't Say A Word - User Reviews
Thank you for rating this movie!
Read your review below. Ratings will be added after 24 hours.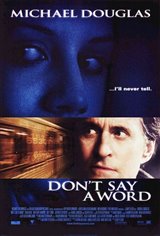 3.57 / 5
User Rating
Based on 1366 votes and 36 reviews
---
Please rate movie 1 to 5 stars
Showing 1 to 36 of 36
January 22, 2003
Brittany Murphy showed real depth in her character of Elisabeth Burrells in Don`t Say A word.Her character has inspired me to use her character I`m portraying for my Drama practical in March for my A-Levels.
May 14, 2002
Sean Bean absolutely blew me away. Not only did he play his character beautifully (yes, even for a villain) he stole the scenes from the overrated Brittany Murphy and weak Michael Douglas. The overall film was good, but not thrilling enough...but Sean Bean rox!!
April 30, 2002
Very good movie, but the end was a little too "Happy/Cheesey".
April 11, 2002
God this movie was good.Michael Douglas palys the caring father,Sean Bean palys a great villain(kills old lady),Brittany Daniels is a warm hearted pyscho,Famke Janssen palys a sexy cripple,Oliver Platt palys a big dumb doofus.It`s win,win!
March 11, 2002
I thought it was a great movie! i`m really glad i saw it!
March 10, 2002
This was an amazing movie, it makes you think, maybe slightly predictable, however one of the best movies of the year. Not a movie I would watch over and over again, but yes it`s amazing. Watch it rather than watching Pearl Harbour. (*sigh* Pearl Harbour what a waste of time)
February 24, 2002
Thought it was a great film loved it when she says "I`ll Never Tell"
February 23, 2002
Brittany Murphy was great. Story followed the basic story of the novel but was not a detailed. Read the book, it blows the movie away.
February 22, 2002
THE BEST!!!!!!!!!!!!!!!!!!!!
February 19, 2002
The movie was a little too predictable and "cheesy". It had a lot of holes in the storyline. However, Britanny Murphy gave a great performance.
February 11, 2002
it`s the best movie of the year
February 04, 2002
I thought it was a good movie, yet it was kinda predictable. But it was really worth seeing!!
January 24, 2002
this movie was really good, brittany murphy did a super job
January 15, 2002
This movie has only recently been released here in Europe. In France it received almost no promotion - when viewed on January 14th in MONACO my party had the greatest and most pleasant surprise. I was tempted to write to Mr. Douglas at Furthur Films,. praising the film and his performance, but warning him that his distributor here in France (Europe?) needed to make a greater effort. David Morgan Lloyd
January 13, 2002
It was alright, although it was slightly depressing. Not only because of the storyline but also the setting. Worth seeing but wait till its out for rental.
January 08, 2002
Awesum movie!
January 06, 2002
when is this show returning to screen in regina, sask
December 29, 2001
this movie kept me on the edge of my seat. very good
December 28, 2001
That girl is the most incredible actress.
November 22, 2001
HIGHLY OVERRATED NOTHING SPECIAL
November 11, 2001
This movie was really good, not to mention the acting. Brittany murphy kicks butt!
November 06, 2001
Physco chick is HOT!!
November 05, 2001
you want what they want...i ll never tell sweet *** movie!!
October 21, 2001
it was a fantastic movie! especially the part where the girl says "i ll never tell" in this freaky voice....lol~!!
October 20, 2001
I though it was awesome. I am going to see it again!
October 20, 2001
It was a pretty good movie, I ve seen better, but it was decent.
October 20, 2001
I enjoyed this film, it was well acted and had a script that didn t insult anyone s intelligence. It was worth the money.
October 19, 2001
It was an excellent movie! We were glad to see this movie! The suspense was created very well through out the movie!
October 18, 2001
Don t say a word!!!
October 13, 2001
It was a good movie and i am looking foward to seeing agian!!
October 12, 2001
i really liked it.
October 10, 2001
I think Nathan was really bright and smart and every single plot of this movie is brillent!!
October 09, 2001
A good movie, but just that a movie. Predictable, yet entertaining. If you go to movies to be entertained, this is the movie to see. The acting is good, and it even makes you jump in a few spots.
October 03, 2001
I thought the movie was very suspenseful, it always kept you on your toes. Michael Douglas was the perfect choice to play this role. A definite must see.
October 03, 2001
I ll never tell....