Don't Worry Darling - User Reviews
Thank you for rating this movie!
Read your review below. Ratings will be added after 24 hours.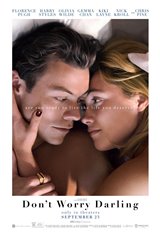 ---
Please rate movie 1 to 5 stars
Showing 1 to 19 of 19
October 04, 2022
The director is clearly an idiot.
October 04, 2022
Poorly written and dull as paint drying.
October 03, 2022
Don't waste your money, it's not worth paying money to watch in the theatres anywhere. It's a D-List rental movie.
October 03, 2022
Disgusting, sexist movie. Wilde stated the villain is basically Jordan Peterson. He obviously lives rent-free in her head because he motivates men to improve their life. What a villainous thing to do!
October 03, 2022
Reminded me of the Stepford wives
October 03, 2022
Harry and Florence did an amazing job
October 02, 2022
Tightly edited, Keeps you Guessing, is it a re-imagined Stepford Wives meets the Matrix meets Clockwork Orange? Spoilers?!!! Who really dies if it's not really real? Is this what happens when we try to use A.I. to solve Real Social Problems? Reminds me of misguidednattempts to Use Darvon and Valium to cure the Unhappy Housewife Syndrome of 50s Conservative Utopia.... Beware!!!
October 02, 2022
Another "men are evil and women are just the best" movie!
October 01, 2022
Confusing movie. Disappointing ending. Good acting but weak writers.
October 01, 2022
I'm confused. But I did enjoy a mindless 2 hours. Great acting and a little psycho!
October 01, 2022
Story has no depth
September 30, 2022
The main girl character tries to carry this weak plot but it still reeks. Just a Stepford wives reboot. Forgettta boudiiiiit.
September 30, 2022
thought it would be like "Stepford Wives," and to a degree it was...however, ended up with a lot of questions..what was the "dome house?'...were they androids? .....anyway, maybe just TOO picky. Interesting ending?
September 28, 2022
Mixed emotions teared up, laughed and very feel good movie well done.
September 26, 2022
very psychological, very unexpected ending. great movie!
September 25, 2022
I thought was Don't Worry Darling was an Excellent movie and Chris Pine is Great.
September 25, 2022
I admit, this is not going to be for everyone. It is a little bit like a 1950s-themed fever dream, and you will be left questioning what is going on until the very end. Stylistic, psychological, and insidious, this film is a blend of suburban domestic romance and horrific thrill. If you like The Stepford Wives, you will probably like Don't Worry Darling. You might go see it for Harry Styles, but whatever you think of his performance, you should stay for Florence Pugh as her performance is excellent. Regardless of the alleged behind-the-scenes drama, and mixed critic reviews - I loved the film and will relish watching it again. Trigger warning for self-harm.
September 24, 2022
I don't get the Harold Styles fascination.
September 24, 2022
I loved everything about it