Downsizing - User Reviews
Thank you for rating this movie!
Read your review below. Ratings will be added after 24 hours.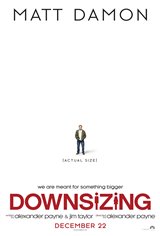 ---
Please rate movie 1 to 5 stars
Showing 1 to 50 of 52
March 26, 2018
average movie
March 25, 2018
I LOVE THIS STORY!! Exquisitely unique, funny,lovely, and kinda left me with a euphoric feeling :)
March 23, 2018
Terrible movie
March 17, 2018
HIGHLY RECOMMEND
March 04, 2018
Movie started out promising, but quickly downsized. Waste of 2 hours. Honey, I Shrunk the Kids blows this move out of the water! When Kristen Wiig checks out, that's when I checked out. Movie was just stupid after that. In my opinion probably the worst Matt Damon movie he has been in.
January 30, 2018
Brilliant film and poignant with regards to current events in the world.
January 14, 2018
It's interesting when people say if you do not enjoy a movie like this, you must not be intelligent. No, maybe they are intelligent, but they just don't enjoy the same style of movie as you? Be careful you don't end up sounding like Donald Trump - if you have to constantly let people know how smart you are, you probably are not as smart as you think you are.
January 12, 2018
I fell asleep early on. What a waste of time
January 09, 2018
Only this first part of the movie is about downsizing and that it goes downhilling
January 09, 2018
awesome very good, matt damon is a genius!
January 09, 2018
With Matt damon thought it would be good. Was boring. Stupid.
January 08, 2018
Not very good
January 05, 2018
Stupid Either make it a comedy or drama! Left story lines dangling...
January 04, 2018
This movie is good if you don't mind watching something that is thought provoking. It is entertaining and interesting in it's own right (not at all like "Honey I Shrunk the Kids" like some reviews stated!). The nudity was not really random as some reviewers said, but it was part of the "science" aspect of a "science fiction" movie. The nudity was somewhat surprising due to the fact that 98% of the naked bodies were male, and in entirely non-sexual situations--that was somewhat commical. (I think the writer was tired of female bodies being exploited in movies so often.)
January 01, 2018
I dunno. What was that? A Greenpeace movie. Interesting. The breakout star was Hong Chau. She was delightful and refreshing. Well worth seeing.
January 01, 2018
Except for using the "F" word too frequently, I liked the movie. Yes...it does have a plot! Also the humour is subtle, not in your face like slap-stick comedy which I don't find funny at all!
January 01, 2018
To the guy below who thinks he's a genius and is derogatory towards those who thought the movie was dreck, the spelling is "peons." By the way, the movie was dreck.
December 31, 2017
Good acting, interesting and timely story, good message, directing and movie flows well. Humorous and entertaining while it makes you think.
December 31, 2017
Good movie, the Vietnamese woman made the movie, she was hilarious. Horrible ending though.
December 31, 2017
Boring! The acting is horrible - even Matt Damon. The Vietnamese woman was the best. Would have left, but kept thinking something is going to happen to make this worth watching. Another Hollywood actor using the big screen to make his statement. This time on the overpopulation of the earth and environmental waste. We know that. Shrinking isn't going to happen Matt. Zero stars from me.
December 31, 2017
No stars. Disliked the details like shaving and previous life. Boring
December 30, 2017
A very well done clever movie about environmental and basic human/social issues. Very original in scope. I felt I was watching an excellent Twilight zone film.
December 30, 2017
I ever leave reviews, but I feel I need to warn you how bad this movie is. It was one of the worst movies I've ever seen.
December 30, 2017
Worst movie I've seen awhile - not funny, long, boring and pointless script. Don't waste your money - so many better movies out there.
December 30, 2017
Certainly not a comedy, the trailer was misleading.
December 29, 2017
Comedy with a conscience.
December 29, 2017
I have seen a lot of movies, by far the worst movie ever.
December 29, 2017
Well, everyone has taken this movie tooooo seriously, it has entertainment value. A very different storyline. What do you expect when someone is shrunk to 5"! And it did have humour. We enjoyed this movie. NO ONE DIED
December 29, 2017
Did not like this movie at all. I thought it would be a comedy not a lecture on the doomed fate of mankind. It was very boring.
December 29, 2017
Not a good movie
December 28, 2017
This movie was good. People don't like to think that's what I have to say.
December 28, 2017
Not funny, not dramatic, no adventure, just a waist of time and money. I like Matt Damon.. but he played this as bland as possible.. Hong Chau was terrific. Got to the end and my family and I looked at each other and said wow.. just wow.. and not in a good way. Save your money.
December 28, 2017
I haven't seen this movie yet, but I did not think it was supposed to be a Comedy. the Trailers don't make it look like a Comedy, so not sure why everyone was so disappointed after seeing it ?? a lot of people were expecting it to be funny for some reason....but , it just looks like a unique storyline to me , with a neat concept.
December 27, 2017
I'm done with Matt Damon. He made some good movies in the past (Dogma and Good Will Hunting specifically), but his last few have been wastes of money that could be used more profitably as toilet paper. Hong Chau was surprising and excellent. The comedic actors (Jason Sudeikis, Kristen Wiig, and Neil Patrick Harris, etc.) were added to give the movie legitimacy that it never deserved. There were only two good things about this mess, Hong Chau and the fjords of Norway (if it was actually Norway). Instead of seeing this movie, go to the dentist. It will be more enjoyable and do you some good.
December 27, 2017
Looooooong, not funny, not what i was expecting, and I left 90mins in. the only character i liked was Hong Chau.
December 27, 2017
I would actual like to rate this -1000000000000000000000000000 stars WORST movie I've ever seen!! Save your money. If you are a liberal you might like this movie it's so far left bunch of nut heads save the world hug a tree but done on the most boring way possible.
December 27, 2017
WORST MOVIE EVER. A HOLLYWOOD RIPOFF. I AM REALLY PISSED OFF AT THE MISLEADING TRAILER. BOYCOTT HOLLYWOOD.
December 27, 2017
This movie was a HUGE disappointment. A total rip-off. Was advertised (and quite sneakily) as a comedy. It was anything but. DO NOT WASTE YOUR MONEY. MATT DAMON SUCKS BIG TIME in this move.
December 26, 2017
Do NOT go watch this movie. You keep waiting and waiting for something to happen. Nope. A good plot. Nope. Funny. Nope. Couldn't wait for it to end. Brought and paid for 10 people to see this and it was horrible. Absolutely horrible...
December 25, 2017
Christmas day disappointment! This plot had so much potential, but it was just boring. Random, wandering story about nothing much, really. I saw a lit of families at the theatre and I really felt sorry for the kids!
December 25, 2017
Not funny. Wierd, random nudity, so not a family movie. The Vietnamese woman was the best part of the movie, for sure. Overall, VERY disappointing.
December 25, 2017
Very slow, boring, and unrealistic. Also, does not clearly represent what an occupational therapist would do.
December 25, 2017
This movie was not funny.
December 25, 2017
Better than Star Wars that's all I can say! I liked it
December 24, 2017
god awful. is this movie like 3 hours long?? the first 40 minutes are promising but as soon as they introduce they introduce the Viet housekeeper, the movie takes a ridiculous turn. not a funny movie at all, and the nudity was so random lol I tried sleeping through the second half. please for the love of god, save your money.
December 23, 2017
Once again the trailer misleads us . Not a comedy at all . What was the point of this film ? Beats me ,the plot was vague and doesn't really go anywhere . I was expecting a comedic look at tiny people living in a normal sized world . All the funny bits in the trailer were not even in the movie . I feel kind of duped . Save your time and money.
December 23, 2017
Its too long and the story got rather boring. The only thing that kept me interested was Hong Chau as a Vietnamese activist. She was really funny. Save the money and see it in the cheap theatre.
December 22, 2017
I'm rarely left mystified as to whether or not I like a film. Here, I am. In the first place, it's listed as a comedy, but it's far more science fiction. It's definitely not funny. There's some satire in play, poking fun at American consumerism and greed, and maybe love, marriage, and divorce, but it's still not funny. Christoph Waltz adds some spark. If you really like the movie, I'd get that. If you hated it, I'd get that even more. First half was dreadfully slow-paced. Second half gets pretty weird. Let's go with.....................................68/100...guru bob
December 22, 2017
NOT a comedy. Dealt with very serious environmental and world issues. Very somber movie.