Dr. Cabbie - User Reviews
Thank you for rating this movie!
Read your review below. Ratings will be added after 24 hours.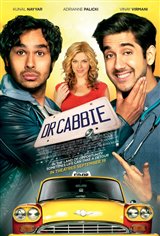 ---
Please rate movie 1 to 5 stars
Showing 1 to 32 of 32
January 03, 2015
"just goes to show that Canadian cinema breeds mediocrity!!!!!! always has. that's why Canadian film is still in the stone age!!! and why these people give it any stars to begin with"
October 11, 2014
Amazing comedy. I will watch it again. Dr Cabbie Vinay is absolutely convincing. Rest of the cast in amazing. Go enjoy it guys.
October 10, 2014
Waste of time. Only bright spot was kunal. Wait for video at best
October 06, 2014
Dr. Cabbie made me feel so happy! truly a sweet film with lovable characters. Reminded me of my time in Toronto :)
October 05, 2014
I watched this movie as I trust only two reviews one is Toronto Star and second is Now. Thanks to both of these reviews for making this my movie choice this evening. I laughed, cried and sang. Me a happy camper and Dr. Cabbie you were amazing.
October 05, 2014
The amount of fake reviews on this piece of garbage is deplorable. Hope they lost money on this hunk of junk.
October 02, 2014
WOA! 73.17% of users give this movie a 5/5! Damn. That's admirable man.
October 02, 2014
Ok so you take Kunal Nayyar, Superwoman, Adrianne Palicki, Kardinal Offisha, Manj musik, Lillette Dubey, Rizwan Manji not to mention Mr. Speedy Singh Vinay Virmani himself and then get Salman Khan himself to produce the movie!!! Who cares about anything else this Movie is A MUST WATCH LIKE FOR SURE!!! Though in all fairness it made me cry with laughter!!!
October 01, 2014
Get real man, this is the worst film I have seen in years. Utter garbage ! The writing, directing, acting, producing, production managing all was amature hour. I know because I worked on this "briefly" thank God. Those who are of that ethnic decent and those who worked on the complete film will think it's a masterpiece and will give rave reviews as was suggested we do. As Sean said, "not required viewing" lol thats his nice way of saying it's crap unless you have money to throw away and no taste ! Mark my words that as we speak it's already wearing out it's welcome at theaters.
September 30, 2014
Fantastic movie! The actors are so funny. I loooved the auntie and the uncle, Kunal Nayar is a riot and the guy playing the Doc is cute! I just wished there were more of that Bollywood dancing. Best comedy of the year!
September 30, 2014
WHY IS THERE NO HIGHER STAR LEVELS! JUST CAME BACK FROM SEEIING THE FUNNIEST MOVIE EVER FOLMS IN INDIA & MOSTLY IN TORONTO ONTARIO-WOW THE ACTING WAS THERE-THE MOVIE UNLIKE SOME FOLKS THOUGHT, WAS TOTALLY IN ENGLISH, WITH GREAT ACTING & GREAT DETAILS & WOW THE BEST STORY LINE EVER. WATCH OUT HOLLYWOOD-IF ANYONE THOUGHT DISNEY WAS GREAT & THEY ARE, THEY STILL NEED TO SIT BACK & WOW LETS SAY BE PREPARED..I WANT TO SEE THIS OBSCURED-MY HUSBAND THE MOVIE CRITIC, GAVE UP HIS CHOICE MOVIE FOR MINE & AT OUR AGE, THIS IS WHAT WE LOOK AT & CALL CLUBBING! THE YOUNGER GENERATION WOULD HAVE FUN TOO, BEWARE DON'T LEAVE BEFORE THE ENDING CREDITS, MORE FUN IN THERE TOO! CAN'T WAIT TO GO SE IT AGAIN IN A CO
September 28, 2014
Okay movie. By the way, it seems someone is making an effort to give this movie so many unwarranted 5 star ratings on this site.
September 28, 2014
Kunal is some one we liked to watch on the Big Bang Theory. The movie has it's moments but misses on many others.
September 28, 2014
I have seen every movie at the theatre. I go to the movie theatre 3 times a week. I really enjoyed this movie in every aspect. I enjoyed it more than all the other movies I have seen this year so far. My mother came with me tonight she is 81 years old and she loved it. The actors were so natural I actually felt myself in the movie. Great acting!!!!!
September 28, 2014
I sometimes wonder if the PR department of Canadian films are out there stacking the votes in their favour. Anyway, I think I'll give it a 5 just because everyone else has. Hope it's as good as they say.
September 26, 2014
If you ask me,this is right up there with Taxi Driver and D.C. Cab.
September 25, 2014
This was a great movie
September 24, 2014
very enjoyable.
September 24, 2014
LAWL. this movie made me laugh like i never laughed before haha
September 24, 2014
Great comedy! I haven't laughed like that for a long time. But despite being hilarious, Dr. Cabbie touches on so many important and serious issues, social integration, employment, cultural divide. This Canadian movie has a huge heart and proves to be a very needed source of laughter and fun!
September 23, 2014
Silly fluff. Cardboard characters, predictable script. Insulting False US viewpoint of Canadian medical system. It passed the evening, I wasn't bored but that's about it.
September 23, 2014
Hilarious movie that describes the hardships faced by immigrants. Definitely not a PG.
September 21, 2014
Lets be truthful here. Nobody should be giving this film 5/5... certainly not as many as we see on this site. It was "Okay" not bad or horrible, had a few good laughs, but not as many as you'd want.
September 21, 2014
this is not a 5 its maybe a 2 1/2 I found the acting inferior
September 21, 2014
This movie was wonderful, full of laughs for everyone to enjoy! Great story, great acting, and a beautiful message.
September 19, 2014
I enjoyed this and could so see this happening. Speaks a lot to how we need to ensure people who have definite qualifications in other countries are able to practice here
September 19, 2014
Trailer seemed interesting and the movie was even more.
September 19, 2014
lovely to see 2 fine actors tackle a serious issue in a lighthearted and fun way. isabelle looks pretty. really nice film i must say.
September 18, 2014
Seen a preview. I'm gonna check this one out again for sure. Seriously funny. Many, many LOL moments, not a single dull one!
September 17, 2014
As a teen I thought this movie was funny amazing and I laughed so hard
September 17, 2014
Truly a warm hearted comedy...the family loved it ! A must see for all movie goers!!
September 16, 2014
Great Comedy great cast . Lots of lugs and tears in this amazing film enjoy with family