Dream House
Thank you for rating this movie!
Read your review below. Ratings will be added after 24 hours.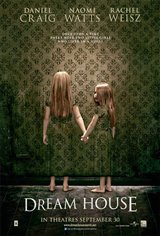 ---
Please rate between 1 to 5 stars
Showing 1 to 50 of 50
June 13, 2012
i was pleasantly (not sure if that is the right word)by this movie. has a nice twist and the performances are good.
June 03, 2012
a not so scary thriller, but watchable.
February 13, 2012
i was blown away by this movie it was not what i expected and i cried my eyes out! great story really gets to you.
November 17, 2011
this is a great movie
November 17, 2011
I did not enjoy this one.
November 17, 2011
average movie. Nothing more, nothing less
November 16, 2011
My daughter & I really enjoyed the movie. It had a good story!
November 13, 2011
waste of time. Better as a rental
November 13, 2011
I enjoyed this thriller..got scared..good date movie!
November 12, 2011
A very suspensful movie and full of twists
November 12, 2011
Disappointed considering the talents involved.
November 10, 2011
awsome thriller.
November 10, 2011
thought it was quite good -- abit of a twist at the end
November 09, 2011
not bad
November 07, 2011
I quite liked this movie. The plot was beleiveable and the characters were well cast!
November 07, 2011
it was not scary it was predictable
November 06, 2011
usually like Daniel Craig but not here
November 03, 2011
after watching it you ask yourself could it happen?
November 02, 2011
Spoooky, great acting.
November 02, 2011
greAT MOV IE
November 01, 2011
I liked the movie, but I didn't like that it gave away soo much in the preview !
October 29, 2011
I loved this movie. A lot of suspense. My kind of horror movie. You have got to see this one.
October 29, 2011
Entertaining.
October 29, 2011
Good movie, keeps you interested till the end.
October 28, 2011
I actually found this movie fairly predictable and yet i still really enjoyed it due to the star power and the visuals. Worth seeing in the theater.
October 27, 2011
Unique plot,not predictable and had me on edge. I wonder if those not likeing it are the same people who feel the need to check their messages every 5 min. If you actually paid attention you might appreciate the movie. I saw it on AVX which amped it up.
October 27, 2011
The trailer made the movie seem a lot more spooky and entertaining than it really was. It's rather slow and unfortunately is a let down. I wouldn't even say watch it if your bored there are a lot more better movies you could be watching. Some parts are ok but all in all I would advise picking a different movie to watch.
October 25, 2011
Such a twisted movie, but really good!
October 24, 2011
This movie was flipping awesome! It mind-blocked me in so many ways :)
October 24, 2011
The right amount of creepiness and suspense!
October 23, 2011
the twist was shocking and also heart breaking.. over all a good movie
October 22, 2011
One of the best movies that I've seen this year!
October 22, 2011
good thriller could,ve been better though.
October 21, 2011
A must see thriller!
October 20, 2011
Not your typical thriller -- lots of twists along the way.
October 20, 2011
A good movie, I was impressed, a plot change in the middle makes the movie much more interesting.
October 20, 2011
Confusing
October 19, 2011
it started off great until the mid point..then it somewhat went downhill from there. It was a shining meets Amiteville kind of movie. But it didn't follow through. Very Disappointing, had great potential.
October 17, 2011
Excellent movie. More of a mystery than a thriller.
October 12, 2011
Good enough for 0 stars.. Please, do not waste your time and money.. This movie was terrible.. It was such a disappointment, because I love Rachel.. She did a great job in the movie (as always) but the movie sucked.. It made no sense at all..
October 09, 2011
not my type.trailer misleading.
October 08, 2011
Thought the movie was great! Entertaining and well planned!!!! We love it. Lead actor and actresses were great!
October 08, 2011
pace of the movie was a bit slow but overall the plot was decent. A very sad movie afterall
October 05, 2011
This movie had a little bit of everything. I thought it was very entertaining.
October 04, 2011
This movie was terrible really don't recommend seeing this, any other movie would be better
October 04, 2011
I saw the movie trailer prior to seeing this movie and apparently it gave the whole movie away. Average movie that to me had a very weak end.
October 04, 2011
Loved it was wonderful!
October 03, 2011
Excellent movie! A lot better than I thought it would be.
October 02, 2011
This was actually a very well done movie. I really enjoyed it. But for those who think this is a horror movie it is NOT, hence why it says "Thriller." So many people in the theatre were disappointed because they didn't get scared but that's not the type of movie it is supposed to be. It definitely delivers an interesting storyline and keeps you at the edge of your seat. It is also very touching. A lot sadder than I anticipated. So bring tissues!!
September 30, 2011
Good movie. Way better then Don't Be Afraid of the Dark... then again anything is better then that