Dreamgirls - User Reviews
Thank you for rating this movie!
Read your review below. Ratings will be added after 24 hours.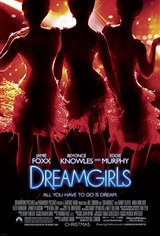 3.95 / 5
User Rating
Based on 9541 votes and 112 reviews
---
Please rate movie 1 to 5 stars
Showing 51 to 100 of 112
February 04, 2007
Beyonce is superb and owns this movie from start to finish! Not since Diana Ross soared in LADY SINGS THE BLUES has a pop diva so owned the motion picture screen! Four stars, baby!
February 03, 2007
This movie was AMAZING! I enjoyed every second. If you haven`t seen it go and see it. Jennifer Hudson will blow you away! A warning, if you don`t like musicals or soul then honestly this movie probably won`t be for you. since I like them both I loved it.
February 03, 2007
loved it
February 02, 2007
I`d say it was just a little above average... The acting and singing was good, but I thought the plot got a little bit draggy near the middle... some parts were a bit unnecessary. The music was really catchy though. =) Overall, not bad, but I`d advise you to see this in theatres only if you`re a hardcore musical fan. Otherwise, rent it so you can fast forward through some of the more trivial parts.
February 02, 2007
It was a long movie but it was amazing. It was worth every second of every minute! I loved it I reccommend it to all ages except for little kids they wouldn`t understand it. But teens and all adults will. Its just an all around feel good movie.
January 31, 2007
I loved it. Music was exceptinal. Singing superb!
January 31, 2007
I LOVED IT!!! People who didn`t like it just don`t like musicals!
January 29, 2007
Music great, movie too long.
January 28, 2007
I loved it - laughed, cried, the singing was sensational, the actors had me there with them. Brenda - Barrie, Ontario
January 27, 2007
"Dreamgirls" was an awesome movie and I like totally loved it!...you like totally got a see it ...like totally!Omg it was like totally like awesome!
January 27, 2007
save your money
January 27, 2007
Boring !
January 21, 2007
Amazing performances by both Jennifer Hudson and Beyonce. Great music and costumes. If you have not seen it yet, GO SEE IT!
January 20, 2007
awesome movie, great music, a "must see movie"
January 20, 2007
one of the greatest musicals that i`ve ever seen! jennifer hudson has ONE POWERFUL VOICE! her singing sent shivers down my spine! amazing movie!
January 20, 2007
Fantastic. Jennifer hudson deserves the OSCAR. Without a doubt the best movie of the year. It was such a joy to watch
January 19, 2007
This movie was amazing.... and Jennifer Hudson blew me as well as everyone else in the theatre away... She has a powerful voice. I truly wasn`t expecting to like her as much as i did. Everyone should definetly take the time to see this one, while it is still in theatres.
January 14, 2007
For all the people complaining that there was too much singing, or they broke into song too often, please, shutup. This is a musical. I don`t know what you were expecting, but thats what they do in musicals. They sing, not only songs but dialogue too. So maybe next time don`t go see a musical if you hate it that much. Now, for my review. This movie was amazing. It was so glamourous, with the makeup and costumes but behind all of that was a great story and some amazing talent. Everyone is saying this, but it has to be repeated--Jennifer Hudson was amazing. She stole the show. I saw her on American Idol, and never knew she would be capable of
January 12, 2007
bURN BABBY BURN THIS MOVIE IS HOT
January 11, 2007
JENNIFER HUDSON I LOVE YOU!! UR SO AMAZING!!!, THIS MOVIE WAS THE BOMB!! IF U HAVENT SEEN THIS ITS A MUST SEE!! n U SHOULD GO OUT N WATCH IT NOW!! CAUSE U DUNNO WUTCHUR MISSIN =) =)
January 10, 2007
I normally enjoy musicals, but the songs in this one were far too long and came far too often. This slowed the plot to a crawl. And just as soon as some interesting dialouge got going, somebody would break into song and slow the plot down, yet again. A lot of the scences seemed totally unnecessary. If the movie was tightened up, it would have been far more enjoyable. Near the end I was actually hoping nobody else would break into song as I`d had enough. Jennifer H. was good, but her cathartic song mid-movie was waaaaaaaaay tooooooo looooooong. Postives were the costumes, wigs and makeup...very cool.
January 08, 2007
Well with so much hype, its easy for a movie to fail your expectation.... BUT THIS ONE DID NOT!! now I have probably seen every movie musical ever produced, and this one is at the top of my list. It is even better the second time, and cannot wait for the third and fouth times I see it! Jennifer Hudson, not enough can be sai about you....AMAZING!! everyone else was amazing as well, not one member brought the cast down.... WAY TO GO!!!!
January 08, 2007
WOULD RATE IT HALF A STAR BUT UNFORTUNATELY THAT`S NOT AN OPTION
January 07, 2007
Beyonce is so fabulous!!! Well packaged!! Jennifer Hudson has a lot of potential to be a star but she needs a makeover!Maybe that`s the reason why she did not get the title of "American Idol"! She needs a very good agent and a stylist and she will be a "STAR"!!!!
January 07, 2007
I just finished watching the movie and I was blown away. The entire cast did a superb job but there was one that clearly shined above all the rest: Jennifer Hudson. I loved her as a contestant on American Idol, but would never imagined that she could accomplish what she did in this role. I see many acclaims continuing to come her way including an Oscar. There aren`t many performances that will evoke applause twice from an audience watching a movie but Jennifer`s was certainly one.
January 06, 2007
Jennifer Hudson is an unbelievable talent and should be an Oscar contender. Her voice is so powerful she has a HUGE career ahead! Excellent movie!
January 05, 2007
So amazing! I was blown away! Everyone was soo amazing especially Jennifer Hudson; she sent chills down my spine. Defintely going get some Golden Globes AND Oscars. It was incredible! 5/5
January 05, 2007
I would of been really good if it weren`t for the one chick who basically screamed her lungs out for the entire movie. Everyone else was great, I enjoyed it, but by the end, I couldn`t stand the one girl. Everyone in the theatre cringed when she opened her mouth. Kinda wrecked the movie in a huge way.
January 04, 2007
Jennifer Hudson definitely stole the show ... Beyonce who?
January 04, 2007
great movie best I have seen this year
January 04, 2007
By far dreamgirls was one of the most amazing movie of 2006 Jennfier Hustons knotted it outta the park.
January 04, 2007
OVER RATED!
January 03, 2007
Great movie overall. It is a musical, but it doesn`t have the feeling of one. The scenes keep moving at a good pace, for the most part. Exception would be the one that most people feel is the climax of the movie, where Jennifer Hudson wails on and on for what seems like 20 minutes. The girl has got pipes, but boy this scene was more like nails on a chalkboard!
January 03, 2007
Saw the movie last night and was blown away. I had heard that Jennifer Hudson gave an exceptional performace however she gave MANY...dont understand why Beyonce was nominated for best actress, when it is clear that the movies does NOT revolve around her....I guess its Hollywood politics.....
January 03, 2007
move over Beyonce, Jennifer Hudson stole the show! Great movie!
January 03, 2007
Jennifer Hudson made this movie. Her portrayal of a woman who was deceived and eliminated because she wasn`t a `model` woman was letter perfect. They made the point that looks, not talent is the deciding factor in who becomes a star. The music was good, the acting fine, but it was the plot line that interested me. This movie has lots to say, even if you strip it of the flash.
January 02, 2007
Very enjoyable. Everyone is talking about how great Jennifer Hudson is, which she was. Beyonce was also incredible. Jamie Fox can do absolutely anything.
January 02, 2007
this movie is pretty good. didnt expect it to be but it is
January 02, 2007
Miss Knowles shines and DREAMGIRLS glitters with glamour and style!
January 01, 2007
I am not a huge fan of musicals, but with all the hype about this movie, I figured i had to see it. And all I can say is WOW!!! Jennifer Hudson, deserves any award that she is put up for. As for Beyonce, it is her best performance yet. The movie is extremely entertaining. I literally got chills and the hairs on my arms stood up every time Hudson sang. Definitely Oscar contending in my books. GO AND SEE IT!!!
January 01, 2007
Suprisingly, I thought that Jennifer Hudson was better than Beyonce...
January 01, 2007
It was simply an amazing movie!!!!!A must see for sure!!!Jennifer Hudson was GREAT!!! Everyone applaude in the theatre after her song, I`ve never seen that before!!!beyonce was o.k., Eddie murphy also gave a wonderful performance. Go see that movie!! you won`t regret it!!
January 01, 2007
LOVES IT!
January 01, 2007
I think this movie was fantastic. The music is incredible and Jennifer Hudson was awesome!
January 01, 2007
I waited for months to see this movie, and I had to drive 21/2 hours to go and see it and the wait was worth it! You have to understand this life of music to appreciate the outstanding performances of all the actors in this movie ... back then ... that was how it was. Oscar performances ... bravo hollywood!! 10, 10, 10
December 31, 2006
I just saw it tonight and it was great!!! we had a full house!!! my heart was beating fast during "IT`S ALL OVER" and even faster at "AND I AM TELLING YOU"...and Hudson got an applause after that number too!!! IT WAS AMAZING...the film was very active and the audience participation was in...it was nice. There are sooo many songs in the film...one after the other...it was good..."MOVE", "DREAMGIRLS", "FAMILY (REPRISE)", "LISTEN" and "HARD TO SAY GOODBYE" were great numbers...i want to see it again. 4/5
December 30, 2006
I did not expect to love this movie!! Excellent, a must see!!
December 30, 2006
I am not a bit fan of musicals, but I did enjoy this one....a good solid 7 out of ten. Both Jennifer Hudson and Eddie Murphy very solid. Like a lot of movies though, it`s too long.
December 30, 2006
Excellent!!! Jennifer Hudson was just amazing.
December 29, 2006
I voted for "DREAMGIRLS" for the reason, Eddie Murphy is in it, he is one of my favourite actors/comedians. I liked his song from the 80`s, "Party All The Time", he amazed me to know that he could sing. This movie really tops it off. He could really sing good, the movie is funny, it`s fun and the ladies are very beautiful. Overall, the movie is colorful and musical the ladies sing wonderful.