Edge of Tomorrow - User Reviews
Thank you for rating this movie!
Read your review below. Ratings will be added after 24 hours.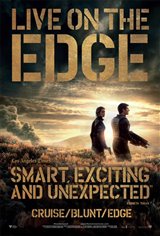 4.01 / 5
User Rating
Based on 428 votes and 177 reviews
---
Please rate movie 1 to 5 stars
Showing 1 to 50 of 177
November 05, 2014
Very well done movie!!
November 03, 2014
excellent
October 23, 2014
excellent!
October 18, 2014
Surprisingly very good movie. 5 stars
October 14, 2014
What is with the Cruise Missile and pumping out great movies lately? Another fantastic performance and great story line. I suggest paying attention while watching because it is a little confusing at times (assuming that's what the poor ratings are from, people not understanding). The fight scenes are awesome and there's a lot of funny stuff. Loved it!
October 10, 2014
Unexpectedly pretty good. What makes is this movie stand above the majority of other action movies is a good story that will keep you engaged from beginning to end.
August 14, 2014
Tom Cruise seems to be getting better with age. He's still playing the action hero but with a bit more heart-and humour! This film kept me engrossed the whole time. It's not only got great action and 3-D effects, but a good storyline, humour ... and of course aliens and lots of things blowing up! The ending is pretty standard tho and you could pretty well see it coming. It would be nice to have a big twist or something out of the blue. Still ... for an action movie it was very very good!
August 09, 2014
LOVED IT!! Buying it when it comes out.
July 29, 2014
very pleasantly surprised. very good action pic!
July 09, 2014
Really well done. The actors were all great, and the storyline interesting. Great effects, actions and a few good laughs. We were pleasantly surprised and loved it!
July 08, 2014
The movie Edge Of Tomorrow is one of the best I have ever seen this year. It was unique and very well made. It also had a few funny parts in it, which I enjoy when it comes to movies. I would recommend watching Edge Of Tomorrow. It is NOT a waste of money.
July 03, 2014
You cannot please everyone no matter how good a film. This movie is good and worth the time and money. This movie has a bit of a "groundhog day" feel to it....but with much more action.Pay close attention at least for the first 30 minutes or you may be lost.
July 01, 2014
This mishmash of SF and poor cinematography aided and abetted by worse direction and editing, is a blight on Tom Cruise. It had to be shot in lots of darkness and and jump-around camera work with loud bangs and bright flashes used by cheapie horror-in-the-basement flicks. I has suspended disbelief as usual to enjoy a SF movie but the suspension was also shot to pieces by the stupidity of the film. Buy dinner instead. Hugs and love, ISH [john ish ishmael]
June 26, 2014
Well thought out. Very intelligent and entertaining movie.
June 26, 2014
This movie was cut for IMAX 3D it has absolutely the best cinematography. The plot is a bit thin but the action and special effects does it all. Cruise & Blunt have a great chemistry and complement each . This is a great entertainment - a summer movie !
June 23, 2014
edge of tomorrow was great a eight and a half very well made as the repeat of it made it interesting and funny specially when tom meet the first person of that part made me laugh, would see it again as I saw it first at the drive inn one of my favorite movies I seen for sure good popcorn fun :) p.s don't listen to the people giving it a low star as the saying goes their no counting for taste
June 23, 2014
This is just a stupid and boring movie, the writer didnt have anything to think, just to keep on repeating the story... dont waste ur money just to watch this movie...
June 23, 2014
This movie was so GOOD! Not a boring minute! Great story, great acting, great movie!! ???
June 21, 2014
Awesome movie loved it, fast moving, lots of action and good humor, looking forward to a sequel.
June 16, 2014
Spectacular! Would love to see a sequel!
June 15, 2014
Very simply...do not go see this movie!
June 15, 2014
Interesting, fast moving, appreciated seeing the character grow and adapt.
June 14, 2014
AMAZING movie!!Funny, has action, romance, great acting and storyline. The only reason I didn't give it 5 stars is because I felt the ending was cut to quickly between Tom and Emily. But must watch!
June 11, 2014
amazing one of Tom best performance in a while.
June 10, 2014
I usually don't care for "we must save the earth from aliens" movies, however I liked this one. It is "Groundhog Day" except with visitors from another part of the universe. Lots of great action and humour, and the premise is creative. Solid performances from Blunt and Cruise, even though a previous review believes he is washed up....far from it; he totally owns the part. Park your brain at the door and have some fun.
June 09, 2014
This was an action-packed extravaganza, Tom Cruise is in fine form, Emily Blunt looks ripped for her role. I saw this with my son & hubby in IMAX 3D-really amazing experience & the packed theatre seemed to enjoy as well. I love the comic book movies/sequels/trilogies...but loved seeing something original. Worth the price of admission & popcorn!!
June 09, 2014
Great movie.
June 09, 2014
Exciting, action-packed prequel to The Day After Tomorrow. Don't miss this one.
June 08, 2014
Great movie! Tom Cruise's best in a long time. It's a must see in 3-D. Well worth the money.
June 08, 2014
Great action flick. I saw it in 2D, but I think I may go back next weekend to catch it in 3D...
June 08, 2014
Why do people continue to go to his movies??? He's all washed up!
June 08, 2014
I agree with the person who wrote to avoid this one at all costs.
June 08, 2014
As a screenwriter, I have a hard time enjoying a movie without picking it apart for glaring missteps... not so with this movie! Caught our attention early, kept it throughout the screen time and gave us a surprising, satisfying twist of an ending. No plot holes! Worth the 3D price indeed!
June 07, 2014
I don't like Tom Cruise as an actor, and his new movie 'Edge Of Tomorrow' sounded pretty hokey, but it seems to be getting a lot of good reviews, including 4 stars on the CBC site. I went to see it today, and I was shocked - I thought E.O.T. was great! If you want to see a good summer popcorn flick this fills the bill.
June 04, 2014
interesting movie
June 04, 2014
I need to start off by saying I am not a Tom Cruise fan. That being said, I really enjoyed the movie. He was really entertaining as was Emily Blunt. They were both great and very well cast. Movie is exciting and entertaining and definitely worth the price of the ticket
May 28, 2014
With some reluctance I went to the screening only because of a pass but such to my surprise really enjoyed the movie, so much so that I've been recommending it to others. I am not a fan of Tom Cruise or this genre but liked the characters, their development and a plot that despite the enemy and armour rang true. The story related to WW2 and the army weapons and vehicles were not really futuristic, especially those used after the beach scenes. The relationships were also interesting.
May 26, 2014
This movie was excellent in so many ways. It is funny, action packed, well written, well cast. My boyfriend & I loved it. This movie was not just a sci fi movie, it had a great storyline that we loved. Go see it. The best movie I have seen so far.
May 26, 2014
What a delicious turkey. The audience was laughing throughout and it isn't even a comedy! Tom Cruise continues his downward slide with yet another flop. Avoid at all costs.
May 26, 2014
Loved it! Great story and action packed!
May 25, 2014
I've alway enjoyed watching Tom Cruise movies. Edge of Tomorrow has an interesting and captivating story line. I thought about people who believe in reincarnation, where we come back to earth having learned from our previous lives. I thoroughly enjoyed watching this film. It offered an original story line and kept me wanting to see more.
May 25, 2014
Good sci-fi movie, with lots of action. Believable characters. Seeing Tom die so many times, at times for the hell of it to start the day over. Overall it's a good movie
May 25, 2014
This was an engaging and entertaining movie with a good concept that was well executed. I recommend this movie.
May 25, 2014
Going in to see this movie, I had reservations of this being a scifi version of Groundhog Day. I was pleasantly surprised. It was a great entertaining movie and I thought that the director did a great job of moving the story along. It has some funny moments and the movie doesn't take itself too seriously.
May 25, 2014
Interesting idea! Quite enjoyed it considering I'm not the biggest fan of sifi
May 25, 2014
The movie exceeded my expectations although it took getting use to the time loop device. Tom and Emily both were excellent in their roles. The only complaint I have was that the ending seemed a tad abrupt
May 25, 2014
I absolutely loved the movie. The plot was well thought out. The actors did not let us down. Cruise really kicks butt!! (He's underrated as an actor) Blunt showed everyone who's boss. Great effects, scenes, and score! Loved it! Going to watch it again. Mary