Elvis - User Reviews
Thank you for rating this movie!
Read your review below. Ratings will be added after 24 hours.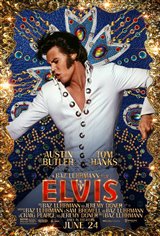 ---
Please rate movie 1 to 5 stars
Showing 1 to 50 of 57
June 30, 2022
I feel so sad that evil illegal alien manager stole half of all Elvis made!!! Unbelievable!!!!! To think his estate could not get the money from that bastard in court due to him claiming he had NO NAME OR COUNTRY IS JUST UNSPEAKABLE!!!!! TOTALLY UNSPEAKABLE!!! 🤬
June 30, 2022
Great performances by Austin Butler and Tom Hanks. I would love to see it again. I saw Elvis twice in person. Austin had his moves and mannerisms down pat. Good looking too.
June 30, 2022
So nice to see a film of this caliber for a change! All entertainment, zero agenda. And Austin Butler is a force in this thing! Go see it on the big screen while you can.
June 30, 2022
Austin Butler & Tom Hanks we're wonderful. Loved the movie. My era. They protrayed Elvis like he was.
June 30, 2022
Austin Butler is absolutely the best actor to ever portray Elvis. He had big shoes to feel and certainly did so. He brought Elvis' style and inner self to life. I saw it twice and will watch it again. I will definitely buy it on dvd. Tom Hanks was incredible too as Tom Parker. Austin should definitely receive an Oscar for his acting. Best actor Austin Butler and Tom Hanks best supporting actor.
June 29, 2022
One of the best movies I've seen in years! I never wanted it to end. Austin Butler is divinely inspired in this role. He has us believing that we're really seeing into the soul of Elvis - really knowing him in a way we couldn't know him when he was alive because there was so much hidden away. Austin Butler show us the innocence of a young impressionable man who became ruthlessly exploited because he was a dreamer who grew up poor. You will hate Tom Hanks for who & what he represents in this role. You will hate what he does to Elvis. This movie is worth every dollar you pay to see it. Use your scene points & see it twice! T
June 29, 2022
great movie. austin butler was fantastic
June 29, 2022
As close to the TRUTH as you could get
June 29, 2022
The movie was great as well as the music. Austin Butler was excellent and Tom Hanks was also. If I had any criticism it would be that there was a little too much of the Colonel making the movie a bit too long. Loved seeing Elvis at the end!
June 29, 2022
I really enjoyed the movie! Austin Butler did a terrific job! He had all the right moves and looked the part! I did not have high expectations and I was very surprised and pleased with the film. I really liked the footage at the end with Elvis, sad as it was. Great job!
June 29, 2022
Loved this movie... Don't listen to the critics... Austin Butler's performance was incredible! Tears at the end of this movie. Thanks for bringing Elvis back to life... for a little while anyway.
June 28, 2022
Absolutely loved this movie. Austin Butler, as Elvis, is phenomenal ! He should be nominated for Best Actor for his outstanding performance. They kept it factional which is probably why Elvis's family was so happy about it. I will see it again as it was fast moving and I may have missed important dialogue/facts. Don't miss this showing on a big screen !
June 27, 2022
Elvis served in the Army with honor, entertain ing troops. Elvis freely gave many cars, lots of money and gifts to perfect strangers. He would not have let them portray his mom and dad as such. Elvis promoted love and fun. People were happy to hear his music and see his movies. We memorized his lyrics, and bought his records. The movie plays a few songs, but the "trailer" was about all that was worth watching. The rest of what is said here was omitted. We were proud of his military service and benevolent spirit. We do not wish to be reminded of the drugs and affairs. A con job and failed attempt at remembering Elvis the right way.
June 27, 2022
outstanding movie. Austin Butler has one an oscar worthy performance.
June 27, 2022
I really hope people will go see this film and see Elvis from a different perspective. As a true Elvis fan, I left impressed!!
June 27, 2022
As a true Elvis fan I loved it because young people will get to see the true Elvis and his influence on culture, and music. I wish they could have included more about his humor, and his generosity. But over all having lived the Elvis years I thought it was great.
June 27, 2022
LIKED EVERYTHING!!!
June 27, 2022
Austin Butler was great!
June 27, 2022
Outstanding performances, incredible costumes, everything you want for an incredible movie experience you won't soon forget!
June 26, 2022
Absolutely one of the best movies I've seen, and I see a lot of them! Extraordinary acting, loved it from start to finish!
June 26, 2022
Austin Butlers portrayal of Elvis was spot on in every way, voice, performances, gestures . he deserves an Oscar as does Tom Hanks. Some of the timeline and information was off but the story was told of what a great music genius and performer he was. There will never be another.
June 26, 2022
Having been a long time Elvis fan, I was looking forward to this movie but had low expectations. It was amazing! Great acting, story, etc. it really showed Elvis the person, instead of just an entertainer. It's long - over 2.5 hours, but worth every second.
June 26, 2022
awesome movie the actors all did their best and deserve trophys for it, very well made ooooh a must see...I will definitely go watch it again and again....dont miss
June 26, 2022
what I really liked was the fact that it was spot on ! nothing was sugar coated at all. we saw the good,the bad & the ugly . but we still had our love for Elvis.
June 26, 2022
I knew it would be tastefully done when I saw the endorsement of Elvis' family.
June 26, 2022
There were parts in the movie that I couldn't be sure that it was Austin or actually Elvis himself! It is performed so well!
June 26, 2022
Austin Butler was incredible as Elvis! He nailed the talk, walk and vibe. The sets and outfits were spot on. The attention to detail was very impressive. Whether you are an Elvis fan or not the movie is entertaining. Worth the trip to the movie theater.
June 26, 2022
I recommend this to everyone. Brings back the good old times. Elvis was a VERY good person but people took advantage of him. I am going to see it again maybe even 2 more times.
June 26, 2022
Austin Butler did an awesome job he played a very difficult part Tom Hanks was great loved the movie brought back a lot of memories Elvis was the greatest he was loved by so manydtC
June 25, 2022
I wasn't expecting too much from this film based on the trailer, but was I wrong . This was a great movie ! I wasn't sure of the historical accuracy , but after a bit of research , it seems to be spot on . It was time and money well spent .
June 25, 2022
Fantastic acting especially by Austin Butler and Tom Hanks. I didn't want the movie to end. I will see it again!!
June 25, 2022
Great movie
June 25, 2022
Austin Butler does a good acting job of recreating Elvis though the most difficult part he put his heart and soul into and somehow channeled The Elvis the entertainer we all love and still the mystery of his life intrigues us but Austin and Baz bring forward some truths if his humanity and charisma as the most fantastic icon and entertainer of the world... The King of Rock and Roll and the man who he was and is in our hearts...
June 25, 2022
Absolutely loved this movie!! I can't wait to see it again! Austin Butler did an absolutely fantastic job portraying Elvis and now I can see why Lisa Marie has already watched it twice and the whole family endorses it! Five stars all the way!!!
June 25, 2022
What a contentious relationship they had! Good acting, great visuals and wonderful new pieces of music. THere was some language and one scene t hat shouldn't of been in there inthe beginning but other than that it was a great movie!
June 25, 2022
This was a very eye opening to his life and to the struggles he faced while he lived. Was great to watch and sad when you think. The man loved to sing and loved his family so much.
June 25, 2022
Really shallow. Insultingly simplistic. This is more interested in myth-making than truth, and there's far too much myth about Elvis already. And Elvis was NOT such a great human being. The movie glosses over how Elvis groomed his future wife Priscilla and had sex with her when she was only fourteen years old; and his infamous union with Richard Nixon. Elvis asked Nixon to target The Beatles, calling them "Anti-American." It's funny how Presley was even more paranoid than Nixon! Elvis then asked Nixon for a DEA badge and pledged his support for Nixon's war on drugs, even though Elvis was a pill popping drug fiend himself! And it all added up to an ignominious death on the toilet. Perhaps someone should make a film about the parallels in the lives of Elvis and Lupe Velez.
June 25, 2022
Awesome movie I saw it last night and it was great a little over hyped but still one hell of a show
June 24, 2022
This movie was amazing. Auston Butler was AWESOME. I recommend going to see the movie.
June 24, 2022
Loved Elvis! Saw him perform twice. Great human being. The movie was outstanding and very true to his life. Austin Butler did a great job as Elvis. Movie was wonderful and very well done. Elvis would be proud of it.
June 24, 2022
It was incredibly entertaining which is the number one goal of a movie. Elvis' legacy will hopefully continue to shine He was the greatest entertainer of the 20th century with a fabulous singing voice and spectacular charisma. This movie is amazing !!!!
June 24, 2022
This movie is brilliant. It is great entertainment. We are going again next week. The theater was state of the art. Austin Butler was superb: as were the supporting cast. Applaud the professionalism and work ethic of this high end biographical movie.
June 24, 2022
I really appreciated how tasteful it was done, I wasn't sure how I was going to like Austin Butler or anyone else playing Elvis, but he did a great job!!! If you are an Elvis fan...you must see this movie, and if you are not, you still should see it, you might appreciate what Elvis did for Rock and Roll!!!!!
June 24, 2022
Having loved Elvis and seeing him in concert several times, must say Austin Butler did an amazing job as Elvis, to the point that I forgot he wasn't! Tom Hanks as Colonel Parker was excellent! This movie movie was very emotional for me at times, as I lived it! Going to see it again ! My Grandson took me along with other family members, so three generations!
June 24, 2022
Well structured and cast!
June 24, 2022
This movie is a big Miss. It is from Parker's point of view and to me, the movie's name of Elvis, is just another abuse inflicted by influence of Parker. First Tom Hanks movie that makes me cringe and not in a good way. Disjointed. The trailer has more substance and emotional impact than the actual movie. Waste of money.
June 24, 2022
it was pretty interesting take on the story of Elvis and his life and is crook of a manager the film was a little too emotional in some scenes other than that it was a great film
June 23, 2022
Can't wait to see it later today. Lisa Presley said it really captured her father's essence. The actor who plays Elvis is awesome and a very intelligent and articulate man (from an interview I watched). The singing is that is the actor which is spot on for Elvis and not dubbed in.
June 21, 2022
HE'S STILL THE KING