Escape Plan - User Reviews
Thank you for rating this movie!
Read your review below. Ratings will be added after 24 hours.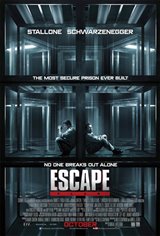 ---
Please rate movie 1 to 5 stars
Showing 1 to 50 of 78
December 18, 2014
Excellent ! A treat to watch 2 stalwarts, Stallone and Arnold.
February 14, 2014
"You hit like a vegetarian" LOL! great movie... Kind of sucky how our local theatre never released this for this was AWESOME. Missed opportunity on their part. Movie itself was fun, funny, lots of action. I highly recommend it!
February 13, 2014
Awesome movie. keeps you in suspense. If I could rate it a 10+ I would.. absolutely awesome <3
February 05, 2014
This is going to be huge!
November 25, 2013
One of the year's ten best!
November 24, 2013
I watched this movie twice. This movie was very good from the beginning to the end. Way to go to Arnold Schwarzenegger, Sylvester Stallone, 50 cent and Amy Ryan. If they plan to do a sequel to this movie i will be definetely watching it.
November 18, 2013
the film turned out better than expected and sly did well playing a character with some substance. some of the tactics used in the film is a bit of a stretch as to credibility. there were some humourous parts. all in all an enjoyable movie
November 15, 2013
This was surprisingly very good.
November 15, 2013
I thought it was an awesome story. The action scenes were great and the whole idea of having someone in prison to break out to test them is too cool.
November 14, 2013
BETTER THAN I THOUGHT IT WAAS GOING TO BE. GOOD STORY TO IT.
November 14, 2013
a must see movie
November 14, 2013
best action movie this year I have seen slyvester stallone and Arnold Schwarzenegger. action packed all along around. not boring at all
November 11, 2013
excellent film
November 11, 2013
WOW! Escape Plan is a MUST SEE! Full of action I am a Sly fan! Always have been. This movie is energetic it is awesome!
November 11, 2013
lot of actions
November 11, 2013
top and funy
November 09, 2013
sly and arnie still kicking ass after all these years.
November 08, 2013
arnold is exellent
November 08, 2013
wonderful movie
November 06, 2013
Excellent action movie, lots of plot twists to keep you interested throughout,
November 06, 2013
It was a pleasant surprise as it was not what I expected and I enjoyed the laughs also.
November 06, 2013
Way better than I expected!
November 05, 2013
Arnold and Sly doing what they do best. Better than I expected.
November 03, 2013
this was a very good movie
November 03, 2013
I had heard a review about it that was not that favourable, but I was pleasantly surprised. It was vintage Arnie and Sly. There was a lot of action, a surprise ending and Arnie and Sly were funny and witty. You feel yourself hoping that all the criminals escape. I was sitting on the edge of my seat, waiting for what was going to happen next.
November 03, 2013
Awesome, AWESOME,AWESOME......thats all that needs to be said about this movie!!!
November 01, 2013
exellent
October 31, 2013
What can you say about sly. Lots of action and payback.
October 31, 2013
A throwback to a simpler mind frame for action movies. The chemistry between stallone and schwarzeneger is awesome but the plot definitely has some holes. However, the action and the puzzle solving in the actual escape was fantastic
October 31, 2013
amzing and exellent
October 31, 2013
I love action movies. I like the storyline and the surprise you did not expect. Enjoy it.
October 31, 2013
This was a great movie with lots of twists and an ending that was unexpected, Stallone and Arnie at their best.
October 31, 2013
The movie was kind of entertaining but their was not enough action for a Schwarzenegger movie.
October 31, 2013
Bring in two great men (stars) like Stallone and Schearzenegger to make a awesome movie.I was on my seat wondering what was going to happen next and Stallon breaks out of prison for a living some job....Would Love to see it again.Always did love prison movies if you like these guys, it is worth every penny to see it again.
October 31, 2013
a great movie for Sly
October 31, 2013
Sly and Ahnold together at last and what a pairing they make! You almost wish these 2 behemoths would have gotten together much earlier so they could really get into the action scenes. Still, a good movie and a great premise.
October 30, 2013
Can't go wrong with Arnold and Stallone together, with their old style punch lines. You can't go into the movie expecting anything different, you go there because you know what to expect.
October 30, 2013
Me and my wife went to the movie and we both totally enjoyed it. It was awesome to see two of the biggest action stars finally co star in the same movie. If you watch movies to be entertained then this is the one to go to. Sit back and enjoy. :-)
October 30, 2013
not that grwat
October 30, 2013
Great story, love the good old actors that still are great at what they do.
October 30, 2013
I heard a TV reviewer say this movie was just plain bad.. undeterred, we went to see it, and had a wonderful time! It was great to see Arnold and Stallone together and they did not dissapoint. Good action, good storyline, and of course a few good one liners. Go see it
October 30, 2013
very good
October 30, 2013
smart movie thanks arnold
October 29, 2013
Awesome movie!!!
October 29, 2013
amazing movie
October 29, 2013
Action, and a surprisingly interesting story
October 29, 2013
This is a good action movie with two good action stars. Arnold steals the show and has aged well. Sly hasn't aged as well but it is still an entertaining movie.
October 29, 2013
Great movie action all the way through!
October 29, 2013
It was an alright movie better as a rental then seeing in the theater.
October 29, 2013
Sylvester + Arnold = explosive action movie. These old men know how to rock the jail.