Escape Room - User Reviews
Thank you for rating this movie!
Read your review below. Ratings will be added after 24 hours.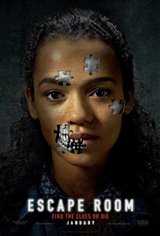 ---
Please rate movie 1 to 5 stars
Showing 1 to 20 of 20
January 12, 2021
I expected much more from this - was disappointing.
May 24, 2019
don't waste your time
April 28, 2019
More a thriller than horror... was entertaining for a rainy day
March 06, 2019
I loved escape room not too scary but not too boring
February 17, 2019
Escape Room manages that difficult trick of taking a group of boring characters with obvious overstated purposes in a seen it before plot line with a highly predictable resolution AND somehow create suspense and tension. An exciting Fahrenheit 451 beginning. Is almost immediately undercut by a protracted adventure in a marina like winter world. And in an almost no that we've lost your attention effort the rest of the movie becomes Less about discovering and more about getting throug it so that the movie can let us know we have been set up in an escape room from the get go. Attempting to surprise us with a twist the movie begins anew telling us the story it really wants to tell about greed and powerlessness and conspiracy. And it is here we learn that no one ever escapes as we are set up to return to the theatre for escape room 2. The second floor or some other I'll aptly named sequel. We are pawns in corporate greed attempting to trap us in yet another mediocre horror franchise. Don't buy the ticket.
February 13, 2019
The ending was also AMAZING IT WAS LEGIT! Btw I'm the same person if the review from the one before this one.
February 13, 2019
This movie was AMAZING the acting is great but my fav character died which is kinda sad, I'm extremely young but I have seen more horror movies than anyone in my family, and this is one of my favs.
February 08, 2019
Terrible. I left after half an hour!,, waste of time and money!,,
February 04, 2019
good movie
January 29, 2019
Two words off brand and predictable.
January 20, 2019
The whole story and concept is like the replica of the movie Jigsaw except this one is less extreme and non-brutal. Not boring but pretty intense, I enjoyed this movie!
January 18, 2019
Excellent. Very fast-paced.
January 16, 2019
Should be banned.stupid stupid stupid
January 13, 2019
Very entertaining movie. The ending was a little dull but there was plenty of action and intensity throughout. Heart pumping and thrilling!
January 11, 2019
Best movie I have ever seen! Will see it tonight for the 6th time! Highly recommend.
January 08, 2019
What can I say just terrible. Don't waste your time and money. Go see aquanan or something else. You sent missing much by not seeing this
January 06, 2019
Horror not really. It was not bad but the ending totally lame. I did enjoy it all the way through but when they go back with the police the outcome is terrible. That is what ruined it for me. Will not watch again. Don't waste your time and money for this trash
January 05, 2019
Movie was decent. I would recommend it. had some thrilling spots and a decent plot.
January 04, 2019
2.5. Lame premise with lame cast. Don't waste your time
January 01, 2019
great movie for the entire family.