Extract - User Reviews
Thank you for rating this movie!
Read your review below. Ratings will be added after 24 hours.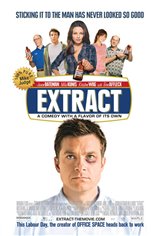 ---
Please rate movie 1 to 5 stars
Showing 1 to 15 of 15
February 07, 2010
Amazing movie! Funny from start to finish. This movie is very refreshing and unique. Watch it, you wont be disappointed.
January 15, 2010
Cute & funny!
December 25, 2009
This movie was horrible, I did not rent this movie because Simmons was there, I could not care less, if this is a joke from his fans...ha ha not funny!....I rated this movie 1 *
October 01, 2009
4 stars it was funny but not great. There was also not nearly enough mila!! Kristen Wiig was great in adventureland but her role in this movie was aweful. They needed a much better performance from her.
September 22, 2009
unique, interesting movie. made you think. very funny
September 14, 2009
Light comedy but pretty funny. Has the feel of Arrested Development but otherwise apparently no connection. Maybe it's just Jason Bateman. Has Affleck fallen to third-string roles?
September 13, 2009
To the person who commented on the individual who spoke of the "lack of unnecessary nudity", you may want to read and understand what he was actually saying before YOU comment.
September 12, 2009
Very Boring..Badly put together...It's been done before.......
September 09, 2009
Very funny movie! Anyone who didn't get it or laugh during it is a total numbskull, mm'kay?!
September 07, 2009
Very funny and lacked all the unnecessary nudity and rudeness other movies need to succeed. Good comedy
September 07, 2009
Three words: stupid, boring and a waste. Nobody laughed in the theatre during the whole movie. Better value for your money is a cheap flick at the corner video store...
September 07, 2009
The funny parts in the trailer were even funnier in the movie. Very well scripted. For the person that mentioned "nudity," you may want to actually WATCH the movie before you write a review for it because there is ZERO nudity in this movie. Definitely worth seeing! 4-stars
September 06, 2009
A little funny, good plot,good characters,worth paying $6.99 for. Better than alot of movies that came out this summer.....
September 06, 2009
This movie was funny, definetly worth seeing!
September 06, 2009
funny funny stuff plot is a little thin but very funny