Extremely Loud & Incredibly Close - User Reviews
Thank you for rating this movie!
Read your review below. Ratings will be added after 24 hours.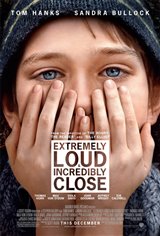 ---
Please rate movie 1 to 5 stars
Showing 1 to 41 of 41
February 28, 2020
Thomas is genius and a super glob actor
July 13, 2012
beginning was good, definitely slowed down. the child actor overacted and it became very annoying. agreed with the other commenter, could have been three separate stories...couldn't sit through it in one viewing.
April 28, 2012
an excellent movie with a very unique and touching story. brilliant acting by the young boy!
April 23, 2012
very slow and boring. the 1st half hour was interesting. this could have been a short story, maybe 1 of 3 stories involving 9/11. reviews here are very misleading.
March 17, 2012
incredible movie!!! such a touching story brought to life by young thomas horn and all the other actors ... deeply touching from beginning to end (bring a box of tissues!) ...
March 16, 2012
much better than i expected. actually i wasn't sure what to expect really. it showed through a child so many things wrong with why we disconnect with each other for human social relations, be those totally afar off, or even those so close, that we are all strangers to each other, that we seem to be taught out of 'fear' for 'safety' that we have the license to maintain 'estrangement'. and that we end up oblivious to why things happen to us, and so many things never get fully resolved (such is life and death) and the grieving process of any big loss in life. worth the see. i cried so many times.
February 23, 2012
i found this film quite melancholy - it isn't about 9/11 but takes place on 9/11 so it's in the background throughout. maybe that's what makes it sad for me. great acting by the kid, though. i remember him from jeopardy!
February 14, 2012
i have mixed feelings about the movie. i was annoyed with the leading child actor (don't know his name). i think the movie had great potential but something was amiss.
February 13, 2012
don't go if you want fluff. this is a powerful movie about grief and recovery, and how sorrow and joy don't exist in a vacuum from each other.
February 11, 2012
outstanding performances, depicts losing a parent very well, it's a nice change that we finally see a movie about a child and what the children went through after 9/11. best movie i have seen in a very long time.
February 07, 2012
couldn't stand it... very slow moving.. the premise for the story was not convincing and did not even make sense - and the max von sydow character goes along with it all?? one of the slowest movies i have ever seen, though some of the ideas the tom hanks character shared with his son were interesting.
February 06, 2012
loved it a great movie
February 05, 2012
9/11 is still a sensitive subject to portray on film and there can be a good movie made out of looking at the grief. it should not have been treated like lightly, especially when dealing with the point of view. the kid was the most unpleasent kid i ever had to watch. in one scene, he said that he was tested for aspergers. i don't know whether it's worst that he does have it or not. if he does, than ask one question, suppose if this kid was suppose to represent children of the victims of 9/11, why didn't the filmmakers just make him an average child. i don't want to say "normal". why does he have to have the disability? it just comes off as a gimmick, to make the film seem "quirky" when i
February 05, 2012
i really enjoyed this film. nice performances, especially by young tom horn. i found the story multi-layered and emotional. the subject matter was sad, but ultimately up-lifting.
January 30, 2012
hanks' best since larry crowne.
January 30, 2012
two academy award nominations, including best picture!
January 29, 2012
this is a very heartfelt movie that needs to be watched from beginning to end to understand the complexity..
January 29, 2012
extremely fascinating & incredibly meaningful!
January 29, 2012
it would of been so much better without the child actor. he was very hard to identify with, and the story would of been much better with a regular child to better bring forth the emotional and human aspects of this film.
January 26, 2012
i thoroughly enjoyed this movie. the star thomas horn did a wonderful job in this film!
January 24, 2012
if your looking for light feel good hanks / bullock entertainment, this isn't it, however t is a very good and at times, gut wrenching, movie about an extremely intelligent boy with asbergers syndrome (?), trying to come to terms with the loss of his father, who died in the twin towers on 9/11. he goes on a quest to find a message from his dad.
January 24, 2012
this movie was very slow and boring, i thought it would be so much better, but the whole movie was about the little boy crying and yelling and pinching himself. the whole movie was about a stupid key!
January 22, 2012
An awesome movie. 5stars, finally a movie with a good story line, a must see
January 22, 2012
for what it's worth, the book may be a good; the movie certainly is not. the movie depicts a little boys emotional struggle with losing a parent, having a 9/11 back drop makes the movie a gimmick.
January 22, 2012
as usual, the critics are wrong. this is an excellent movie. yes, it's a slow start, but definitely picks up steam about a 1/2 hour in. judge the movie as a whole. thomas horn has a bright career ahead of him. amazing performance. this is a must-see movie.
January 22, 2012
this is a fantastic movie. tomas horn is exceptional- an etraordinary performance for such a young actor.
January 21, 2012
not bad. not excellent.
January 20, 2012
i wouldn't waste my money....it was too long and drug out.....for two be characters in it....thought it would be waaaay better
January 06, 2012
really moving and too real...
January 06, 2012
very good and very emotional movie
January 05, 2012
goodman in anything
January 04, 2012
Not as expected
January 03, 2012
I liked it
January 02, 2012
It has Sandra Bullock in it...need I say more?
January 02, 2012
A very touching movie about 911...Tom Hanks is great in this movie...you will cry.
January 01, 2012
Extremely good. Great actors
January 01, 2012
Loved it
January 01, 2012
Top notch!
December 22, 2011
outstanding
December 18, 2011
I can not wait to see the movie, my x husbands birthday today , he died, ten years ago, i feel sad for my four kids that have no dad, this will touch home for them too