Fahrenheit 11/9 - User Reviews
Thank you for rating this movie!
Read your review below. Ratings will be added after 24 hours.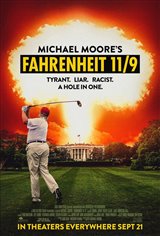 3.18 / 5
User Rating
Based on 446 votes and 146 reviews
---
Please rate movie 1 to 5 stars
Showing 1 to 50 of 146
November 16, 2019
It's a bunch of lies.
April 11, 2019
Garbage, Liberalism is a mental disorder. MAGA 2020
February 26, 2019
This is timely, especially with the Trump Crime Syndicate ready for the trash heap of prison !
February 01, 2019
disgusting propaganda! Shame on you.
January 09, 2019
Michael Moore told it as it is the comparison between hittler and trump is spot on and the Michigan govener what an ass why wouldn't you give the people in your state clean water
January 07, 2019
Horrible! less than 1 star! where are the riots where is the impeachment, all thats happened is prison reform that was long overdue, legalization of hemp and hemp farming, lowest unemployment rate, peace in Korea, hmmmm sounds like this dude is a quack who is just butthurt because Crooked Hilldawg didn't win (thank God!)
January 06, 2019
total dumbass
December 27, 2018
Yawn ....
December 26, 2018
One of the worst flip flopping personalities one could imagine. It's not about far left/right he is trying to expose, such motives do only exists in the mind of the masses, the few ones knowing the real truth knows this man(?) is anyone's shill for anyone paying the right amount. By telling half truths, he is poisening the well of knowledge/facts.
December 23, 2018
more crazy left wing propaganda. Michael Moore is clearly puppet for the democrats.
December 19, 2018
Fake news
December 05, 2018
utter rubbish
November 25, 2018
Boring and too Longgggggg.
November 04, 2018
Whole thing is absurd---Complete propaganda. Moore is unrestricted by really or truth.
November 02, 2018
It was amazing and Mr. Moore is amazing. I respect him so much! He is the REAL American Patriot! Not afraid to state and show you all the truth of what this country has become. God Help America... Thank you Michael for doing what you do! Many, many of us appreciate and love you...
November 02, 2018
Waste of my time
October 31, 2018
Moore is getting worse and worse with his political films. Poor writing, poor acting and poor directing.
October 28, 2018
liberal bias from the far left, he talk about lies and he is the biggest liar when it comes to his self appointed opinions, as half truths do not equal the truth. so I rate this a 1 star because there is no 0 rating it a Doc move to express the opinions of a far left liberal which do not add up it the truth, plus it boring
October 27, 2018
It saddens me to see the number of have rated anything of M. Moore positive, as he has shown himself as a far leftist. We fought WWII against socialist and a 40 yr.cold war again against communism "just another form of socialism. This all stems from the lack of education and the educating of our youth for 4 decades with Liberal/socialist in documentation the rewriting of history and the elimination of God. Hitler and Stalin understood that nationalizing education with their views vs truth ensured elimination of God without which there is no personal freedom or liberty. This current movement by the left is not due to hate for Trump but due to the hate for the movement by conservative Americans to retake this nation to what is was created as "representative Republic" based on principles of republicism and capitalism not Democracy "rule by mob" and socialism "slavery of spirit and body". The un or mis educated are easy to corrupt in exchange for stuff. History has proven that.
October 27, 2018
I saw the pro-Trump video last month so I wanted to see the view from the other side. MM's movies in the past have been factual and political. This was both. Not easy to watch but important for anyone who intends to vote. There are a lot of other entertaining or escapist movies--this is not one of those. Watch it if you dare.
October 24, 2018
Moore still believes he's smarter than the average Fat Bear. If the viewer has a closed mind and has nutty views like Moore, it would be enjoyable. I GIVE A RATING OF -1 STAR, GARBAGE.
October 18, 2018
This movie was very underrated. Michael Moore was right on the money, as always, uncompromising and truthful in his assessment of where this country is heading. This is a must see movie.
October 15, 2018
A brilliant film by Michael Moore, and his most powerful to date. There are none of his usual little moments of humour. This is so stark and depressing, and at times I was so overcome with emotion that I used up a few Kleenex. He tells it as it is, and it's hard to get up to leave the theatre. Keep up the good work, Michael. As hard as it was to watch, the facts need to be known.
October 15, 2018
Very informative. Rating based on being a documentary, 5 stars is in order
October 11, 2018
The "1 star" reviewers don't seem to realize this is not a drama created by a writer. It's factual. It's a documentary. It's something we should know about, like it or not. It's not about best directing or best acting. It's about what's happening in our country, and it's scary. If you don't like what you saw, do something. Vote.
October 08, 2018
Moores' hi-jinx may appeal to the mentality of rabid frat-boy Kavanaugh supporters, but it left a bad taste in my mouth. This man, who clearly thinks himself mightier than the great lord himself, could only appeal to the type of person who thinks climate change is a hoax. I pray each night that Jesus would intervene in Mr.Moores sad life and show him that wage slavery is a real and systemic problem. Shame on you Mr Moore.
October 08, 2018
Had its moments, but overall not a great movie. Dragged a bit towards the end, but it made me chuckle here and there. Im happy to be the second non 1 or 5 star vote. Grow up people.
October 08, 2018
Michael Moore exposed our flaws and challenges us to be more engaged citizens. It is such a mirror of our polarized society that 58% of viewers loved it and 41% hated it, with practically no-one in between. Is there any room for dialog???
October 06, 2018
Was desperate to have some popcorn.....walked into this "Political porn Fest"..... ate my popcorn and immediately went to see Crazy Rich Asians....much more of a documentary than this High School "I'm so angry" super 8 movie !
October 06, 2018
a must see
October 06, 2018
If you like to pay cash for your propaganda, then this is for you. If you have more than two neurons working, stay away.
October 04, 2018
A democracy is only as valid and meaningful as is an informed voting public. The PBS series "Frontline " also has a very excellent show on Trump's early years, business dealings, and up through elections. Socialism is an economic system that can be integrated with capitalism by voting on economic and social justice issues in a democracy (as long as are voting system hasn't been hijacked!!)
October 04, 2018
So biased I walked out
October 02, 2018
Seeing some of the ratings, to me says some have not bothered to go see the film, they are just stating their own political preferences. This is an important film if it was just about the Flint Michigan situation. I say go with an opening mind and be prepared to think.
October 01, 2018
Lays out the whole picture about what is going on in this country!
October 01, 2018
Moore comes from a socialist/communist position so President Trump or any constitutionalist/conservative is a threat to his end goal of a socialist nation which would eliminate much of the liberties many leftist Americans that for granite. Amazing that so many who slept thru history/economics and failed will trade our fought for liberties for government hand outs.
October 01, 2018
An eye opener to anyone. Trump's fans do not understand this movie. They tweet too much. Lol
October 01, 2018
Just stop already. So biased.
October 01, 2018
Nope. Don't bother. Too biased and too political.
September 30, 2018
Another eye-opening film by Michael Moore.
September 30, 2018
Very inspiring. This is not partisan. He blames MI Republican governor and his cronies for the problem they created for the Flint, MI, as well as President Obama who drank the water saying the problem is solved. That's why Clinton lost Flint, Michigan voters.
September 30, 2018
Bunch of lies and so boring
September 30, 2018
Powerful and insightful! A must see!
September 30, 2018
Scattered docu that doesn't illuminate very much of anything. Some interesting analysis of flint water crisis. Cringeworthy segments on school shooting and student activism. Canned score was painful to sit through and too obviously trying to evoke some semblance of emotional response. Went thinking it would be a take on Trump, didn't really explore anything new or nuanced. Even the title is uninspired.
September 30, 2018
Should see this movie regardless of political persuasion!
September 30, 2018
Everyone needs to see this brilliant film! People who have written reviews saying things to the effect that Moore blames everything on republicans, have obviously NOT seen the film!!! ...and thus have no place writing reviews!!! The fact that Moore does not let republicans or democrats off the hook, is precisely why everyone must see it!!!! This film goes well betond party politics!!!! Well done Mr. Moore!!!👍
September 30, 2018
Truest boring
September 29, 2018
This is Moore's best work. Troubling to watch but important to see.
September 29, 2018
Boring