Fantastic Beasts: The Crimes of Grindelwald - User Reviews
Thank you for rating this movie!
Read your review below. Ratings will be added after 24 hours.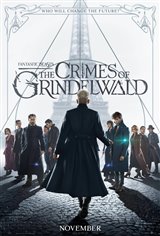 ---
Please rate movie 1 to 5 stars
Showing 1 to 46 of 46
January 25, 2019
This was a fantastic movie! I loved it!
January 22, 2019
FANTASTIC
December 23, 2018
It really didn't have a story line rambled too much. It was hard to follow. I was very dissappointed.
December 19, 2018
SO MANY AMAZING PLOT TWISTS! Much needed backstory helps explain the current predicament as well as the characters, old and new. Great blend of humor, romance that isn't lusty and hasty, intriguing and unique characters, and action. Fantastic Beasts 2 is truly fantastic!!
December 19, 2018
Terrible jumble of a story that made no sense. JK Rowling should leave screenwriting the the pros. She clearly is out of her depth here.
December 17, 2018
Hated it. Will never see another.
December 15, 2018
very bad, I will no paid for tickets the second part,
December 14, 2018
I should have seen "Ralph Breaks the Internet"!!!!! I yawned most the way through the movie but the last 13 minutes had potential. One thing I learned from researching 'how to write a story' is to kill the darlings --darlings are snippets in a movie or book that the author loves dearly but doesn't make the story move forward at a rapid pace. These darlings may make our eyes roll or cause us to yawn or snicker; it kills the momentum,.
December 13, 2018
Sucked! It was all over the place and I love harry potter
December 09, 2018
Just such a great and an amazing movie to go and watch!!!!! I have (and my entire family) been Harry Potter fans/nerds ever since Harry Potter had first come out ( note that I am only fifteen though on December 23rd) and this movie was not one to disappoint, it even had some mad backstory on some of the well known characters in the Harry Potter series/movies!!!!! -Sage Autumn Hansen-
December 04, 2018
LOVED IT!!!! #JOHNNY DEPP!!!!
December 04, 2018
Confusing and annoying. Too much time spent on the special effects. Almost got up and walked out, which I've never done on a movie before. And I'm a big Harry Potter fan, in spite of my age (over 60).
December 04, 2018
Loved it!! As good if not better than the first one!!
December 03, 2018
Lots of needless dialogue. This movie could have been half as long. Another snoozer from our high priestess of the underworld, JK Rowling. Even though this movie is really bad, come join her cult of the underworld. Hail Satan.
December 02, 2018
Wasn't sure if I'd like it, because I didn't really like the first one. This one was better and I enjoyed it. If you don't know the storyline, google it before you go -it helps to know what's going on, especially if you're not a huge Harry Potter fan and don't really know the back story.
December 02, 2018
A good movie just a little bit slow
November 30, 2018
Loved everything about this movie and seeing it in 3D made it that much better
November 29, 2018
Amazing surprises await. I went in neutral and came away very impressed. You must know the Harry Potter series and you need to see the first movie of this series to get the most understanding from it. Awesome.
November 27, 2018
Loved it! Great story, acting and special effects. Plus Johnny Depp was PERFECT as Grindlewald!!
November 27, 2018
I'm baffled by the negativity from the critics - I loved this movie. The plot is intricate and full of great characters with rich backstories. I thought the acting was stellar, in particular Eddie Redmayne, Zoe Kravitz, Judd Law and most especially Johnny Depp. I'll be seeing it tomorrow for the 2nd time. My only complaint is that I must wait 2 years for the next installment.
November 26, 2018
Enjoyed this movie, didn't see first. I describe it as Harry Potter for grown ups. Acting of Depp and Redmayne really stood out. All actors gave very good performances but those two elevated the crew. Not for kids, but most teens will enjoy. It's not an action movie but instead a movie about the complexity of character and self determination. If into existentialism, this is definitely for you! Could even be a morality play but goes much deeper.
November 26, 2018
I like the Harry Potter movies and J.K. Rowling so I was looking forward to this. However, I still can't tell you what the plot is supposed to be. Characters come and go with seemingly no explanation. It's all very convoluted. I felt nothing for any of the characters. It is boring, long, drawn out and makes no sense. Huge disappointment. You can miss this and save a few bucks..
November 26, 2018
This movie in 3D was crazy cool! Overwhelming big experience to see in the theater and highly recommend seeing it in the theater. You will miss this experience if you wait to see it at home. Very entertaining....no boring or dull moments at all!
November 25, 2018
Johnny Depp is back! His best since The Lone Ranger. 4/5
November 25, 2018
This movie was fantastic and creepy at the same time.
November 23, 2018
Unless you're a Potter fan, pass on this movie. A better option is to wait until the entire series is complete and you can watch it at home, or not, as it does get overwhelming boring.
November 23, 2018
Loved it. The acting was excellent, it was much better than the first "Fantastic Beasts", which I liked. I think J.K. Rowling does Britain better than the U.S., loved seeing Hogwarts again and the British settings again. Excellent movie that leaves you hanging a little bit, in a good way.
November 22, 2018
Well done story. :)
November 22, 2018
Moving, action based movie. Lots of magic and artistic technology.
November 21, 2018
Fantastic movie.
November 20, 2018
Nope. Don't do it. Poorly written, badly acted, and stale.
November 20, 2018
I really enjoyed this movie, great special effects...go see it you won't be disappointed
November 20, 2018
Great movie can't wait to see how it goes next!
November 20, 2018
Amazing movie. I am waiting for the sequel.
November 20, 2018
fantastic crap! a waste of time.
November 20, 2018
Difficult to follow. Gone is any whimsy from Harry Potter. Not for young children under age 10
November 20, 2018
AMAZING! JOHNNY DEPP WAS BRILLIANT... i don't know what people are reviewing about....this movie was entertaining and must see...loved every minute of it. Just as great as the first one.
November 19, 2018
It was not as good as the first one. Slow and Boring. The very end was good.
November 19, 2018
Enough with the Harry Potter knock-off's already!
November 17, 2018
Loses one star for dialog soundtrack issues at times.
November 17, 2018
AWESOME
November 17, 2018
JOHNNY DEPP BEST SINCE PIRATES OF THE CARIBBEAN: THE CURSE OF THE BLACK PEARL (2003)
November 17, 2018
Excellent story. The villains were the best characters from this movie.
November 16, 2018
Excellent movie. I have not read any of the books so my rating is based on my viewing the movie. I liked it better than the first movie.
November 13, 2018
Compared to the first movie, this second part sucks, big time!
November 13, 2018
Hail our high priestess of the underworld JK Rowling and her new movie. Go see it when it comes out and join us.