Father Figures - User Reviews
Thank you for rating this movie!
Read your review below. Ratings will be added after 24 hours.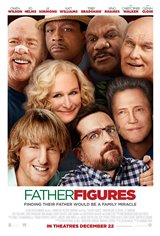 ---
Please rate movie 1 to 5 stars
Showing 1 to 29 of 29
April 22, 2018
Waste of time!
April 04, 2018
Terrible movie
January 12, 2018
THIS MOVIE WAS SHIT
January 11, 2018
Thought the movie would be a lot better with this cast.
January 10, 2018
Lame movie.
January 05, 2018
Love these actors. Funny story.
January 04, 2018
Movie dragged on. Not well written, slapstick plot. Theater was void of laughter. Considered walking out. Extremely disappointing.
January 03, 2018
I don't really have a problem with vulgarity, but it came across as though they wanted to shoehorn in a swear word every few jokes. It's a good concept, just really, really poorly executed.
January 01, 2018
Garbage, total garbage!!!
January 01, 2018
Save your money and do something else
January 01, 2018
Bad movie ??
January 01, 2018
Thought about walking out of this movie. Very slow and not at all entertaining.
December 31, 2017
No so funny. Vulgar and boring.
December 30, 2017
If you go into this film expecting total comedy you will be disappointed . But it really is a heart warming film with some comedic bits mixed in . It was not bad in my opinion .
December 29, 2017
Nothing funny in this movie...Ed Helm's character is unlikeable and not funny. Glenn Close and Terry Bradshaw should be embarrassed by the characters they play and their dialog. Owen Wilson is always interesting and watchable. The writer and director totally blew what could have been a funny story line.
December 29, 2017
Crude, vulgar, dumb, and I'm no prude. 2 funny scenes in the entire movie. Movie starts with a prostate exam in progress and goes downhill from there. Owen Wilson is watchable and is the only reason it doesn't get a 1 star rating.
December 29, 2017
very boring! not so funny
December 29, 2017
hillllllllllllllllarious!!!!!!!!!!!!!!!!
December 28, 2017
clearly if you aren't giving this 5 stars you don't like to laugh. The NEW hangover
December 27, 2017
good to see something to laugh at. Wasn't the best movie I've seen but it was alright.
December 27, 2017
Clearly the same person wrote a least 5 of these one line reviews, don't be misled, this was no 5 star movie.
December 27, 2017
Not terrible, but certainly not great, oh well, it was a nite out and the popcorn was good ;)
December 27, 2017
movie was not very funny, if you are looking for funny like 'the wedding crashers', this isn't it - the funniest scenes were the ones with Katt Williams, he was hilarious, wait for this one on cable
December 26, 2017
Horrible movie laughed 1 time I left before it even ended don't waste your time
December 26, 2017
Wasn't worth the money.
December 26, 2017
Funny as hell watch it!!!
December 23, 2017
Trash. What a lousy movie.
December 23, 2017
Very boring movie...
December 22, 2017
This is an embarrassment for everyone involved. A pointless script that just wasn't funny in the least.