Fifty Shades Freed - User Reviews
Thank you for rating this movie!
Read your review below. Ratings will be added after 24 hours.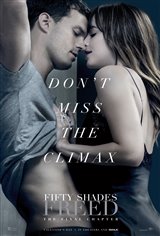 2.89 / 5
User Rating
Based on 2420 votes and 83 reviews
---
Please rate movie 1 to 5 stars
Showing 1 to 50 of 83
May 27, 2018
Fantastic ending to the franchise!
May 16, 2018
I loved it. Perfect . So epic to watch the story after reading the books.
May 15, 2018
Wasn't as good as the last one.
May 12, 2018
The absolute best of the series and a must-see for lovers of all ages.
May 12, 2018
I actually thought this one was the weakest of the three movies,although I think the scene where Ana expresses her anger at Christian, over his lack of support when she tells him she is pregnant, was her best acting of all three movies.I have not read the books but found the character of Ana from shy student to high class hooker to first lady a little incredulous.
May 08, 2018
The love story of our time. Would be nice to see them start a family in the next one!
April 29, 2018
I really understand why there is a need to show full nudity and sexual act in movies. A few years ago this would be classified as Porn. Nothing is sacred anymore. I even saw a couple of young mothers there with their small children. Pathetic.
April 29, 2018
Another let down.
April 29, 2018
Why are children allowed to see this? The place was full of young teens.
April 23, 2018
Finally had a chance to see the movie. It's sweet and charming, a beautiful love story. People who are writing negative reviews have obviously not seen it.
March 03, 2018
It was okay, but the movies are sadly lacking in comparison to the books.
March 01, 2018
The whole movie is awesome lovenit they should come out with more sequels
March 01, 2018
For all you people who gave it a 1 star, apparently did not see the first two movies, or even read the books. If you walk in to this movie only, you will not understand anything. This is a great trilogy! Christian was abused as a child and this shows how successful you can be when the right people enter your life. You MUST see all three to completely understand. Please do not rate this movie if this is the only one you have seen. I read the trilogy and watched the first two as well. There IS a plot and they are all very good movies.
February 27, 2018
The movie was boring. The first one was not so bad but this one was lame.
February 26, 2018
It was a bad story and good acting but a weak script. Too many good plots skipped. It would have been more emotional if it was closer to the story. (Book)
February 25, 2018
Have to wonder why anyone would buy a ticket to this show when they have been warned the type of show it is! Have to wonder if a group of church people went as the recent reviews are bad but all the earlier ones gave it great reviews! My senior friend and I had read the books and thought it was a good movie! It's just fantasy which most movies.are.
February 24, 2018
The entire series was awesome. Very well done. For the low reviews....perhaps you should really see all movies and realize what my significant other felt after watching Fifty Shades of Grey for a second time then Fifty Shades Darker. After watching these back to back he said 'there really is a story there. I need to watch Freed to see how it ends.' He said Freed was the best of the 3. Relationships are about exploring and giving and taking. Not all go to this extreme, but divorce and battered women are nothing what this movie is about. If you didn't want to see it, then you should not have gone. If you didn't see it and rated it a one star. Shame on you.
February 22, 2018
Love love love love in the air i like very much 🌟🌟🌟🌟🌟?
February 22, 2018
I like the movie tooo much is very good the people not like because this movies is for smart people, sentimental people and pasion people the movie is perferct 👍👏?🌟🌟🌟🌟🌟
February 21, 2018
Our whole family enjoyed it much more than the last one.
February 21, 2018
Different development of relation of Ana and Christian. Enjoyed it.
February 21, 2018
Great movie, the best of all three.i thought it was a wonderful love story with a fabulous ending, my husband loved it too!
February 21, 2018
A good movie!
February 21, 2018
See it with someone you love.
February 20, 2018
Finally the conclusion. It's a nice movie to dream. Great music soundtrack.
February 19, 2018
Ugh the worst female actress! So disappointed !
February 19, 2018
Jamie was the biggest draw for me, not going to lie, I would watch him paint a wall for two hours. We got exactly what was in the books so no complaints here, i think they did their best with the crap they had to work with. Now they both can make the projects they really want to thanks to 50 shades series making bank.
February 18, 2018
I read all three books. I thought the first 2 movies were much better than the last one. I left the theater very disappointed. I felt built up just to be let down.
February 18, 2018
I loved it
February 18, 2018
Saw all three movies. I would never have gone before reading books.So glad I did. I am a baby boomer and am not ashamed to say it spiced up my sex life. WHO KNEW. It was fun, dramatic,different. This was definitely not the same plot you see done over a million different ways. Hope she writes more.
February 17, 2018
I loved FREED. It was ALL I thought it would be. Loved Jamie singing.....the musical score was special throughout!!! The movie covered most of the "high points"of the book...as movies are adaptations, I thought the changes followed the meanings the book had developed. It felt somewhat rushed going from one major happening to another!! Sooo many good/important parts were omitted...I wish it could have been longer to include more of the story!! Dakota and Jamie were excellent!!! If you have read the books and followed the development of Ana and Christian's relationship you know that it is NOT JUST ABOUT SEX! They enjoy their sexual experiences as a couple and deepen their love through them. For me, how far their love took them in developing and strengthening their relationship was the beauty of the story!!
February 15, 2018
Had seen the prior two movies loved them all. Poor ratings were not fair.
February 15, 2018
I am old enough to be both Jamie's and Dakota's mom. Had not seen one or two before three had start being showed. Just want to say. Church people, and all of you that look at all, or one of the three and saw anything but reality something is wrong with the way you look at life. All three movie deserve better reviews, then what they got. Real issues in life, jobs, power, marriage, family, dating. Hardship, abuse, abandon, Hunger, and yes SEX!!!!!!!!!! Get over it. All Three was about a love story in the making. So he had sex toys. More people then is known have them. Not my taste. But to each it's own. Their relationship was never boring. I would like to see more. Maybe a mini series. The movies was a little rush.
February 15, 2018
The movie was no so great as the first one.
February 14, 2018
Amazingly balanced movie plot and sequence.
February 13, 2018
I loved everything about it. The cinematography, the plot, the settings, the sound, the music, the acting, everything. I especially liked the sex scenes. Dakota is hot, hot, hot and skinny. I really like her feet.
February 12, 2018
It s number 1 at the box office!!!!!!!!!!!!!! Yahoo!!!!
February 12, 2018
I heard there was a church group out there wanting to destroy the ratings in hopes of keeping others from seeing the movie. This all makes sense now! Well, I loved the movie and it was the best of the three.
February 12, 2018
Loved this movie! Reading the reviews it appears by the language in some of the comments that the same person keeps talking about porno, trash movie, leaving early etc. Looks like some one just likes to talk bad about this movie. All well to each their own!!!!
February 12, 2018
We decided to go see the last one in the series despite the low ratings given by the critics, and so glad we did. We both (husband & me) really enjoyed the whole movie. We enjoyed this last one more than even the first two. The story line, the pace, the way they were more caring and thoughtful to each other. The way she stood up for herself and the ending was even great! I walked out thinking how could the critics be so wrong, and I'm glad I did not miss this one. I know some of you are seeing the rotten tomato's rating and thinking you will wait a month or so and watch it at home and save your money. I think some of these short bad reviews are some conservative Facebook church Friends who have not seen the movie, but want the movie to fail. The bad reviewers are using descriptions like they have not seen the movie and just guess what it's about. I can tell you, if you liked any of the first two, you will really like this one, and it is worth seeing at the movies. This might be one that I buy on DVD in a few months even thought I don't normal watch too many movies twice. I thought they had more chemistry between them in this movie, then in the first one. I love how she became a strong partner in the marriage, and an equal in many aspects, no long just taking orders because she thought she had too. By the way, the sex was better in this one also, so don't miss it on the big screen.
February 12, 2018
Loved the montage of memorable moments at the end while "Love Me Like You Do" played.
February 12, 2018
Pure relationship melodrama and I loved it!!!
February 12, 2018
Wedding, trip to France, private jet, tip to Aspen, great wealth, car chase, pregnancy, kidnapping, hospitalization, shooting, birth, love and sex. What's not to like!!!!!
February 12, 2018
Worst movie I have seen in last year
February 12, 2018
Romance lives!
February 12, 2018
This movie was amazing , the storyline was great . I really believe you need to read the books to appreciate the story and the actual love story behind it but it's so good the best one of out all of them and they did the ending so well ??
February 11, 2018
Loved this trilogy and hate to see them end. The ending did make me happy.
February 11, 2018
If you think sex is dirty stay away but if you like a good love story this is the one for you.
February 11, 2018
I saw this movie with a friend and we are both 60 years old. We loved this movie. We are not prudes and know there will be sex in these movies.
February 11, 2018
Jamie and dakota have great chemistry in these movies.