Fight Club - User Reviews
Thank you for rating this movie!
Read your review below. Ratings will be added after 24 hours.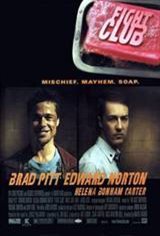 ---
Please rate movie 1 to 5 stars
Showing 1 to 26 of 26
August 03, 2019
This is the coolest and most thought provoking movie of its time.
September 23, 2008
Hands down, one of the best movies I have ever seen.
November 22, 2006
Best movie in history next to se7en
September 19, 2006
THA BOMB!! Man it plays with your head so much!!
August 08, 2006
the best movie ever -creechums sanches gonzalez
March 13, 2006
Wow, I just watched this movie and it was amazing.
September 24, 2005
IT WAS SOOOO AMAZING
July 17, 2005
Definant Favorite!!!!!!!!! Great Twist!!!!!!!!! Never would have figured it out until it was too late!!!!!!! LF
May 17, 2005
Genius! the entire cats writers and directors! until this movie came out there was nothing like it. it really makes you think. and always wonder what that stranger next to you on the bus is thinking. i cant help but watch this movie and applaud the thought processes
February 18, 2005
I thought this movie was terrible. I guess guys who like watching 2 men beat the hell out of eachother would like this movie. I thought it was horribly written and directed. Poor, poor Brad! He usually does so well.
November 30, 2004
The best film off 1999...
July 21, 2004
This is an awesome film. Pitt, Norton and B-C are at the top of their forms in this. The screenplay was superb. There is so much to this film that you must see it several times. I just wish I could see it for the first time again. The last act blew me away.
June 09, 2004
sexually charged homoerotic intensity loses steam at end abrupt and superbly acted
August 16, 2003
so far i`ve seen it 6 times and i`m still not sick of it.... brad pitt was hilarious and i think ed norton is greatest actor alive..... i saw American History X (with norton) and couldn`t believe that it was the same actor..... the story line had me guessing till the very end, the cinematography was awesome, and i loved it`s sutle humour.... this is a must for anyone with a DVD player.....
June 28, 2003
fight club is just...a amazing movie , nothing but amazing , u REALLY should rent or BUY this movie its worth it
May 13, 2003
This was a wickedly good movie...i mean, every part of it was so interesting...There were brilliant performances by my favourite actor, Edward Norton, and also Brad Pitt did a great job! I would seriously recommend it...And to those who liked Norton`s performance, watch American History X.
July 10, 2002
Fight club was the best!!!! One of the greatest movies
April 03, 2002
Best movie ever! I love Brad Pitt!!! Joni!
March 30, 2002
absolutly raw, with a fiendish sense of style and wit... the best film ever
February 14, 2002
i loved that movie its a kick azz movie it rocks your world it realy thos i loved it i realy did its a great movie
January 05, 2002
Best movie ever
November 13, 2001
You re rich, you re upwardly mobile, you re young, you re male -- what do you do for fun? Beat the crap out of each other of course! Edward Norton plays a morbid man without family or friends stuck in a dead end corporate job and revolted by the consumer culture his generation lives in.
November 13, 2001
Based on the debut novel by Chuck Palanhiuk. His next novel CHOKE was also very good.
November 12, 2001
When I first saw previews I thought what a terribly violent movie. But after being forced by friends to watch it I was amazed I love it. Not just for Brad Pitt and Edward Norton but the movie was so well written and usually you can guess the end of this type of movies. But I was stuned. I truly loved it.
October 14, 2001
this is the best movie ive ever seen in my life i love it