Finding Dory - User Reviews
Thank you for rating this movie!
Read your review below. Ratings will be added after 24 hours.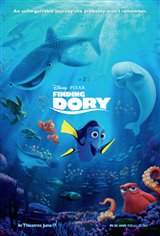 ---
Please rate movie 1 to 5 stars
Showing 1 to 50 of 88
May 16, 2021
It was too funny! It has Ellen Degeneres and a bunch of fish jokes. Catch this one while it's in season!
December 27, 2016
I thought this movie was great. Great fun for the family.
November 12, 2016
It was a good movie pretty funny I really liked it.
November 08, 2016
Loved it!! Great sequel
October 20, 2016
Great movie for the whole family :)
September 08, 2016
I liked everything about this movie. It was so cute! Especially when the Baby Dory parts came in. It was heartfelt, funny, and emotional. I loved it to pieces. I totally recommend this movie.
August 31, 2016
Loved Nemo, but this has little in common.
August 26, 2016
I wanted to see it, but now I heard that they are shoving more lesbian couples into our kids faces... don't want to see it now.
August 14, 2016
Such a cute family movie! Baby Dory was ADORABLE! My daughters (13-20 yrs.) & I all loved it! They thought it was better than Finding Nemo and want me to buy it when it comes out on DVD! :) We would totally go see it again!
August 10, 2016
It was super cute, funny, and heartwarming. Everyone will enjoy it. I saw it twice and would go see it again.
August 03, 2016
great movie
August 01, 2016
Very good... probably better than the original.
August 01, 2016
a heart melting movie...too cute movie...:-)
July 20, 2016
Best part was the movie before the movie...nothing to see here folks.
July 19, 2016
We ALL loved the movie. It held our attention and entertained us the whole time. Grandparents down to 10 year olds. Great sequel to Finding Nemo movie.
July 15, 2016
My daughter, husband and I all loved it!! Very well done. Amusing for all ages.
July 15, 2016
Great Movie! I had to look around in the very front because all of the spaces were taken. I heard people cry at the baby dory part XD. Thank you for this movie. #HaveYouSeenHer?
July 11, 2016
Great movie for ALL ages. Entertaining throughout the picture but got really funny towards the end.
July 10, 2016
Is this the same movie everyone keeps saying is great? I don't know whats good about this movie. It was awful, dory is too annoying. Movie too long. Waste of time.
July 09, 2016
It was SOOOOOOOOO GOOD loved it this movie is a must see
July 08, 2016
Too long. Cut about 20 minutes.
July 08, 2016
Awesome!!!!!!
July 06, 2016
Wonderful animation and graphics. Story a little hard to follow--kids lost interest in parts of the film.
July 04, 2016
Not nearly as well done as Finding Nemo.
July 04, 2016
I thought finding Nemo was better
July 03, 2016
Pixar you've done it again! Not as good as the original but very good. However, the end was a bit moist.
July 02, 2016
Very interesting and funny!
June 28, 2016
Very funny just as good as finding nemo a laugh a minute
June 25, 2016
f**king sucks
June 23, 2016
REALLY? Whos Idea was it to schedule a Kids Flic in the AVX theater.... ? Ridiculous.
June 22, 2016
Enjoyed movie and characters
June 19, 2016
The kids and I really enjoy the movie from A to Z! Dory and all her friends will definitely make you laugh! You don't need to see the first movie '' Finding Nemo'' to see this one but it a must to understand all the joke.
June 19, 2016
Finding Dory is amazing. Its so magical to come back in the sea ! All the new characters are very cute and we want to know them more. Dory is the best character in the Pixar's Movies and it's a gift for the fan that I am to meet her again ! Beware of Hank the Octopus he will do everything to go in Cleveland !
June 19, 2016
As I live out of the cities named, I put my entry into Vancouver where my son lives. He and his friend went last Wednesday. He really felt that Ellen DeGeneres was exceptional in her part as Dory. He also said that it was a Child's type of movie but an adult could enjoy it as well.
June 19, 2016
I love Dory! Super cute movie for the entire family... Finding Nemo is still my favorite but the 10-year-old adored this one!
June 19, 2016
Needed more dragons, bad film
June 18, 2016
Great story! Family is not always the one your born into, but the friends who will do anything for you. Hope they do another just don't wait as long
June 18, 2016
Enough shoving LGBT crap down our kids throats!
June 18, 2016
why was there a lesbian couple???
June 18, 2016
Loved it as much as the kids did.
June 17, 2016
Pour ma part, Finding Dory est une grande amélioration de ''trouver Némo''. Lorsque j'ai connu Dory dans trouvez Némo, ma pensé était que sans Dory, le film aurait pu être ennuyeux car avouons-le, Némo est loin d'être le plus amusant des personnages de films d'animation mais en créant un film avec Dory comme personnage principal, avec quand-même quelques blagues que les adultes apprécierons, ce film risque selon moi d'être film d'animation de l'année et je suis loin d'être un méga fan de film d'animation. Mais pour celui-là, les enfants ne peuvent que adorer leur film et assurément, les parents sortirons de ce film en ayant passé une agréable journée ou soirée avec leur enfant mais aussi en ayant apprécié leur film. Bravo Disney et Pixar.
June 17, 2016
A sweet movie for the whole family to enjoy.
June 17, 2016
Great fun entertainment, as good as the first! Colourful, beautiful Disney at its best!
June 17, 2016
I was lucky enough to win tickets to an advance screening of Finding Dory. I was really looking forward to the movie, based on how much I enjoyed Finding Nemo and it really did not disappoint! It was funny, engaging and introduced new characters which added to its charm. I took my 13 year old daughter and her friends and we all thoroughly enjoyed the movie. This is a movie for children and adults alike. Watching Dory find her way throughout the movie is heartwarming. Take your family and friends to view this movie - you will not be sorry!
June 17, 2016
So awesome to see Dory remembering more stuff, gives us all hope. Loved all the vibrant colors, and some memorable characters that we saw in Finding Nemo still there. Funny for all ages, and very easy for younger ones to follow along. Can't wait to see what other adventure they will come up with, and hopefully Piper will make a bigger appearance somewhere!
June 17, 2016
One of the best movies this year. Totally funny. Awesome actors/actresses. People of all ages will totally enjoy this movie and find it funny. Kid friendly. A must to see. Go see FINDING DORY, you will not regret seeing the movie.
June 17, 2016
If Finding Nemo was 10/10, Finding Dory is a 12/10. Belugas!
June 17, 2016
It was FUNNY. All the characters are so adorable and sweet. No bad fish, just different.