Five Nights at Freddy's - User Reviews
Thank you for rating this movie!
Read your review below. Ratings will be added after 24 hours.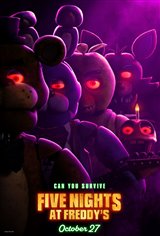 ---
Please rate movie 1 to 5 stars
Showing 1 to 29 of 29
November 28, 2023
BETTER THAN I THOUGHT!!! I thought this was a usual gory, dumb and senseless slasher-type garbage, but.......IT WASN'T!! I THOUGHT IT WAS ABT THT OTHER FREDDIE!! Bad name. But there was a story, and it Didn't SUCK!! Even the acting was above average, so I don't Know WHY it got such a Low Score! I kinda even Liked it, on a certain level. I might even recommend, if you have 2 hours to keeel.
November 21, 2023
Worth it. Kids thriller.
November 19, 2023
Very good story... it' show how guilt over something.. people try to make right. there's a lot of profound themes in this movie. great special affects with the giant puppets. i had a problem with why he left those puppets them in that dingy place to rot. If i had them i would charter a bus and take them on the road.. maybe they sell out some stadiums Which kid wouldn't want to see four 10 foot puppets playing a electric guitar doing the splits on stage. It would blow your mind. I would be careful in the front row seats, though if one of them wants to crowd surf. They could play all the major cities... Yeah..but with touring you could run into trouble with puppet personalities and egos maybe one will be doing a mound of coke. Yeah maybe it would be a good idea to leave them where they are. At least they are not destroying any hotel rooms. the end
November 11, 2023
It had my favorite actor in it so going into it I was excited then towards the end got kinda corney but overall it was a great movie
November 11, 2023
Good for a kids thriller and Scary enough for mom. Thumbs up
November 10, 2023
Amazing
November 06, 2023
It was eh. It started off good but started to get corny close to the end. I would see it again with kids but probably not on my own. It did have potential.
November 05, 2023
This is a real rear occasion when the movie was a lot better then it's source material
November 03, 2023
And I thought the last CAPTAIN MARVEL was bad...
November 02, 2023
I think this movie is fun and very interesting. it's different in a good way. I can't wait for the sequel. thank you for this movie.
November 02, 2023
Awesome just what I wanted but wish it had more blood tho but amazing movie experience and amazing spring lock failure best part.
October 31, 2023
Best child friendly thriller ever released based on a jump scare game franchise. 25Mil to make the movie, and its broken box office records. And no i'm not paid to say this, I wish I was though.
October 30, 2023
ive been waiting for this movie since 3rd grade. it was totally worth the wait. i cried and laughed.
October 30, 2023
We enjoyed it. My son is 8 so he knew more about this movie than I did because he watches this stuff on youtube. He was happy so I'm happy!
October 30, 2023
This is a movie that belongs on Nickelodeon. Good waste of 10 bucks to enter.
October 29, 2023
It's not a bad move, it is a bit silly at times but I enjoyed it
October 29, 2023
i loved everything abt it, i loved how they had backstorys on some parts and i loved how the movie room was so quiet
October 28, 2023
If you love the games you will love the movie. If you are unaware of the games, you will get an awesome introduction filled with psychological horror and fear.
October 28, 2023
What the Hell was that? Awful movie.
October 27, 2023
It was a w movie and wasn't really a horror but more of a thriller and it was a good plot and fun all around on opening night
October 27, 2023
This movie is garbage. People who promote this movie are probably writing these 5 star reviews.
October 27, 2023
Like a made for TV movie. So bad.qq
October 20, 2023
Wow Just Wow
October 20, 2023
BRAVO! A tour de force of horror! Scott Cawthon proves himself as the next Stephen King! Josh Hutcherson (Peeta Griffin from The Hungry Game) stars as "Mike", a down on his luck with a basturd daughter. Desperate for work, he gets a job at the local flophouse "Freggy Fazzaber Pizzeria and Local Family Fun Spot". Little does Michael know , the spirits of the damned enhabit the friendly talking animal characters and their dog friend. Hilarity and horror ensue. The screams of the robot make me think of my young son when he was born. Great fun for all, although the ending where Mike revealed that he was actually the killer and fought the manager of fred's for his $12 in tips was a bit over the top. He should have gone to the work board, like I did when Mitzi's didn't give me my tips. Good riddance. I look forward to the sequel "Freddy 2: Figglehorn Revenge" when it comes out; Thank you to my son for helping me figure this movie busness out!
October 20, 2023
been a long time fan and im glad its done after the 8 year wait
October 01, 2023
Best thing ever
August 18, 2023
I played the game and my son is a fan of Fnaf