For A Good Time, Call... - User Reviews
Thank you for rating this movie!
Read your review below. Ratings will be added after 24 hours.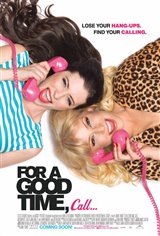 ---
Please rate movie 1 to 5 stars
Showing 1 to 17 of 17
February 26, 2013
cute and funny
January 25, 2013
cute and fun movie...light laughs ..ari graynor was awesome in it
January 23, 2013
a fun movie
October 01, 2012
Laughed until I was in tears!
September 27, 2012
It was alright.
September 25, 2012
a fun girls-night movie.
September 19, 2012
sexy flick. i quite liked it. :)
September 18, 2012
girly movie
September 15, 2012
for a good time, call... is a crude comedy with a sweet center. lauren (lauren anne miller, who co-wrote the script) is a sensible young woman with a boring life. when she loses her job and her boyfried goes off to italy for several months - and essentially breaks up with her - she's left with an apartment she can no longer afford. katie (ari graynor - who has more than once been described as kate hudson - only with talent) is the party girl who was the life of the party in college but has never translated that into a real life - and her apartment is losing its rent-controlled status, so she needs a roommate. unfortunately, there was an incident after a party while they were in sch
September 14, 2012
glad someone talked me into watching this movie - really enjoyable.
September 13, 2012
Sugar Lyn Beard (aka. Sugar Baybee) was hilarious! Great movie!!!
September 13, 2012
i had no expectations... well, low expectations really. i figured with seemingly unknown actresses, and an unseemly topic as phone sex; this turned out sweeter, funnier, light comedy, about two girls with a bad history learning to get along, and succeed in a business to allow them to survive in the big city where well paid work and dream jobs for girls are elusive. not meant to be serious or deeply developed plot, it was all about how to do 'phone sex' it was hilarious. worth the see for me, as for most girls, i enjoyed it and just had my jaws dropped from all the explicit sex involved without getting too graphic. hahaha.
September 11, 2012
this was a very fun night out with my girlfriend. i hadn't heard much about it and i really enjoyed it. better than a lot of the big name comedies.
September 04, 2012
this was a surprizing funny and well acted movie - top rating.
September 03, 2012
good movie.
September 02, 2012
great mpovie