Ford v Ferrari - User Reviews
Thank you for rating this movie!
Read your review below. Ratings will be added after 24 hours.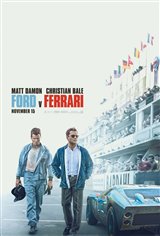 4.67 / 5
User Rating
Based on 1028 votes and 156 reviews
---
Please rate movie 1 to 5 stars
Showing 51 to 100 of 156
December 15, 2019
I know this history extensively and this is a great presentation of how much of this evolved. Carroll Shelby and Ken Miles were a team to reckon with. The Cobra and Gt40 are two of the most sought after collector cars from the 1960's. I feel privileged to currently own a car that he was involved with the design of. A 1995 Dodge Viper the closest thing to a modern day Cobra. And just like the Cobra & GT40 the Dodge Viper has gone on to set more track records than any other production car in history. Any car buff should see this movie and will appreciate it for the story of Ford and Shelby.
December 15, 2019
An excellent film! As my teenager said, "That was the best movie I've Seen in a long time."
December 15, 2019
Action... Action.... Action... If you want a story of corporate America and it's flaws, complimented with the vision and skills of the dreamers... This is you movie.. Except.... it's only White Men running the world... As it was then....
December 14, 2019
Great acting and what a story about ford motor company 9 out of 10
December 12, 2019
I was it three times!!!
December 12, 2019
Great movie. Loved it all fun, funny,and thrilling to watch. Christian Bale is fabulous!!
December 12, 2019
This entire film is a work of sheer excellence! Christian and Matt are simply magnificent! They actually become the characters they are playing...the actor in them ends and that person begins...outstanding! A story/movie that is worth watching. Every piece of this movie has the brilliance to be in the winner's circle...perfection at its finest! Thank-YOU everyone involved! Joannie
December 12, 2019
My interest in auto sports started slightly before this time period. Ihave a list of best Auto related movies. This by far is the Best movie on the subject ever made. You don't have to be into the sport to enjoy this movie. A true story, great cast, I've been waiting for this one. OSCAR is waiting!!
December 12, 2019
GREAT Movie !!! Unbelievable VIDEO production. The friendships, racing, recks, & test driving had me, a Nascar Fan, on the edge of my seat !! I found myself laughing, yelling, claping & crying... Most fun I've had watching a Movie in years 🌟🌟🌟🌟🌟
December 11, 2019
"OSCAR WINNER" for sure. Superb acting, movie well done, the director is incredibly good at what he does.
December 10, 2019
It follows the real story to some degree but it's really very entertaining.
December 10, 2019
Saw this film with Mose Nowland, the Engine Builder of the 67 GT40. His comment was 40% real, 60% Hollywood....however we throughly enjoyed the movie!! Going to see it again, Mose has seen it 3 times so far😁👍!!
December 10, 2019
I'm not a real car guy and I'd give it 9/10. Authentic and very good acting!
December 08, 2019
Five stars Very hard to believe but I was in the pit seats as a kid in Vancouver BC and my dad was involved with the John Player Special and this felt as though I was there again. Very rare for both the story and the action to hold your attention like this we did see it on the big screen with the best visuals. IT WAS GRIPPING I want to go again
December 08, 2019
most boring movie ever
December 08, 2019
Excellent. One of the year's ten best. Don't miss seeing it on the big screen.
December 07, 2019
Great movie!. I hated watching 25 minutes of previews though from scheduled start.
December 05, 2019
Best movie of the year. At last, not another comic book movie. This movie is for grown ups. A+++++ loved it!!
December 04, 2019
Love this movie, it does Ken Miles the justice he deserves as a pure blooded race car driver to his very core. I followed all these events as they unfolded in real life. I've read Shelby's personal accounts. I've met him in real life several times. Certainly there's a bit of Hollywood and a few inaccuracies that most folks won't notice. But all and all it tells a real story of an epic time of automobile endurance racing at its peak of raw power and the men amongst men where driven to drive those brute force beasts. A time when Americans dared to go all out against the racing world. I'm going back for a 3rd time tonight to sit along side Ken Miles.
December 04, 2019
Exciting, suspenseful, action packed, with good comic touches, worth seeing more than once.
December 03, 2019
Amazing. So thrilling. Goosebumps. Tears. Wow
December 03, 2019
Very entertaining! Peddle to the metal!
December 03, 2019
This movie brought to life all the feelings I had as a teenager during the Ford/Ferrari battle of 1966. Very well acted and presented, a great movie that shouldn't be missed by anyone with even a little interest in cars or racing!
December 03, 2019
Worst made movie ever saw
December 03, 2019
I saw this movie three times, it is super exciting, best acting, BEST PICTURE OF THE YEAR!
December 03, 2019
I am an old guy who lived during these times and being a super Ford enthusiasts these races were very exciting. The movie is great. The new Ford GT has the same roots as the original LeMans cars. See the movie, you will love it.
December 03, 2019
You don't have to be a petrol head to love this movie! Reminded me of some of the old classics like the 1966 GrandPrix. My wife loved it too.
December 03, 2019
This movie is far more entertaining, daring, emotionally complex, and exhilarating then I would have ever imagined. Ken Miles story is one that required telling. I had no expectations going into this movie, and yet I left the theater in total awe. I'd say give this one a shot
December 02, 2019
Best movie of the year! Will see again several times. Christian Bale and Matt Damon were cast absolutely perfectly. Sincerely hope this wins an oscar!!
December 02, 2019
great movie
December 01, 2019
Director could have easily trimmed the time by 30 minutes so I won't jump on the band wagon and give it 5 stars. I think Christian slightly out shined Matt in their roles, but not by much. Solid movie based on true story, good to know HF II was an azz, and gave me an appreciation of race drivers. The length gave me spells of boredom.
December 01, 2019
Awesome movie I love Ford
December 01, 2019
Such a good movie. Probably the best I've seen this year.
December 01, 2019
Awesome movie that keeps you interested. Great acting and action sequences. Overall, a solid effort on a true event, just a few changes to the real story. Sound and effects were terrific. Must see again, my favorite flick this year.
November 30, 2019
I gained great respect for those who choose a career in serious racing. The movie showed that the competition was twofold: against Ferrari and oversized egos at Ford. Matt Damon and Christian Bale were fantasy.
November 30, 2019
Although it seemed like it was going to be long and drawn out by the length (2 1/2 hours) it was not! Great movie, well acted and the pace kept our interest all the way throught.
November 28, 2019
Historical—informative—exciting—poignant
November 28, 2019
Continuous action. Great characters, great actors and storiy
November 27, 2019
Christian Bale's performance is Oscar worthy! Best movie I've seen this year, loved it!
November 27, 2019
Great movie, very well done.
November 26, 2019
Brought back out memories. Movie was made well. Good entertainment! Made me laugh and cry. Pretty accurate, for a movie. Great acting and cinema. I go see it again next week.
November 26, 2019
Oscar worthy!!
November 26, 2019
Second best movie of the year!!!
November 25, 2019
Silly, mildly fun, formulaic sports film. Almost no women in it. The one female tho allegedly very poor was dressed in expensive designer clothes. Message to dumb guys? Drive wildly and beautiful women will chase you. A little similar to The Right Stuff but less funny. But you know, beautiful actors. Lots of things blew up, but no gunshots. Drinking, fistfights. Bad model for young males IMO.
November 24, 2019
I love truth based movies & if I come away with a few fun facts about a new interest, it's awesome! There were a few times when Christian Bale's accent was a bit difficult to understand.
November 24, 2019
Just about the best movie I've seen yet this year!!!!! Everything about it ROCKS!
November 24, 2019
I really liked this movie, it was always moving , no dead spots.
November 24, 2019
If you don't know much about racing, you may like this film. If you know a lot about racing, you would be disappointed by the artistic license taken and the driving scenes. At one point where Ken Miles is supposed to be going to 218 mph, the view out the window looks like a Sunday drive in the country. If filmmakers want to make a car look like it's going fast, it's going to have to go fast, not 40mph. You didn't fool me. Also, Phil Remington's role in the development of the GT 40 was tragically understated.
November 24, 2019
It was one of the best movies we have ever seen. Will be going again for the second time taking family members.