Four Brothers - User Reviews
Thank you for rating this movie!
Read your review below. Ratings will be added after 24 hours.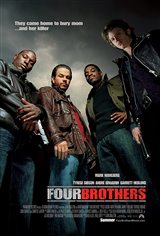 3.99 / 5
User Rating
Based on 3083 votes and 140 reviews
---
Please rate movie 1 to 5 stars
Showing 1 to 50 of 140
May 21, 2012
very interesting movie, enjoyed this film very much
May 19, 2012
best mark wallberg movie ever watch this movie .
April 27, 2009
In the movie they mentioned seven mile rd and John r street, were they filming at that location? I didn't recoginize the neighborhood. My Wife and I loved the movie, the acting was perfect.
May 12, 2008
it was awesome!!!! I LOVED GARRETT HEDLUND
June 18, 2007
AWESOME movie! I love Mark Wahlberg, he's a great actor..and Garrett Hedlund is hot! lol :)
April 15, 2007
this movie is awesome and the best part of it was it was filmed just down the street from me :D :D :D :D :D :D :D :D :D :D :D :D :D :D :D :D :D
October 04, 2006
i luv this movie so much and that garrett is so HOT,HOT,HOOOOT!
October 04, 2006
i love this movie i whatch it like every day,and thre cast is so great too.
September 24, 2006
I love Garrett!! He is so hot!!! Actually, I watched the movie many times already... The story was so good! It only portrays the bonding of four bothers who are totally different from one another! Garrett, you are so hot! Haha! =p
August 11, 2006
It was FREAKING AWESOME!!!!!!!!! COULD GARRETT HEDLUND AND MARK WALHBERG BE ANY HOTTER? HA I THINK NOT!
July 27, 2006
it was a bit boring @ the first 40 minutes er so,but it picked up, i enjoyed this movie(im a lover of action,thrilling corrupt cop kinna thig,lol) yeAh its a good movie,not missin much if not seen in theatres,but go see it,its worth e\watchin
July 13, 2006
This is the best movie in the world. There is no other better movie. I love everything about it the acting from all of the brothers was amazing. The story is awesome to.
May 30, 2006
the movie was awsome...the emotions and feelings that went into the movie were perfect for the type of movie that it was.i loved it...
May 09, 2006
I L.O.V.E.D the movie 4 Brothers. I all so LOVE all 4 acter`s MARK WAHLBERG, GARRETT HEDLUND, ( so HOTT!!!) TYRESE GIBSON, and ANDRE BENJMIN. I think its one movie worth buying. Because now they only make movies around an hour long sometimes alittle over.
April 07, 2006
Four Brothers is an awesome movie filled with so much adventure. Garrett Hedlund is absolutely gorgeous in this movie!!
March 22, 2006
FOUR BROTHERS IS THE BEST MOIVE OUT THERE!!!!!
March 20, 2006
OMG FOUR BROTHERS IS THE ABSOLUTE BEST FRICKEN MOVIE EVER THERE WAS NOTHING WRONG WITH IT AND ANYONE WHO DIDN`T LIKE IT HAS BAD TASTE AND MAN GARRET WAS HOTT
March 19, 2006
Thoughtless entertainment that just ended up dragging on. If you wan`t to see a bunch of stupid ignorant men going around, radomly attacking anyone they suspect of murdering thier mother, in unrealistic ways, go for it. That`s pretty much what happense in the movie.
March 17, 2006
danngg datt mpoviee wazzz prettti tighttt
March 14, 2006
I thought this was a great movie which would appeal to both men and women because it contains both action and emotional issues. I would recommend it to my friends.
February 25, 2006
The Best Movie I Saw In My Whole Life. I liked every single moment of this movie!!!
February 21, 2006
I thought this was a good movie just by watching the trailers, but it depends on what angle you look at it from. I gave it 4 stars out of 5 because it was kinda engaging and the actors were pretty good, but it wouldn`t be given an Oscar. And man, Garrett Hedlund is hot. I must admit that the storyline was a bit like other movies but the dialogue and some other things made up for it all. Man, I can`t wait until Garrett Hedlund comes out in more movies!!!
February 17, 2006
That is the best movie ever! garrett is sooo sexy!
February 09, 2006
i think garrett hedlund is one of the greatest actors ever! and mark wahlberg is really good too! this movie is definately one of my faves!
February 09, 2006
BEST MOVIE EVER!
February 05, 2006
Garrett is to hot in this movie!
January 23, 2006
Hottest Movie Ever!
January 17, 2006
it was anwsome show i love it and i would have done that if i where them
January 10, 2006
FINALLY! I can`t remember the last great action-movie with a good story. We need more action movies these days.
January 07, 2006
four brothers is one of the most touching and emotional movies i have ever seen. the cast was great. four brothers was the best movie of 2005 no doubt!!!!
January 06, 2006
MARK WAS PHANOMENAL IN THIS MOVIE!! THE BEST MOVIE HE HAS DONE HIS WHOLE ACTING CAREER!! THIS MOVIE IS UNLIKE ANYOTHER, ITS SOO TRUE TO LIFE, THAT IT HURTS TOTALLY AMAZING THE FUNNIEST SCENE WAS WHEN BOBBY SAID: "She`s so la vida loca" "ai mami your breakin Mi Corazon, chika" LOL
January 05, 2006
Garrett it sooo flippin hot in all his movies.. but did the best job in this movie.. this movie is the best ever.. for action and other things.. I rate this movie 5 stars.. my fav movie on earth!! cant get any better then this
December 31, 2005
At first I wasn`t interested but when i did watch it i liked and now i cant get the movie out of my head mainly Garrett. Loved him in this movie. Sexy!
December 28, 2005
Garrett is sooooooooooooooooooooooooooo hot !!!!!!!!!!.I have all his movies and I realy like the movei FOURBROTHERS it`s really good , I also like Friday Night Light and all his other flims.
December 27, 2005
garrett is so hot and he is my fav. acter
December 24, 2005
good movie.... a must see movie.... the acting and the style is pretty good...
November 25, 2005
Man, GARETTE Helund is soooo HOT! I saw this movie for him. After i saw it i put is picture on my computer as a backround. WOW!
November 14, 2005
Hello! I love the awsome fantastic movie evermade. I saw it 13 times. Love all the actors great cast. Can`t wait for the dvd comes out Dec 20th. Tina
November 07, 2005
Well, Let`s start with all the people who like to hate on this movie! U guys really dissapoint me... this movie is definitly not over rated.If the people like it theyll tell everyone theyre not going to go by what others think. It`s just not your type of movie then. And tell me... what do the oscar`s look for in a movie?? Would you guys know?? I doubt it but if you do please enlighten us!! The plot wasn`t confusing... who ever thinks that is the one with half a brain because it`s easy to follow and all in chronological order...ive seen plently of movies this year (acutally for many years)i don`t know how you went and seen those ones because n
October 28, 2005
This movie ended up being suprisingly good. Lots of twists and turns that`ll keep you interested.
October 15, 2005
good for a sunday afternoon, lots of fighting and violence, a little cheesy at times....try and overlook those parts, and if you do, it`s not bad, that is if you like inner city detroit movies with violence.
October 08, 2005
i thought four brothers was a really well written n done movie. it was awesome!! especially garret he is so gorgeouse
September 24, 2005
THIS MOVIE WAS AWESOME ...A MUST TO SEE.......AND THE GUYS..........NOT BAD TO LOOK AT EITHER...................LOVED IT!!!!!!!!!!!!!
September 24, 2005
It was a really good movie, I enjoyed it and Garrett Hedlund is y!!
September 23, 2005
This movie was perfect in every way. Garrett hedlund is now my faveorite actor on the whole world! he is super oober hot and an amazing actor. i was on the edge of my seat the whole time:) all around a fantastic movie! im buying it as soon as it comes out to dvd!
September 22, 2005
enjoyed the movie, great actors, great director. Anyone that loves John Singleton should watch this.
September 20, 2005
Good premise, what is better than fighting for someone you love, but totally unbelievable what they get away with time and time again. fake fake fake
September 16, 2005
I realy did enjoy the movie; however, i did not like the fact that the younger brother went out after hearing a knock on his door, knowing that they were in trouble
September 12, 2005
good. better than i expected. good plot. lots of twists and turns.