Four Christmases - User Reviews
Thank you for rating this movie!
Read your review below. Ratings will be added after 24 hours.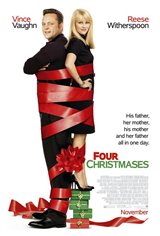 ---
Please rate movie 1 to 5 stars
Showing 1 to 50 of 90
December 06, 2009
HILARIOUS!!! I can't believe people are saying otherwise! This was the funniest movie I have seen all year, well done to the whole crew!
November 30, 2009
Great movie. Ending a little sappy for such a funny movie, but good overall :)
November 26, 2009
Its a normal comedy, i enjoyed it.
May 23, 2009
Holiday Hi-jinks: Now this movie was family dysfunction at it's highest. LOL! LOL! The movie is great to lift your spirit of fun during the "crazy" holiday season. The character's behavior and storyline are for the young adults and adults that have gone through enough holiday seasons to know their "wacky, kooky" family members especially those members that do not seem to grow up and those with just "strange" lifestyles. Enjoyed this movie thoroughly, grab your laughing buddy and enjoy this one.
February 08, 2009
Funny Movie!:P
January 14, 2009
Horrible movie. Thank goodness movie theatre policy has refunds up to 30 minutes into the film. This one was TERRIBLE! Reese is so much better than this crap. Was she just looking for a paycheque? Poor thing. Skip this one all together!
January 06, 2009
Really funny, seeing it again tonight!
January 02, 2009
thoroughly enjoyed this movie. We were in the mood for a good Christmas Comedy. It was certainly worth the admission. We laughed so much!
January 01, 2009
Not an oscar winner, but I didn't feel cheated out of my 8 dollars when I was done watching it.
January 01, 2009
Crap! Waste of time and money. Walked out before it ended. Too stupid to watch.
January 01, 2009
Poor story line, mostly uninteresting with the occasional bit of comedy. No chemistry between Vince Vaughan and Reese Witherspoon. Half way through couldn't wait for the movie to end. Vince Vaughn's acting was the only entertaining part of the movie... his speeches and general dialogue.
December 31, 2008
so funny!!!!!
December 29, 2008
This movie didn't hold together very well. There were some mildly amusing bits (especially by Vince Vaughn), and one extremely well-played part involving two of the secondary characters kicking butt in Taboo, but overall I felt I'd wasted my money seeing it in the theatre. And it's extremely short, so that made it feel like even more of a rip-off.
December 30, 2008
It was brutal!!! I love Vince and Reese but nothing could have saved this lame movie. It's not even worth renting. I wish I could get my money back.
December 29, 2008
funny. good cast worth watching if you want to laugh, if not stay home
December 28, 2008
This movie was hilarious. My fiance loved it to. There are no two people better suited for the roles and Vince and Reese.
December 28, 2008
holy people take things too serious..we thought the movie was funny and laughed our asses off....people get a life and take a movie for what its worth.....ITS A MOVIE....LOL
December 27, 2008
anyone who says this movie sucks obviously don't know what they're talking about. And aint got no sense of humer. the movie was great! Hilarious i thought.
December 27, 2008
Terrible and we really gave it a chance! Seems that these two just did the movie for a paycheque. Movie was awful, and thank goodness we got our money back!
December 23, 2008
kinda smaltzy with people I really didn't like all that much the only character I'd like to spend more time with was Kate's father played by John Voight.
December 22, 2008
great movie. Fun for the family!! both kids and adults would really enjoy!
December 22, 2008
stupid ... it sucked
December 21, 2008
i thought this was the best xmas movie this year.......M + S
December 20, 2008
Not enough worth renting!
December 20, 2008
Could have been better...
December 19, 2008
I could define this movie as the worst production ever packaged and distributed to the general public. WILDCATS 04' RULE!
December 19, 2008
WE THOUGHT IT WAS VERY GOOD AND HAD SEVERAL HARD LAUGHS!!!
December 19, 2008
Not the worst movie I had ever seen - but I would not recommend it. The main characters were not believable nor were their families.
December 19, 2008
not a happy/funny christmas movie. left dispointed.
December 18, 2008
I liked it cuz it got you into the holiday season and because it was hilarious especially Vince's performance and Reese's together
December 17, 2008
We loved it. Not going to win an oscar but still a great movie. It will easily be a family classic in a couple of years!
December 15, 2008
A lot of negative reviews, for a movie that has already made 88 million dollars! lol I enjoyed it fully. I never expect too much from a movie, so that's way I can enjoy them for what they are...good X-Mas film!
December 14, 2008
GARBAGE
December 14, 2008
this movie was very funny:).
December 14, 2008
When you come into an empty theater and you see people sitting down with their feet up, don't sit right infront of them when he whole theater is empty.. LOSERS
December 13, 2008
This has to be one of the worst movies ever! Watching paint dry would be more exciting! If I could do it - NO STARS!
December 12, 2008
This movie was brutal! Where is Eugene Levy when you need him?
December 11, 2008
Just completely Average.
December 11, 2008
It was pretty funny at the beginning with the usual laughs but towards the end, it got a bit more "Christmas-y" feel to it. Watch it only if you want a comedy and expect nothing else!
December 11, 2008
Loved the baby scenes! lol
December 11, 2008
"Chick flick"? Not even close...this is a "CHRISTMAS" movie, and a very funny one at that!
December 10, 2008
this was a funny movie... 5 star...
December 09, 2008
beware gentlemen.if your wife drags you to this movie make sure you drink about a dozen beers first so as to give you an excuse to go to the bathroom about that many times just for some fun or to get out of the theatre for a time because thats all the fun your gonna have.worst chick flick i ever saw.and when i asked the wife how she liked it she said "ah it was ok".LIAR.i could tell she hated it.come on girls give us a break just this once and give us guys the benefit of the doubt.this movie sucked and you know it.
December 09, 2008
lol, great film!
December 09, 2008
I'm not "12", and I loved it! You're just an unhappy person, that's all! Cheer up just a bit, Scrooge!
December 09, 2008
What a miserable person you are! Sheesh! This was a funny movie! It was a bit on the short side, but still a great X-Mas movie! Go see it, only if you have a personality!
December 09, 2008
Vince is great in this movie. It's funny and worth the watch.
December 08, 2008
amazing
December 08, 2008
Unbelievably bad movie....Stupid, boring and I can't believe Reese and Vince are so hard up for a moview that they would sink to doing something as lame as that. Other people rating this movie must be 12 and that would be the only people it might appeal to. DO NOT WASTE YOUR TIME OR YOUR MONEY ON SUCH CRAP!!!!!!!
December 07, 2008
dumbest movie. crappy story line. went nowhere. waste of time and money.