Funny People - User Reviews
Thank you for rating this movie!
Read your review below. Ratings will be added after 24 hours.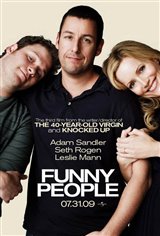 ---
Please rate movie 1 to 5 stars
Showing 1 to 50 of 98
July 16, 2021
Waaaay too long! And not funny! Sandler actually turned down a starring role in Quentin Tarantino's INGLOURIOUS BASTERDS to appear in this garbage made by Apatow, the man with the vagina. What an idiot! Apatow's horrible family also appears (natch)
January 07, 2019
This movie was funny yet endearing. I loved Adam Sandler and Leslie Mann.
March 12, 2013
it wasn't funny at all
February 10, 2012
70million dollars,it's still a comedy?
July 28, 2010
Ooh. I really almost hate to write this review; I had such high hopes for this movie. I love Seth Rogen and I've liked everything of Judd Apatow's I've seen, so I found this film really quite crushingly disappointing. I was even looking forward to seeing Eric Bana return to comedy, since I loveloveloved him in Chopper. Here, I think, is the problem with this movie:while it is possible to make a funny film about death, it is not possible to make a comedy about miserable people, which is what this movie tried to do. When Eminem advised George that he did the wrong thing by not dying of his disease, I totally agreed with him. George Simmons is a miserable cur. I think the only person more pathe
January 16, 2010
Wow, what a fantastic movie! I guess most people went in expecting the usual raunchy comedy these guys do but got something completely different. It's more a drama with a lot of humor than a comedy. Keep that in mind and give it a try. Two thumbs up!
January 08, 2010
All in all, a very good movie. You can't expect to cry laughing because of the word "funny" in the title. For any film, you have to keep an open mind. Although it IS quite funny, it's very real and it shows us how human emotions can get complicated, especially when you're facing death. You know: "It's funny because it's true".
January 04, 2010
Im giving it a 5 because this movie deserves alot better than just a 2.5 rating. Unlike Apatows previous movies like Knocked Up and 40 Year Old Viring, this one is alot more mature and is more of a drama/dark comedy over a regular comedy. I personnaly loved it, it was funny, sad, and realistic and has an awesome soundtrack, im buying this and adding it to my collection. Great movie
December 16, 2009
skip this one
December 12, 2009
Too long and the story line jumped around
November 30, 2009
Very funny, but in a dark comedy kind of way.
November 30, 2009
unfortunately this movie is a giant terd! It was poorly done. I felt no simpathy for sandlers character. such a bad movie 1 star.
November 27, 2009
This movie was so bad, I had to slam my fingers in the door to take my mind off of how bad it really was. I want my money back - I want Seth Rogan's and Adam Sandlers address so I can send them both invoices - that was 2.5 hours of my life I will never get back - Dear God - I can't believe how bad this movie was...oh no, it's coming back to me...need to ... find door...to slam...fingers in.... AAAAAAAGGHHHT~!
October 21, 2009
Far far far too long, with only occasional humours moments interspersed in an otherwise awful film. Not at all funny. Most of the actually funny sections had already been put into the tailor.
October 19, 2009
Alright so i went into this movie with high hopes, even though it was getting some rough ratings i figured how bad could it be with Adamn Sandler and Seth Rogen? Oh God! This movie was Horrible! It was such a let down... It wasn't funny at all, and even though it was more of a dramatic film it was lacking in the drama lol. It was insanely boring! I expected more from Judd Apatow since i love his movies and i love all of the Actors/Actresses in this movie. I say rent before buying if you REALLY want to see it.
October 09, 2009
i love this move it is outrageous and funny to keep people laughing until the end if the movie
October 02, 2009
One of the worst I even seen and yet it dragged out for 2.5 hrs. Horrible language and lacking in content Bad acting.
September 30, 2009
I enjoyed this movie. A bit too long though. It is a good rental or watch at a cheap seat theatre.
September 22, 2009
Judd Apatow's best. Sandler is at the top of his game, able to play both the comedic and touching aspects of his character. Seth Rogen, Jonah Hill, and Leslie Mann are all excellent. Maybe a little long, but consistently funny, completely believable characters and storylines make this movie a cut above the rest of the boring comedies.
September 19, 2009
Excellent movie. For people who actually listen to dialogue and appreciate a good script, you won't be disappointed. Adam Sandler is wonderful in his performance as a stand-up comic- really portrays a true picture of fame and real life.
September 16, 2009
Worst movie I've ever seen.
September 11, 2009
A smart drama with a bad title and a marketing campaign that misled a nation. If you want to laugh, check out The Hangover. Funny People is a perceptive drama about a selfish man child. If that strikes you as interesting, you will be in for 2 plus hours of bliss. Judd Apatow's best film. 5 stars.
September 07, 2009
Really bad starting, movie started to get better but still i was expecting waay more from Adam Sandler. I'll give it 2 stars.
August 28, 2009
Really, really bad. I think the funniest part of "Funny People" was that it wasn't funny...at all. But you know, I would be ok with that. I like dramas. But it was an awful DRAMA too! There was very little storyline and very little plot. There was no crescendo and no diminuendo. To the commentator before me who said people who didn't like it didn't understand it, your wrong. For example, I understood it perfectly.. it wasn't some mystery. Understanding it didn't make it interesting and it sure as hell didn't make it a good movie. And why was it three hours long??? I'm all for a long movie. I know some people have issues holding their attention for that long..but I don't. But unless it is Sch
August 24, 2009
biggest waste of time ever. they should change the name to boring people
August 22, 2009
i thought this movie was going to b a comedy.. it was more like a love drama. i wish i watched district 9 instead
August 21, 2009
wOW THERE are sure a lot of dumb people out there. YOU TOTALLY missed the point of this movie
August 21, 2009
really bad movie just when you think it's going to end it keeps going and going and going.
August 21, 2009
worst movie I have ever gone to see in a theatre... Not even worth going straight to video... Absolutly horrible, boring and just not funny
August 21, 2009
this movie was really bad it sucked i almost fell asleep
August 19, 2009
If you are the type to like to talk about, refer to and make jokes about your penis, and are not afraid to mention anything about any penis that may come into your general area then you will love this movie. Really not funny.
August 18, 2009
This movie SUCKED
August 17, 2009
Based on the trailer, I give it one star (zero if i could). Why do you people watch such low-grade movies like this? No wonder people have zero brain.
August 15, 2009
Not sure why I felt obligated to stay, but couldn't wait to get out of there. So long and boring.
August 15, 2009
3 hours of my life I will never get back! dont waste your time!
August 14, 2009
If you walked out or thought this movie would be like Drill Bit Taylor, you are stupid. BEST MOVIE Of the yeAR!
August 14, 2009
More of a drama than comedy. Thought it would be much funnier. Also felt a little too long.
August 14, 2009
boring it shows that Adam Sandler is bieng taken over by younger funnier comdians like seth rogen each comedian has ther 5-8 movies of fame
August 13, 2009
Unfortunately a dissapointing movie...my daughter and I almost fell asleep. We should have walked out. But we had to kill time before the dentist, which was better. I would like my money back.
August 13, 2009
The picture runs almost 2 1/2 hours and that aint funny people, particularly because the plot is so terribly thin. There are some clever spots but overall its mediocre.
August 13, 2009
we walked out.
August 12, 2009
I'm a 60 yr old female. Had to leave because it is simply not appropriate, for 14,18 or anyone at that. We were at the movies with my grandchildren thinking it would be good to have a good laugh. Yea right. The language made me sick. These type of movies should be rated by the public before they ever are published.
August 11, 2009
Very boring and I fell asleep during the movie.
August 10, 2009
Very dissapointing. Kinda one of those movies that lost its way on the editing floor. Too bad, such talent except Leslie, her husbands got to tone down her roles, she just doesn't have the chops (OK she was great in 40 year old virgin but limited role).
August 09, 2009
i'm giving it a 1 star rating, only because zero isn't an option. actaully I would give it a -5*'s. That's 2 hours of my youth and 12 dollars i'm not getting back.
August 09, 2009
this is the worst movie i've eve seen it's one of those movies that you watch, only because you can't believe how bad it is. I actaully felt like I should stick around and warn the next set of victims, i mean viewers about how bad a movie it is. It rambles, it's not a comedy as per advertised, it does go any where and is crude. I swear I wouldn't be surprised if the people voting this as a 5* are being paid to skew the results. WORST MOVIE EVER.
August 09, 2009
It was funny. I didn't laugh as much as I thought I would but I got it. Lots of simple-minded folk didn't get it but I got it. If you have an open mind and are not bothered by morbidity (is that a word?) go and watch it.
August 09, 2009
Good story...not enough laughs..Seth Rogan made it for me. Too Long
August 08, 2009
Great movie. It's too bad the high school musical generation can't understand it. I guess Zack Effron doesn't teach good taste in movies?