Furry Vengeance
Thank you for rating this movie!
Read your review below. Ratings will be added after 24 hours.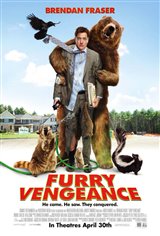 ---
Please rate between 1 to 5 stars
Showing 1 to 50 of 59
July 22, 2010
It is like watching a movie about a zoo.
July 21, 2010
typical kids movie with a couple of funny bits to entertain the adults in the crowd
July 19, 2010
Was a very funny movie with great effects. Both me & my son loved it.
July 18, 2010
Even by the low standards of live action funny animal movies, Furry Vengeance is a pretty bad film.
July 18, 2010
My kids really enjoyed this movie!
July 17, 2010
Brendan Fraser Rocks.. but this movie isnt good
July 16, 2010
One word, dumb.
July 16, 2010
This movie was so cute and funny you should see it
July 16, 2010
What? Why? This movie should never have been made.
July 12, 2010
What a silly movie. Even my young grandchildren thought it was silly. Definitely not worth spending money for this movie.
July 12, 2010
Furry Formage. Need I say more?
July 11, 2010
Very funny! My kids loved it!
July 09, 2010
The good news is, scientifically speaking, you can only cringe for so long. After a while muscle fatigue will set in. Probably in the car on the way home.
July 09, 2010
This movie was very funny....our whole family loved it!
July 08, 2010
how could this film fail ....hmmmm?
July 07, 2010
An amusing kids film that is relatively safe for kids to see. it was alitte disappointing to see Brooke Shields stooping to play a role that is below her standards.
July 07, 2010
Even my kids didnt enjoy this. A few laughs from the younger, but not worth the time.
July 07, 2010
Silly gags, great for kids, OK for grownups.
July 07, 2010
Such a terrible movie. I'm not sure what Fraser has been thinking with some of his movies. Great movie for the kids, but if you're over the age of twelve...skip it.
July 06, 2010
very nice movie
July 05, 2010
Keeps the kids occupied for a couple hours anyway, and next week show it again.
July 04, 2010
Very good, well done, kept me laughing!!!!
July 02, 2010
Why do they keeping making movies like this? Who's watching them? The United States is filled with educated people who love fart jokes.
July 01, 2010
Great movie for kids and parents!
July 01, 2010
Awesome! Outstanding! Funny! Very creative with the animal animation!
July 01, 2010
This was a great movie for everyone. The kids loved and it was entertaning for the parents also.
July 01, 2010
It was funny moive
June 30, 2010
I was disappointed with this movie. The funny parts were very funny but I felt like I saw them all in the trailer...the movie offered very little.
June 30, 2010
This may be the death of a career...Here lie Brendan Frasier. He peaked in Gods and Monsters and apart from The Mummy franchise which is great fun, this guys career is taking a nose dive! S.O.S.
June 30, 2010
Made me laugh so hard:)
June 30, 2010
Ouch! Brendan Fraser what happened? You used to have a very promising career as an actor. Is it time to fire your agent because phew, this movie was bad! Kids might like it, but that's about it. Watch for Furry Vengeance II coming soon... starring Cuba Gooding Jr. =]
June 29, 2010
Many portions were predictable. If you are up for some 'stupid' humour-give it a go. A great rental movie.
June 29, 2010
brooke looks good thats about it
June 14, 2010
excellent show, entertaining and hilarious. suitable for young and old
June 04, 2010
it was the best movie of my life...it has changed my ways forever!!!!!!!!...wonderful theme and graphics...academy winner worth!!! LOVED IT!!!!!
May 18, 2010
I loved it IT WAS FUNNY!!!!!!!!!!!!!!!!!!!
May 16, 2010
Very funny movie, my daughter was entertained!!
May 15, 2010
It was really awsome and funny ,I hope there will be a Furry Vengeance part 2!
May 15, 2010
let's just say my 10 year old son said "it would have been more interesting to watch paint dry". Enough said.
May 13, 2010
wow this movie sucks my son wanna to see how to train a dragon and i took him to see it whats going on
May 13, 2010
if there was an option for 0 stars i would choose it.this movie is for obviosly fake animals.do your kids a favour and dont watch this.worst movie ever.it is ******* ***** ****
May 08, 2010
If there's no star, that's what this film deserved. Brendan was good as usual at the physical stuff even given stunt doubles, but too much was real cheap, obviously phony animals and Jeong was horrible - an offense even compared to the old WW2 movies stereotypes - bad,bad,waste of time
May 08, 2010
is there anything less than one star - even aimed at mentally challenged kids, it was pathetic in it's amateur comedic efforts - although brendan as usual does well in the physical stuff - george of the jungle revisited in the clips of previous incarnations - cheap cheap cheap
May 04, 2010
awsome brendon was funny and same with the son trust me se it please if u see it take your children if u have any they would love it trust me really good
May 03, 2010
If I could give this spawn of Open Season, Over the Hedge and the Roadrunner cartoons 0 stars, I would do so. The jokes are too repetitious [five skink bombs? Eeeeees!]; the pacing to ponderous and the cast contains not one single character who developed for us to like [ir hate, for that matter]. When Ken Jeong [Knocked Up, The Hangover] isn't funny, you know you'r watching a ba-a-a-a-d movie!