Game Night - User Reviews
Thank you for rating this movie!
Read your review below. Ratings will be added after 24 hours.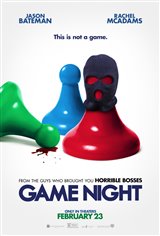 ---
Please rate movie 1 to 5 stars
Showing 1 to 50 of 57
October 28, 2018
This movie was very funny.
June 01, 2018
The movie is definebtly a B-class movie, but a good one. It was meant to be goofy and ridiculous and it plays with that nicely. The ending is left a little undone, but I find that appealing in of itself in some ways. Not for kids under 11, but over that age, I think they could watch it.
May 15, 2018
A funny enough movie although an improbable and far fetched plot line. Don`t let some reviews fool you. This show has enough course language and subtle sexual references so definitely not suitable for kids under 14 if not 16. This is not as family friendly as the Daddy`s Home 1 and 2 films , which I enjoyed much more .
May 04, 2018
Sarcasm, witty, funny , had a fun night out.
April 21, 2018
Funny and unpredictably good twists. Wouldn't recommend it for under 14. We laughed throughout, except during the drama/scary parts.
April 19, 2018
Good for a few laughs. Don't listen to the people who say it's ok for kids - it's not.
April 07, 2018
This was an excellent date night movie! The perfect mix between comedy and thriller to keep both people entertained. I was on the edge of my chair the entire time! I wasn't sure what to expect when I saw the trailer, but I went because it starred some well known celebs. Well worth seeing
April 07, 2018
Not only is this movie funny, but it keeps you on the edge of your seat too. Most fun movie ever
April 04, 2018
I'll bet they had fun making this movie but it was really pretty lame, not the clever humor we are used to from Jason Bateman.
March 30, 2018
Loved loved loved the movie! Laughed til we cried!
March 30, 2018
Very funny
March 26, 2018
Do not listen to the person who said bring your 9 or 10 year old kid! Not a movie for kids, but funny for adults
March 26, 2018
It was TOO LONG and the comedy was silly stupid. But a killer of some of my time....I guess you can say. I thought the DOG was the best storyline !!!
March 22, 2018
Hilarious laughter is good for all of us. Tongue in cheek humor. Glad we saw it.
March 19, 2018
Pros: - funny actors - comedy - action Cons: - storyline - too many twists that don't tie in properly by the end. Still leaves questions unanswered. - tried to do too much rather than making a funny movie with less twists that the audience can follow. Overall it is entertaining but if you miss it in theatres you won't be disappointed.
March 17, 2018
Super funny, was laughing the whole time!!
March 17, 2018
Loved it! Laugh out loud funny!
March 14, 2018
Enjoyed this movie and recommend it if you a Jason Bateman fan. Don't go see it in Brantford Ontario, the sound was terrible. Must be under new management. I could hear the explosions and big action scences from the movies in the theaters on either side over the movie I paid to watch.
March 12, 2018
Awesome! Amazing! Fabulous! Super! Funny! Great! Superb! I am running out of adjectives to describe how awesome this movie was!
March 12, 2018
This movie may look bad but I can say with absolute certainty that it will make you laugh your head off. If your kids are nagging you to let them see this movie, let them. I was hesitant at first but me and my family went and we loved it. I wish people wouldn't think that it is bad. Great for kids of the age of 10+ maybe even 9+. Loved this movie super much.
March 12, 2018
Parents everywhere, LET YOUR KIDS SEE THIS MOVIE NOW! It is not bad for kids over the age of 11.
March 12, 2018
Jason Bateman and Rachel McAdams are hilarious together. Zero course language and no violence. This movie is awesome!!!!
March 12, 2018
You have to watch this! This movie is even better than the newest jumanji movie.
March 12, 2018
Loved It! Loved It! Loved It!
March 12, 2018
Hilariously funny! For all ages 12 and older!
March 12, 2018
Amazing Movie! It is rated R but should only be PG. Not a lot of swearing, no sexual language, and only one short scene that isn't great. All in all it is a great movie. It is a one of a kind. Kids from 11+ can definitely see this. I loved It so much!
March 11, 2018
Not life changing, but very funny
March 11, 2018
Great story, cast, acting - really funny at times. Enjoyable!
March 10, 2018
Movie was good. Could have left out all the yucky language. It really doesn't add to it, and I wish someone would tell Hollywood. Crude language is not classy!
March 06, 2018
WHAT WAS SO FUNNY..DIDN'T LAUGH AT MUCH..OK MOVIE..SILLY!!
March 06, 2018
Very original plot, refreshing ! Great acting ! Wish it had better dialogue and directing, could have been a little faster pace.
March 05, 2018
Great movie... we were crying from laughing so hard!
March 05, 2018
Just loved this movie! Funny!
March 05, 2018
Excellent!
March 05, 2018
Really enjoyed this movie! After seeing some of the heavy hitter Academy nominated movies, Game Night provided a fun, light movie going experience. The audience appeared to be having a good time as well!
March 04, 2018
Don't pay to see this movie. Not on cheap Tues either. Gave it 2 stars one for Rachel McAdams and the other for the movie had a few moments, worth the watch, other movies to see for the money.
March 04, 2018
This movie was so bad. I would have left in the middle of it, but the reclining seats in the theatre were comfy. Terrible movie and terrible acting. Waste of a night.
March 03, 2018
Don't believe the negative reviews. Those people wouldn't know a good movie if it hit them on the head. Funny as hell. Jason Bateman and Rachael McAdams never dissapoint. Nice twists
March 03, 2018
Funny funny funny movie...people in the audience were laughing out loud. My wife and I so enjoyed this movie.
March 02, 2018
Poorly contrived comedy with a few moments' unsustainable chuckles. Wait for it to come to DVD.
March 01, 2018
buy on dvd or stream online.... movie does have few laughs but not many
February 26, 2018
I had not seen any previews and I tell you.. have NOT laughed that much in VERY LONG time..
February 25, 2018
So funny! Loved all the characters, especially Kyle Chandler as Brooks, Rachel and Jason of course and Billy Magnusson was so funny as the dumb friend!
February 25, 2018
Plot kept it entertaining, great actors!
February 25, 2018
Love Rachel McAdams in just about anything including this movie. It's funny,hip and clever for the first hour or so. Then the plot gets just silly with more twists than a pretzel. Lot's of people laughed out loud during this one so silly still works I guess. Have fun.
February 24, 2018
Just OK.
February 24, 2018
Loved it! It was great; very entertaining and lots of laughs!
February 24, 2018
You will recognize a lot of familiar faces and the humour is both dry and right out there. OMG we laughed so hard!
February 24, 2018
Excellent and super funny - had tears coming down my face!