Gangs Of New York - User Reviews
Thank you for rating this movie!
Read your review below. Ratings will be added after 24 hours.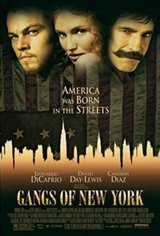 3.14 / 5
User Rating
Based on 3109 votes and 78 reviews
---
Please rate movie 1 to 5 stars
Showing 1 to 50 of 78
March 14, 2009
Really awesome look at the early Irish in New York. It really made me think of what the early days were like for my great grandma who died at the age of 27 from Pneumonia in NY, NY.
March 17, 2006
The movie was good but could have been great without babyface Leo.
June 21, 2005
Fun. Has a few faults (a little violent, long, messy), but is fun. Great history in it.
January 28, 2005
itv was ok didn`t really like it to much fighting
December 26, 2004
My hero is Bill the Butcher!!
August 14, 2004
good yet bloody. lol
June 10, 2004
I thought it was one the of best movies out. Daniel Day-Lewis is totally gorgeous in it.
September 13, 2003
Definatly no an oscar contendar, but if it wasn`t for Daniel Day-lewis` performance I would have left the Theatre.
September 02, 2003
i think this movie was very good , i think one of the best movies i have seen in years !!!!!!!!!!5 stars
September 02, 2003
i think this movie was very good , i think one of the best movies i have seen in years !!!!!!!!!!5 stars
July 30, 2003
I was so looking forward to this movie and what a disappointment. The acting was horrible. Leo wasn`t too bad but they should have spent moer time practicing their Irish accents. What a waste of three hours.
July 23, 2003
Gangs of New York is one of the worst movies I`ve ever seen. I can`t believe my friend made me waste money to see this joke-of-a-movie. I can`t believe this movie got so many nominations. Even the fight scenes sucked, they were so fake and overexaggerated. The `movie` was too long, too stupid and too unnecessary! The entire plot just dissappeared in the middle hour and then gets messed up @ the end. If you`re not stupid, don`t see this stupid movie!
July 22, 2003
One of Martin Scorecese Best Films Yet! Outstanding Performances by each and every Actor and Cameron Diaz. Full of Action scenesand Fantastic Cinematography. ABSOLUTLY Spectacular!
July 10, 2003
very good movie.i think it was way too long though,leo was awsome.his best performance besides ``titanic``.i also thought that it was way too violent,im 19 years old and i thought it was to violent definitly not for kids the age of 18.thanks.
July 07, 2003
One word to describe the movie: Spectacular. I thought I enjoy "The two towers" well...but this is another top 5 movies. It`s worth watching it even though it`s a loooong movie.
July 06, 2003
Great first 2/3 of film...but then felt much was left missing on the last 1/3...when I was watching it in the theatre I thought some scenes didn`t flow right and felt "something was cut right there" ...hmmm...I wonder how the movie would have been at a slightly longer running time...would a few holes in the film I felt existed make it flow better? Good movie overall though.
March 14, 2003
this really was a wicked movie. However, the end of the movie really let me down. I really enjoy movies based on history and the history of these riots is very interesting. Liam Neeson was great, however, he was only in it for a very short time (too short). The ending was poor because it involves a stupid twist that I won`t reveal here.
March 13, 2003
Juicy, baby, Juicy. It`s kind of Last of the Mohicans meeting goodfellas. Scorsese is a living legend, who as always takes you to next level. Gangs portrays extreme violence, and who says that early 19th century New York wasn`t just a bloody freakin mess. Oh it was, they weren`t sweet times in those days and Martin Scorsese as always, proves that. Powerful, a "man`s movie"
March 12, 2003
That movie was awesome! Whoever hasnt seen should go and see it. IT was just great
March 10, 2003
wow it was crazy
March 04, 2003
It is a great film and portrays the period in historic accuracy
February 15, 2003
Director Martin Scorsese took a three year absense from Hollywood after making BRINGING OUT THE DEAD, and roared back with this spectacular film depicting just how brutal it was in the streets of 19th century New York. The direction is fabulous, the cinematography is wonderful and Daniel Day-Lewis`s performance was awe-inspiring. The film had a tremendous supporting cast of people like Leo Di Caprio, Cameron Diaz, Jim Broadbent, Brendan Gleeson, Henry Thomas, John C. Reilly and Liam Neeson to go with it. And this is in no way as grotesque as the critics were saying, believe you me, this is coming from a 15-year-old kid, it just depicts what
February 08, 2003
AWESOME! Those who thought it was bad: are you 7 years old? can you not sit through a good movie?
January 29, 2003
the movie was very long and could of been done in a shorter time. I really liked the music, it really went with what was going on. I will buy the soundtrack but not the movie!
January 27, 2003
It should have been about 45 mins shorter. It just drug on too long.
January 24, 2003
good movie
January 19, 2003
i can`t believe that this is a martin scorsese film. i gave it 2 stars ONLY because of daniel day lewis` outstanding performance. otherwise it wouldn`t even be worthy is 1/2 a star.
January 12, 2003
I find the movie very real and actual. Although it takes place in 19th century New York live then as it is now continues in its essence fighting over the same issues "going to war in the name of God", the story of mankind. It is a strong movie with crude scenes and a strong message. The final shot of the cemetery were the tombs of The Butcher and The Priest are shown in the foreground with the Twin Towers standing in the background sums up the message of the movie. It is a movie that should make you think and gives you a better perspective for how the world is unraviling at this time.
January 12, 2003
Another excuse for American film makers to surpass themselves in gruesomeness and grotesquery. As if we need that to get the picture... On the other hand, a great performance playing the vilain; it takes talent to trigger hate and understanding simultaneoulsy!
January 11, 2003
The fight at the beggining of the movie was coll but then it slowly became a long boring movie with a poorly thought out plot and bad ending
January 11, 2003
This was a long and boring moive, with good violence but over all sucked beyond all high heaven!
January 10, 2003
i think it was a really great movie
January 08, 2003
the movie was great... i personally liked it... though very graphic @ moments but still good...
January 07, 2003
great movie for the first 3/4! not so good for the last 1/4!
January 06, 2003
it is a good movie
January 06, 2003
I thought that Gangs of New York was an excellent movie. The storyline was intriguing and the acting was great, one of the best movies I`ve seen in a long time.
January 06, 2003
some people liked it, some people didn`t; just one thing, what in the he** was the point of this movie?
January 06, 2003
Daniel Day Lewis....made that movie amazing. I beleive DiCaprio really has grown in his acting and Dias proved that she can perform. The movie was visually stunning....
January 05, 2003
A cheap attempt of duplicating the success of the movie Braveheart, which is the greatest movie of all time. Gangs had a great beginning, slow and boring two hours in the middle, and a lacklustre ending.
January 05, 2003
Today was my second visit to the theatre to see the movie. I loved it. Daniel Day-Lewis was amazing. The movie was larger than life, much like the old movies. It filled the screen - loved the music. Definitely a 5-star!
January 04, 2003
Titanic without the boat: long, drawn out, acting that would make soap stars cringe! What happened to 2 hour long movies??
January 04, 2003
The movie over all wasnt somthing i would want to see again. but it did have its moments where i was amused. the fighting scenes were pretty cool and i think Bill the butcher was really amusing and pretty much made the movie tolerable. Also the guy who played Mc nally (the guy with the club) he was funny through out the movie. Im sure if i had to pay for this movie i would have been disapointed but since it was free i found the movie alright.
January 04, 2003
Spectacular. Leo was heart-wrenching, Day-Lewis gave the best performance of his life and Diaz finally proved she can act. There`s a reason this movie is up for 5 golden globe awards. It was amazing!
January 03, 2003
Worst Movie EVER! I kept waiting for something to happen, anything. 3 hours later I was still waiting. I would have rather sat in a doctor`s waiting room for 3 hours reading women`s magazines.
January 03, 2003
It was a pretty good movie. Daniel Day-Lewis was incredible.
January 02, 2003
bill was like a cartoon, the film was slow and porrly written. The acting was weak and lacked any real emotion, and the plot was hidden beneath of the two towers.
January 02, 2003
terrible. That prety much sums it up, Dicaprio`s performance was weak as was the "plot". Even Daniel Day Lewis was horrible with his highly exaggerated "american" accent. And leonardo`s accent wass just nonsense. As for cameron Diaz i haven`t seen a worse performance by an actress in years and i was shocked to hear of the golden globe nominations!! Wonder who Scorses made pay off to this year. My vote would be Daniel Day go back into retirement because whatever talent you had is obviously still waiting for you there.
January 02, 2003
I hate Leo Die-crapio, but this film is on the top of my movies to see list.
January 02, 2003
Leonardo Dicaprio did great in this movie....he also looks great;)
January 02, 2003
If you can believe Leo you can believe anything.