Getaway - User Reviews
Thank you for rating this movie!
Read your review below. Ratings will be added after 24 hours.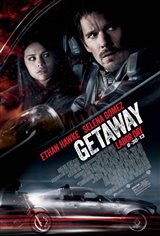 ---
Please rate movie 1 to 5 stars
Showing 1 to 19 of 19
November 23, 2014
Good movie. Selena Gomez was great!
December 30, 2013
Low Budget
December 06, 2013
Worst movie ever. It's a Ford Mustang commercial but nothing more. I do like the car but ... The car is indestructible. Bulletproof, accidentproof, reckless driving proof, it's out of this planet. Scenario was written during a coffe break and half of the pages were used as a toilet paper. Car chase are so lame that the old lady next door to me is driving with more finesse. Waste of time and money. I wish there was minus 10 stars rating.
September 12, 2013
this movie just made me cringe and chuckle nervously! Possibly worst movie I've ever seen in a movie theatre!
September 03, 2013
Worst movie ever was gonna walk out, don't waste time or money not even if you have nothing to do!!!!
September 01, 2013
Ethan Hawke has really lowered his standards playing in this pointless and far fetched movie. Acting was atrocious and the cheesiest one liners will leave you gagging. Save your money and avoid at all costs.
September 01, 2013
Awesome movie. The car scenes were awesome. The critics. We're wrong about this movie go see this movie
September 01, 2013
We went see this movie yesterday. It was great. Enjoyed every minute of it.
September 01, 2013
Wonderful movie! You simply don't get star power like this in movies anymore! I've heard that Gomez is the favourite to star in a new version of EVITA and she'd be absolutely perfect!
August 31, 2013
Getaway should be the warning on this thing!
August 31, 2013
Endless car crashes and idiot dialogue. There is one chase at the end that is fun, but by then you've checked your watch countless times waiting for this thing to end & Gomez… brutal!
August 31, 2013
Selena Gomez will have you laughing, crying, and falling in love!
August 30, 2013
Gomez hasn't been this good since MONTE CARLO.
August 30, 2013
DON'T WASTE YOUR MONEY ! STORY SUCKED, ACTING SUCKED, CAR WAS AWESOME !
August 30, 2013
Young people with limited attention spans will praise this film because of the senseless action and Selena Gomez for whom this is a star vehicle launch. The reality is that this is all Hollywood promotion for a Hollywood wannabee. This is total GARBAGE! Shame on you, Ethan Hawke! 1 Star! Ethan Hawke.
August 30, 2013
Ethan Hawke and Selena Gomez make a natural screen team! Five out of four stars!
August 29, 2013
Basically all it was car chases. Not very good story line.
August 25, 2013
Saw it in an advanced screening - really good. Never seen anything like that in a good way. Best action chases I've ever scene in a movie...
July 15, 2013
Basinger and Baldwin are right on the money!