Ghost Town (2008) - User Reviews
Thank you for rating this movie!
Read your review below. Ratings will be added after 24 hours.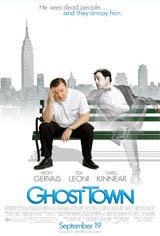 ---
Please rate movie 1 to 5 stars
Showing 1 to 32 of 32
August 12, 2010
boring but had its moments
July 12, 2010
good movie!
January 10, 2009
Did not think that it would be as good as it was...very funny, and sweet movie! Glad that I rented it!
January 02, 2009
Very cute. Definitely worth watching, really funny. Ricky Gervais is amazing.
December 31, 2008
The blockbuster comedy is now yours to own!!!
December 20, 2008
Ricky Gervais is awesome
November 26, 2008
FUNNY i lafed my head of lol
November 24, 2008
SUPER FUNNY A LITTLE WEIRD BUT FUNNY
October 19, 2008
SOOOOOO FUNNY!
October 10, 2008
Worst movie i've ever seen! It sucked really badly! Dont go see this movie
October 09, 2008
Very good movie. Main actor is endearing. Nice family movie.
October 06, 2008
Fantastic!! That says it all.
October 03, 2008
A Very good movie. A Great date movie.
October 02, 2008
The idea of the movie is good: think of others before yourself. It is a small screen movie at best and it was made cheap with directional and editing issues; that is, since when do ghosts sit on soft chairs and cause the cushions to crush while solid objects pass right through their bodies? The comedy is of situation and little else. There some funny moments, but never any good laughs; so, the movie is interesting and has comedy in it.
October 01, 2008
Truly funny, my husband laughed til he cried. It was totally worth it just for that!! :)
September 29, 2008
Sooooo funny. The one liners were the best. Definitely see this movie if you need a good laugh.
September 29, 2008
This is a really aweet movie. Lots of good laughs and tender moments. Great date movie.
September 29, 2008
Very funny movie. It was a good laugh out loud movie!! Go see, and have a fun night! LMD
September 27, 2008
I laughed till I could hardly breath. This is the funiest movie I have seen in a long time. Thanks for the awesome entertainment. will go again to see it.
September 26, 2008
Loved this movie. Engaging characters and surprising moments. You won't guess the ending on this one but you will love it.
September 26, 2008
Nice movie. four stars
September 26, 2008
Funniest movie I've ever seen, two amazing surprise scenes not to be missed!
September 24, 2008
Very funny!
September 23, 2008
A blockbuster comedy that doesn't take its audience for granted!
September 22, 2008
Pleasant, feel good movie. Not that it's that important but the fact folks can walk through the ghosts and yet the ghost's make noise when crossing a carpet or wrinkle a pillow when lying on it is still somwhat distracting.
September 22, 2008
a bit slow to start, but becomes extremely funny and stays that way. great cast and great writing.
September 21, 2008
A NEW ALBEIT SMALLER BRITISH INVASION HAS BEGUN WITH THE LIKES OF STEVE COOGAN THE LITTLE BRITAIN GUYS AND THE EXTREMELY FUNNY RICKY GERVAIS. THIS MOVIE WAS VERY FUNNY!! AND TO QUOTE LARRY THE CABLE GUY. "THIS MOVIE WAS SO FUNNY I DON'T CARE WHO YOU ARE". DON'T WALK! RUN TO SEE THIS MOVIE! YOU WONT BE DISSAPOINTED!.
September 21, 2008
Ghost Town is a funny and intelligent movie that will have you in stitches. Its full of hilarious situations and interesting characters. My wife and I went with friends and thoroughly enjoyed the bittersweet agony of a dentist who works with people all the time but can barely tolerate any of them. Social interaction is excruciatingly painful to him and after a colonoscopy gone wrong (!!!) in is forced into dealing with many characters that he would rather not and one that he would really like to. Dont miss this movie. Im my humble adult opinion this is a five star outing.
September 20, 2008
This is a homage to Charles Dickens Scrooge. The plot is obviously the same; the Einstein quote above Pincus' dentist chair is the theme.
September 19, 2008
Love the cast in this movie.
September 19, 2008
Awesome movie, it was sooooo funny!