Ghostbusters - User Reviews
Thank you for rating this movie!
Read your review below. Ratings will be added after 24 hours.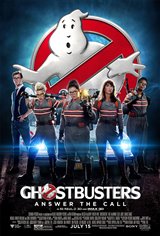 2.49 / 5
User Rating
Based on 11036 votes and 230 reviews
---
Please rate movie 1 to 5 stars
Showing 1 to 50 of 230
November 28, 2021
Probably the laziest comedy ever made.
September 21, 2021
The movie that proves Christopher Hitchens was right about women not being funny.
March 30, 2021
It's about as funny as an autopsy on an infant. Horrible movie!
October 02, 2020
Lazy and unfunny genderswap with annoying characters.
February 15, 2019
Horrible movie with no humor. I shall never laugh again. Don't watch it or you'll have the same condition as me. It's called no laugh ghost disorder.
April 01, 2017
Ghostbusters outstanding remake is likable laughingly amiable.
March 12, 2017
Appallingly poor effort
March 11, 2017
Shiftless. Inane. Maudlin. Immature. Asinine. Nonsensical.
March 05, 2017
It was so bad I vomited slime. You can make of that what you will.
February 25, 2017
Loved it
February 24, 2017
Really funny! I went bananas for it!
February 22, 2017
Knuckle-dragging nonsense. Even CONGO was better than this.
February 19, 2017
I laughed only once. This was horrible.
February 13, 2017
Disgusting
February 12, 2017
Leslie Jones and Melissa McCarthy were genuinely scary.
February 09, 2017
At least there was no nudity.
February 08, 2017
I'll never laugh again
February 04, 2017
Not funny, and Kate McKinnon's character was just weird. Really annoying.
February 02, 2017
This was so funny! I laughed so hard! My husband didn't like the movie so I hit him with a rolling pin.
January 18, 2017
I'm a confirmed ghost story and horror film addict. I've watched this 237 times! Best movie since SUMMER OF '42! Watch this movie and keep America clean! Words of wisdom!
January 18, 2017
All sarcasm and no real laughs makes Ghostbusters a dull movie.
January 13, 2017
This one wasn't for me. I smirked a few times, laughed once. Just not my kind of humour, I guess.
January 09, 2017
Tasteless.
January 09, 2017
It fell flat on every level. Total failure
January 04, 2017
It was crazy....and lazy. Not all that funny. At least throw someone down some stairs!
January 04, 2017
I fell in love with it right away even though it was really predictable. It was as though I knew what was going to be around every corner. Oooh-wooo!
January 03, 2017
I was hoping it'd be scarier.
January 03, 2017
Tips the scales in the wrong direction. Comedy junk food is hard to digest.
January 03, 2017
Bloody awful. Padded out.
December 28, 2016
It will clog your arteries
December 06, 2016
Wasn't funny
December 05, 2016
Lame remake of forgotten 70s TV show has three ladies and their pet gorilla taking on supernatural foes. Bad.
December 04, 2016
I've been to funnier funerals.
November 16, 2016
The only thing funny is the $70 million bath Columbia took on this.
November 14, 2016
Not very realistic
November 07, 2016
Better then the original well worth the watch! Melissa is awesome!!
October 23, 2016
it was way better than I thought it would be, its worth watching
October 22, 2016
It really really sucks
October 18, 2016
Can't say I liked it that much, but in my opinion this was neither the atrocity its detractors say it, is nor is it the comedy masterpiece the supporters claim. Try to catch it on a lazy, rainy afternoon if you're curious.
October 16, 2016
So even this site makes up it's own rating system. 3 stars? How do you come up with that after seeing the voting? I guess you were told to. This movie is a gracious 1 star, like many users said.
October 14, 2016
I'm a sucker for ghost stories but the scares just weren't there.
October 13, 2016
They couldn't scare up any real laughs
October 07, 2016
Beyond terrible. There are more laughs to be had in SHOAH. Leslie Jones's character sets back the image of African-Americans by a century. Razzies are inevitable.
September 28, 2016
I finally took the time to watch this movie...And I have to admit..I was actually suprised by how much I enjoyed it. Everytime Chris Hemsworth was on screen, I had tears in my eyes from laughing so much. Kristen Wigg was excellent as well..This movie did not deserve all the hate it got, even I take back every negative thing that I said about it. It didn't live up to the originals, but it was still a great addition to the Ghostbusters universe. Don't listen to the negative reviews...They where mostly posted by people who never even saw the movie and wanted it to fail..Like me. But now that I ACTUALLY watched it, I have to admit, it is worth the money.
September 20, 2016
I was very surprised at the fact that these ladies pulled it off very well, Im an old skool ghost buster fan and was skeptical if the female version was going to be good at all.,and it is very well directed and funny to.
September 20, 2016
Remakes are rarely as good as the original and this movie proves that beyond doubt. Acting was terrible, the black girl looked scarier than any ghost in the movie and it just sucked overall.
September 11, 2016
Not Funny!!!
September 02, 2016
zero stars
August 31, 2016
This was a really good movie with some good laughs and a decent story. Honestly, I would give it four stars, but I think some people are giving it one star because they're racist sexist A-...uh...jerks who didn't actually watch the movie. It's Funny. Go. You'll like it. It's not the best thing ever, but it's a nice movie.
August 28, 2016
Best movie I've seen in years! Loved it.