Ghostbusters - User Reviews
Thank you for rating this movie!
Read your review below. Ratings will be added after 24 hours.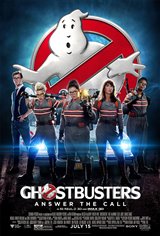 2.50 / 5
User Rating
Based on 11026 votes and 230 reviews
---
Please rate movie 1 to 5 stars
Showing 51 to 100 of 230
August 22, 2016
Great remake! Kept the feel of the old ones, funny, a little spooky and lots of familiar faces. The special effects got a sweet update too, really really enjoyed myself!
August 21, 2016
This movie does a great job honoring the quirky, comedic, and entertaining flare of the original. The female cast does a great job and the movie keeps you entertained right to the closing credits. I'm looking forward to seeing the sequel in this reboot of one of my most favorite movie franchises.
August 16, 2016
This was beyond terrible. Completely dire. The cast, filmmakers, and Sony Pictures should be ashamed of themselves. An affront to cinema and comedy.
August 16, 2016
Don't listen to all the negativity. So the main cast is female ??????? LOL !!!!!! somebody that on something u don't want to have and as the saying goes their no counting for taste...and listen to the negativity this movie was complete garbage specially with the car the Ghostbusters used for their ride, complete tasteless and no class
August 15, 2016
A terrible, mind-numbing film. Astoundingly unfunny. Enough with the remakes already! Doesn't anyone want originality anymore? The people who patronize these films are part of the problem.
August 15, 2016
Where was the comedy? I did not even snicker or smile once! I honestly walked out after 40 minutes, I tried to stay through the entire thing...But it was mind numbingly stupid and boring, and the cgi effects were some of the cheapest I have ever seen!!!!!!
August 15, 2016
This was similar to watching the original ghost busters. The female cast made a great team in the movie. Those reviewers that said it was sexist watched a different movie than the one I saw.
August 13, 2016
Ughh what a waste of time and money...must say this is the worst movie I've ever come across and seriously I thought finding dory would be worse hahahha
August 13, 2016
If I could have given this movie a 0 I wuld have, complete garbage!
August 12, 2016
Very horrible movie, probably the very worst I have ever seen in years! Don't listen to the praise this movie is getting, it truly is just straight up trash. And it ruins the original, it does not honor it in anyway!
August 11, 2016
Could be the sleeper smash of the season. 5/5
August 09, 2016
Such a good movie, it has failed to make back even half of the budget it took to make the movie and promote it.....
August 08, 2016
it was frightening yet amazing because it shows the power of girls #girlzrule
August 06, 2016
Its totally awesome.
August 06, 2016
EPIC! You've never seen anything like it!
August 05, 2016
Don't listen to all the negativity. So the main cast is female.... So what! The movie was amazing! It was a great remake and paid great tribute to the old one. The cast from the first ghostbusters would not have agreed to be in it if it was a garbage movie. The quality was great the cast was fun, and yes I am a woman. But if a movie sucks I will say it sucks regardless of what gender the cast was. People can say what they want but me and my husband LOVED this movie!!! Great film. Worth watching.
August 05, 2016
LOVED IT!!! GREAT EFFECTS! A great film with great acting, a fun twist to the original version. There were many tributes to the old one. WELL DONE! I seen it in theatres twice :)
August 04, 2016
Complete garbage. Don't waste your time.
August 04, 2016
It will make ghosts come out of your ears (your ears if you're lucky)
August 03, 2016
I wanted to like this, then I just wanted it to be over. Now I just want to laugh again...at anything.
August 03, 2016
I'm a progressive liberal woman and I was just so disappointed that the film wasn't very funny. Tsk-tsk-double-tsk.
August 03, 2016
great reality escape!
August 03, 2016
My girlfriend dragged me to see this. Not that funny. We should have went to see NEON DEMON instead.
August 03, 2016
There are more laughs to be had in A SERBIAN FILM.
August 03, 2016
Go for giggles! If your friends won't take you to see it you need to "correct" them. Don't Overlook this one.
August 03, 2016
Johnny LaRue's crane shots couldn't save this movie.
August 02, 2016
I come from Farnhamville as well. Do you know the reverend? This was a funny movie.
August 02, 2016
I love this movie.
August 01, 2016
Fun, but should've had a better cast. Ladies like Charlyne Yi, Anna Faris, and Sarah Silverman would have made it a better movie.
July 31, 2016
Do not waste your time with this flick
July 31, 2016
The year's best movie.
July 30, 2016
Good but not great. Some laughs and some boring parts.
July 28, 2016
The movie was good. The cast was great. I would love to see this movie again. I think they should do another ghostbusters movie.
July 28, 2016
Can't wait to see it again!
July 27, 2016
Going to take a very huge pile of crap to beat this movie at the razzie awards Will get the most/max razzie nominations possible. And will set records by winning them all.
July 27, 2016
Terrible... Take every thing good about original.. get rid of it.... and go over time on the stupid stuff...
July 27, 2016
Hilarious and fun!! Don't listen to the naysayers. This is a charming version and Harold would be proud of the redo!! Kudos! Make sure to stay after the credits till the very end. 😊
July 26, 2016
One of the WORST movies I've ever seen. If there were a 0, I would've given it that.
July 26, 2016
Annnnd ruined. They ruined something that was great. Good job Hollywood.
July 25, 2016
I honestly tried to like this movie, I had high hopes...But no this truly was the worst movie I have ever seen. It is pure cringe from start to finish. The only positive reviews this movie is getting are from women.
July 25, 2016
person who said that they wish this movie was around when they were a kid, dont they know that this movie is a remake, so technically this movie was around when they were a kid.
July 25, 2016
Funny movie. Great cast. Enjoyed the cameo appearances of performers from previous movies. Not smutty and trashy like most current comedies, but too scary for young children. Excellent visual effects.
July 24, 2016
It was good .......very happy they added former ghost busters actors and actresses . It was good
July 24, 2016
Unwatchable
July 24, 2016
I went in with an open mind but this movie is bad.
July 24, 2016
All the high ratings are from woman. Was not that funny! They recked it.
July 24, 2016
It was really funny. I enjoyed it a lot.
July 23, 2016
It was amazing good job on making it
July 23, 2016
Don't believe the people who are rating this 5/5, this movie is pure garbage. It is just feminists groups praising this movie to ensure that it gets a sequel. This movie was not funny, it was terrible from beginning to end, THE WORST MOVIE OF THE YEAR thus far! Seriously save your money and see something better.
July 23, 2016
I am not a regular comedy fan; however, I really enjoyed this movie. I like when Melissa McCarthy plays a less crass character. She is great in this movies along with the other 3. Cameo's from the original cast of Ghostbuster's makes the movie fun. A lot of little laughs. I would recommend it.