Ghostbusters - User Reviews
Thank you for rating this movie!
Read your review below. Ratings will be added after 24 hours.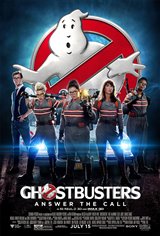 2.50 / 5
User Rating
Based on 11026 votes and 230 reviews
---
Please rate movie 1 to 5 stars
Showing 101 to 150 of 230
July 23, 2016
Worst movie. Do not go.
July 23, 2016
I absolutely loved this movie and can't wait to go see it again! I wish this movie had been around when I was a kid, it would have been so inspiring. So glad so many kids now will be inspired by this.
July 22, 2016
Kristin Wiig is very good actress. But this role and movie for her is a major dud. \absolutely a cash grab. Working people take hollywoods crap. All those rich, arrogant, people and who is slaving to allow their fairytale lives. Cultural monopolies controlling the movie business are about money, not entertaining you. they sold out long ago based on the last few decades of lousy reboots and lack of vision.
July 22, 2016
All our family liked this movie! Really funny, and humor not like in the major "comedy" where jokes are disgusting, and always about physiological processes like farts and burping. Sick and tired of such movies.
July 22, 2016
Garbage. This is what you call a cash grab. Advoid it. Watch the originals instead.
July 22, 2016
Still the best movie out there! 5/5
July 21, 2016
Fun flick. Worth the trip to the city from Farnhamville.
July 21, 2016
Freaky. Very theatrical.
July 21, 2016
It was funny! I don't care that it was a remake; for once there's a movie that shows women as funny and intelligent characters.
July 21, 2016
Thought it was fun and funny!!!
July 21, 2016
Top notch movie does the original proud I for one am in love with the all female cast as their characters because each one plays out what a strong confident young woman is all about
July 21, 2016
This movie is a waste of stars and story,avoid it if you think it has anything to do with Ghostbusters ,it's a dog.
July 21, 2016
Loved it!!!!
July 21, 2016
This movie is horrible!!! Don't wast your time. That's two hours I will never get back. The movie was predictable, the jokes were corny at best, the story was sad and pathetic. Enthough I liked to of the main actors it was not enough to help such a bad move earn even a second star.
July 21, 2016
Funny entertaining with fractured HI-tech gizmo language and explanation. Different character role for Chris Hemsworth.
July 21, 2016
This movie suck the big one. Anyone who says this was a good or even a funny movie should have their brains checked out, honestly there was nothing good or redeeming at all. In fact I think anyone who liked it must be numb from their head to their toes. Don't even see it when it comes out on TV or DVD. Just Horrible, I actually asked if I could get my money back it was so bad, now I know that if you leave about 20 to 30 min. into the movie you can get your money back, but no I thought maybe further into the movie it might get better, Hey maybe I should have my brain checked out also for staying and finishing the move till it was done. review no stars
July 20, 2016
I loved this movie. It was funny & enjoyable.
July 20, 2016
Awful movie. You are smart if you do not go and see it.
July 20, 2016
Crappy movie, not worth watching.
July 20, 2016
Love ittttttttt
July 20, 2016
I loved that this movie had no romantic sub plot, not a single fat joke and passes the Bechtel test! It had more jokes and more scares than the original, also it presents positive female role models to the young girls that will watch it.
July 19, 2016
that right the typical politically correct crap busters...cheese ball fest of pure crap ...nuff said
July 19, 2016
Harold Ramus may you rest in peace. As for this movie, may it burn in hell!!
July 19, 2016
An inspiring movie!
July 19, 2016
Even my gerbil Horatio loved it, and he's notoriously fussy.
July 19, 2016
An uninspiring movie!
July 19, 2016
An excellent film.
July 18, 2016
So much fun!
July 18, 2016
Third time's the charm for this franchise!
July 18, 2016
Could not stop laughing! Have to see it a few more times for sure to catch all the jokes!
July 17, 2016
Comedy classic.
July 17, 2016
Way better than the first one. That one was entertaining, but this one is amazing!!! Best plot, better effects, and funnier!
July 17, 2016
Absolutely hysterical ! Must see 3D Imax , fabulous graphics !
July 17, 2016
"Waiting to Exhale" for the modern woman. Ladies, take your men to see this and they just might learn something...
July 17, 2016
The most fun I've had at the movies since Blues Brothers 2000.
July 17, 2016
It was awesome, liked it better then the originals.
July 17, 2016
Clever and inventive! Would love to see an all-female redux of Das Boat.
July 17, 2016
Buy your tickets weeks in advance if you hope to see this before the end of the month! 10/10
July 17, 2016
An excellent reboot from a female perspective
July 16, 2016
Ok. Nice guys is a far better action comedy film.
July 16, 2016
I never laughed so hard in my life! Run, don't walk to your nearest theatre! That's right: push, shove, knock old ladies down...just get to that Ghostbusters screening!
July 16, 2016
Incredible! The year's best film! More laughs than LADY TERMINATOR, scarier than DAVEY AND GOLIATH, more exiting than GYMKATA. You'll have a blast!
July 16, 2016
Aliens will see this movie, bask in its greatness and reward humanity with clean energy, the cures for diseases, and reprints of Cinema Sewer magazine! Great days are upon us!
July 16, 2016
Terrific film! Funny and thought provoking. Did it ever occur to you that flatulence is the ghost of food? Think about it and watch out for those big Twinkies!
July 16, 2016
Adored this great film. Not quite as good as MEGAFORCE but better than KRULL. See it today!
July 16, 2016
Great movie! This film will make you believe in ghosts! L--What was that?! I heard something...omg! The lights just went out! AAAHH!!!!
July 16, 2016
The movie was great!
July 16, 2016
Really liked it! Perfect for a night out with my 10 year old daughter.
July 16, 2016
Laugh riot! 10 out of 10! An almost perfect movie!
July 16, 2016
Is there a Ghostbusters2016 storybook from Scholastic? If so I want it I want it I want it I want it!