Ghostbusters - User Reviews
Thank you for rating this movie!
Read your review below. Ratings will be added after 24 hours.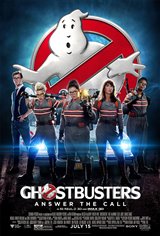 2.50 / 5
User Rating
Based on 11026 votes and 230 reviews
---
Please rate movie 1 to 5 stars
Showing 201 to 230 of 230
July 15, 2016
These gals are this summer's Fantastic Four!
July 15, 2016
Loved the cg effects!
July 15, 2016
The movie event of the summer has arrived!
July 15, 2016
The remakes won't stop until people stop going to see them. Doesn't anybody want original stories anymore?
July 15, 2016
I was really looking forward to this movie and had high hopes for it. Ugh! What a disappointment! Terribly unfunny and the stereotypes were shameful.
July 15, 2016
The cast looked like they were having a blast which enhanced the experience. The cameos and tribute to Harold Ramis were great. I found the ending a bit drawn out but overall the movie delivered some good laughs and awesome special effects.
July 15, 2016
Loved the original, but the all female cast doesn't disappoint. Girls really can do anything!
July 15, 2016
Another reboot from Hollywood
July 15, 2016
It was very funny. I didn't expect the movie to be that funny. I found the trailer to be okay, so I had no expectation and it blew me away! It's the second Paul Feig movie I saw after Spy and I love what he does with comedy and with interesting female characters.
July 15, 2016
I loved it! I realize that some of the logic in it isn't the same as the original. I don't think a lot of people will appreciate it the way I did because I'm not concerned with how it relates to the classic too much. I think it had a good ratio of comedy to action. I also think that having the main characters female is a huge asset to the movie in setting the tone that it did.
July 15, 2016
All female all good. If they had just used different male actors it wouldn't have worked. The movie was fun fast paced and brought back memories of the original,. Looking forward to another
July 15, 2016
fairly good movie, with several funny/comical moments
July 14, 2016
I found this movie refreshingly entertaining!
July 14, 2016
I thought it was very funny and entertaining! Loved all the Original Ghostbusters Cameos. Missed Rick Moranis though, lol! Looking forward to another one.
July 14, 2016
Who ever had the great idea of the cast being female deserves much kudos. Without any of the previous films fun and frolic being interfered with, it's a different perspective but with the same gendre. I encourge all to go see. I laughed till it hurt and to pick out any of the principal performers as better than others would be an injustice. Go see it you won't be disapointed.
July 14, 2016
I don't remember much from the original Ghostbusters movie, as I was still quite young at the time. There were, however, lingering memories of me running around with a backpack blasting away imaginary ghosts in the playground with my friends. I didn't have very high expectations for this movie, but I was delighted to find out that it was better than I had expected. It was entertaining to watch from beginning to end.
July 14, 2016
The movie was very enjoyable from start to finish. I thought it was marginally better than the original and the ladies did themselves proud. The special effects were really cool and overall the movie was worth the trip.
July 13, 2016
Stellar entertainment! Aykroyd proves once again he's a comic genius.
July 13, 2016
This ain't your parent's Ghostbusters, this is how it SHOULD have been done the first time! So funny! Would love to see an all-female remake of Das Boot.
July 12, 2016
I preferred the first Ghostbusters movie. The 2016 version is ok. It does have funny moments. I mostly enjoyed the acting of Leslie Jones and Kristen Wiig. If you haven't seen the first Ghostbusters than you might enjoy the the new one.
July 12, 2016
Great movie, I couldn't stop laughing. The original one may have been funny, but this is a whole new game, it was soooo much better.
July 11, 2016
The best film of the year.
July 05, 2016
Can't get enough of that new Ghostbusters theme!
June 13, 2016
Looks good. Great cast. New story. Can't wait to see it!
May 19, 2016
Even better than the second one!
March 03, 2016
Looks awesome! Perhaps Donald Trump will have a cameo?
February 18, 2016
Finally a ghostbusters movie that I can watch. Not that garbage that came out in the 80's
July 29, 2015
This third Ghostbusters was the best yet and I'd say it's a classic already. Thank you for your persistence, Dan Aykroyd!