Girls Trip - User Reviews
Thank you for rating this movie!
Read your review below. Ratings will be added after 24 hours.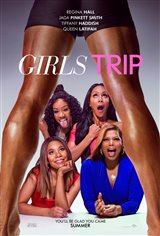 4.33 / 5
User Rating
Based on 656 votes and 139 reviews
---
Please rate movie 1 to 5 stars
Showing 1 to 50 of 139
October 25, 2017
Sooo bad - the acting bad / script bad the whole movie bad - I could have acted and wrote the script and it would have been 100 times better- come on people do they really think we want to see this
October 09, 2017
TRULY EXCEPTIONAL MOVIE !!!! F U N N Y !!!
September 28, 2017
Awesome movie!! It is best to see it with friends!!!
September 17, 2017
Very funny!! Enjoyed it.
September 12, 2017
Great movie-hope there's a sequel.
September 08, 2017
Far too much profanity and the storyline was definitely a negative image of black women.
September 06, 2017
Crude, lewd and phenomenally not funny. Judge from the picture - is this funny in some f'd up way??? Second worst movie l ever saw after Cloud Atlas. At least you could understand this one- but that just left you asking the question WHY?
September 06, 2017
Sat stone-faced throughout the movie hoping it would end soon so l could sneak into another movie after enduring this lifeless corpse of a movie. .but it kept going on and on and on like some slow torture. If you'll laugh at someone TRYING to be funny, then have fun. Any normal person will feel insulted and duped into seeing this crap. Judge for yourself, but don't say you weren't warned.
September 05, 2017
The movie was hilarious, funny exciting loved it
August 31, 2017
This movie had me in tears from laughing so hard. If it is not funny to you then see your Dr or Psychologist because your "funny bone" or Psyche is out of order!
August 30, 2017
Was one of the worst movies I have ever seen. With the cast involved thought it would be hilarious but instead was vulgar and in poor taste.
August 25, 2017
Worst movie ever. Vulgar in the extreme! Disgusting. Not funny at all. Pure garbage. My 2 friends & I left half way through.
August 25, 2017
Pretty raunchy, a sad reflection on our society, and would not recommend it.
August 24, 2017
Best movie this year..One of my favorites of all time
August 20, 2017
This movie is awesome, a must see! It was funny from start to finish. I love how it depicts real life situations between the comedic scenes. The comedy didn't take away from the overall theme of friendship and life lessons!
August 20, 2017
Would not recommend. Bad acting, bad script, their antics are in very bad taste, made to come off as funny. WOW - shocked to see Queen Latifah and Jada Pinkett-Smith in this one. I thought they had more taste.
August 19, 2017
Movie was hilarious, but real. I'm seeing it again with family. Well written and executed. Outstanding job ladies.
August 17, 2017
This was a filthy language movie and a total waste of our money. I would never encourage anyone to see it.
August 17, 2017
Worst movie I've ever seen. It was so vulgar and senseless my two friends and I left half way through. There was no comedy. Not at all funny; it was plain disgusting.
August 16, 2017
What a hilarious movie you really have to have a great sense of humor to understand it. The movie have a lot of good actors and actress in it.
August 16, 2017
It was very funny and entertaining. Everyone did a great job with their roles in the movie and definitely worth going to see again.
August 16, 2017
Terrible! This movie was over-the-top nonsense. Very disappointing from this director and actors Queen Latifah and Jada Pickett Smith. They can do much better than this. It's okay to do a fun movie, but not one with such low standards.
August 15, 2017
Horrible not entertaining at all. Not relate able to all ages
August 14, 2017
Hilarious!!! Great laughs!!!
August 13, 2017
This movie is the best. All of the actors played their parts to the t. This movie had me laughing so hard, I didn't want to miss any of it, I had to pee, and I just sat on it lol . But when I saw jada pee. I had to get up and run to the bath room, and I am 66 years old, my niece took me to see this movie, we had so much fun. Thank you lady's very much, you made a old lady feel better, you gave great latter. I just tuned out the cussing. And went for the laughter, lol like I am not used to cussing, I grew up with it.
August 12, 2017
I love this movie. I haven't laughed this hard in along time Need more movies like this one for adults only of course . Loved all the actors Definitely a 5 star
August 11, 2017
I love everything about this movie. I was down a out this movie lifted my spirits.
August 10, 2017
Horrible, plot-less, silly. After suffering through 1 hour i gave up. Not funny at all.
August 09, 2017
Very funny and emotional! Laughed into tears!!!
August 09, 2017
Awesome laugh the entire movie
August 08, 2017
This was amazing. I want to see it again.
August 08, 2017
Terrible language, thought it was going to be a comedy
August 06, 2017
Great movie; there is @ least one character in the movie every ?? can identify with( to some extent) especially if u had ur girl (peeps) in school. I laughed so hard I know the rest of the cinema herd me; but hey! they were (lol) too. U'll probably want 2 ?? this a second time, Just 4 the laughs. A must summer must ??
August 06, 2017
I really liked the story line. It was funny and all the actors were excellent in portrayal of their role.I would recommend this as one or best comedy movie I have seen in a long time.
August 05, 2017
I loved it! It was sooooo funny!
August 04, 2017
Hilarious!!! Truly enjoyed it.
August 04, 2017
My daughter and I loved everything about this movie. It made us laugh so much and it was extremely entertaining, all throughout the movie! This movie was so great, that I'm going to pay and watch this movie again!!!!🙌👍👍 Great cast, great story line..... I hope there's a Girls Trip 2 movie in the near future.
August 04, 2017
I have no idea what the hype is for this movie. One of the most cliche, stereotypical movies I have seen in a long time. Not good!!!
August 03, 2017
I laughes from beginning to end!! HIGHLY RECOMMENDED!!! :)
August 03, 2017
Great girls movie i would go see it again and again!!!
August 02, 2017
Funny, funny, funny
August 01, 2017
AWESOME & HILARIOUS
August 01, 2017
Loved it! Its so hilarious. Saw it twice lol
July 31, 2017
Loved it going TO see it again
July 31, 2017
BEST COMEDY & 10 STARS
July 31, 2017
Best comedy movie out so far. Going go see it again.
July 31, 2017
Great movie for laughs. Some scenes didn't need to be there. Just goes to show eventually people will be immune to anything.