Gladiator - User Reviews
Thank you for rating this movie!
Read your review below. Ratings will be added after 24 hours.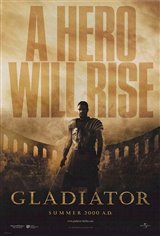 4.42 / 5
User Rating
Based on 16630 votes and 69 reviews
---
Please rate movie 1 to 5 stars
Showing 1 to 50 of 69
April 06, 2014
The best film I have ever seen. Maximus... Maximus... Maximus.
April 02, 2014
An excellent film. Russell Crowe does a very good job in his role.
January 02, 2014
My favourite movie of all time. Excellent visuals, acting, plot ... everything !
July 09, 2010
done ok well enough
March 29, 2008
Good movies come once a year. Great movies come once a decade. This movie was Great!
September 28, 2007
much better than any other movie with a higher rating, better than transformersand all others
September 28, 2007
best movie of all time hands down deserved all five oscars and more
December 02, 2006
it`s a cult! I have no doubt about this! As an enterteinment its perfect!
November 02, 2006
The Greatest movie of all time, no question
August 14, 2006
My favorite movie int he whole world! The action, acting, and effects were really A-1. Two thumbs up!
February 05, 2006
the best movie in the world
January 07, 2006
Best Movie Ever!
January 05, 2006
out standing movie,have watched it at least 10 times now very big fan better everytimei watch it
November 27, 2005
Well i really liked it. I like to learn about Ancient Rome and another places to. so i think that all of the actors did a really grate good job on this movie .
April 21, 2005
a story meant for a hero
March 14, 2005
My 2nd fav movie ever! Loved it! What a fantastic plot, visually stunning scenery, & cool costumes. There are many awsome subtle religious aspects in this movie that really impacted me. I cried like a baby at the end. The music was hauntingly beautiful. It well deserved every award it got! I would definately see it again & again!
March 02, 2005
"Best move ever!" says comic book guy. Quite historically accurate. Action and drama intertwine to create "THE FILM"
December 23, 2004
awsome, great acting as well as historical facts
October 28, 2004
I simply adored `Gladiator`. My favourite character was `Commodos` played by Joaquin Phoenix.
October 17, 2004
Joaquin Phoenix deserved the Oscar, he was absolutely divine
September 25, 2004
the best movie ever and i love russell crowe
August 22, 2004
Gladiator was AWSOME! It`s the best friggin movie eva! One of my FAVORITES! Russel Crowe was amazing and so was Jaoquin! Super! Loved the action and the story. So sad...*sniff*
August 18, 2004
Amazing, Brings you back in time to have a peak of how it really was
July 05, 2004
Magnificent. I love it. It`s one of the best historical and action movie I`ve ever seen. And Russle Crowe was awsome and boy is he ever cute.
May 04, 2004
gory but best movie ever
April 27, 2004
Gladiator is magnificent. It`s one of the best movies ever made. Russle Crowe is superb in this movie. I`ve seen it twice already, but twice is not enogh. Even though it is sad, it is a great movie.
December 28, 2003
`Gladiator` is a visually stunning masterpiece with some of the best acting I`ve seen in a long time. Joaquin Phoenix was AMAZING in his role as the corrupt emperor Commodus, and Russell Crowe, Connie Nielson and Oliver Reed were all spectacular. This is probably my favorite film. 5/5!
December 08, 2003
I really enjoyed watching this movie. Russel Crowe does a really good job.Lots of action.
December 07, 2003
one of the best films ever maid
November 25, 2003
It is a different movie. With an unexpected sad ending which is real good! It`s AMAZING
November 14, 2003
2 fregin long
September 29, 2003
I thought it was the BEST historical movie of my life. Russell Crowe plays really well in this movie and thats why I really liked GLADIATOR!
September 08, 2003
wonderfull film
January 31, 2003
It`s one of the best i`ve ever seen.
January 09, 2003
I WOULD LOVE TO SEE IT AGAIN IN THE THEATER
January 01, 2003
It made me discover this amazing actor. Seriously Russel is the best.
January 01, 2003
you`r the best russel. oscar was made for you
December 31, 2002
The best movie I EVER seen. It was amazing, o my god I can`t find a word to say how beatiful it was. Russel Crowe, you`r the best
December 31, 2002
AmAzInG!(THE ONLY THING THAT I CAN SAY)
December 28, 2002
I love this film!!!!the film is perfect,and Joaquin Phoenix is the BEST!!of course,Russel is super too,but Joaquin....Sorry Russel,but Joaquin is for me THE BEST ACCTOR IN THIS WORLD!!the Caesar Commodus was GREAT.the best film i see is the GLADIATOR. Im from Slovakia.Riddley Scott is SUPER.And Joaquin...I LOVE YOU!!!!!!!!!!!!!!BYEEEEE
December 28, 2002
I LOVE the music and Russell Crowe
December 27, 2002
thE BEST MovIe eVeR xXx
December 26, 2002
It was the best. Now I`m listening to its music. I love it, it makes me cry, i feel good when I watch it. (Russel crowe ONLY)
December 26, 2002
It was a beatiful movie. I love the way it ends. It`s one of the best movies I ever saw. It`s too sad:(
December 13, 2002
Russel Crowe is magnificent! Spectactular effects and very moving at some points. Just plain Amazing, man.
November 08, 2002
This is the best movie EVER!!! I loved it!!! I wish it was longer and showed more of the German Campign! Only thing about this moive is that it ended! It was such an awesome movie! One of the best!!!
September 23, 2002
GREATEST MOVIE EVER!!!
September 04, 2002
Excellent! Action,story,acting this movies got it all!
September 01, 2002
It was great that he was a cammander. But became afightr for entertainment & keeps on surviving.