Godzilla: King of the Monsters - User Reviews
Thank you for rating this movie!
Read your review below. Ratings will be added after 24 hours.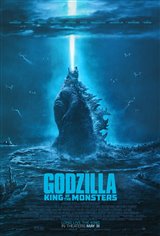 ---
Please rate movie 1 to 5 stars
Showing 51 to 70 of 70
June 01, 2019
If you emjoyed creature double feature ypu will love this movie
June 01, 2019
It was a fun movie to watch!
June 01, 2019
needs to be big screen, loud and dark . great movie over all
June 01, 2019
AMAZING!.BEST MOVIE EVER :)
June 01, 2019
Great movie kept me interested
May 31, 2019
Not toooo bad. Very noisy. Godzilla loves to show off his pipes.
May 31, 2019
Pretty bad movie in my opinion. Almost walked out several times. Disappointed.
May 31, 2019
A lot of fun. Big, loud and great monster fights. Godzilla is king.
May 31, 2019
A fantastic adaptation of a mid 60's (Showa Era) Gojira film, this film has it all; fantastic comic book set pieces, outlandish vehicles, awesome daikaiju battles, people running around doing...stuff. Great score and terrific CGI. As a longtime fan of this particular genre, I smiled all the way through it.
May 31, 2019
Great Godzilla movie, go see it!
May 31, 2019
Great movie!
May 30, 2019
I just saw this, in imax. Bad acting, horrible, fake looking special effects. If I was at home, watching this on Netflix, I would have turned it off after half an hour. Sadly, I stayed till the end. B quality movie, and that's being generous.
May 25, 2019
The PERFECT Godzilla movie! Everything is right, from the soundtrack, the monsters, etc.
May 23, 2019
The 4 most famous monsters from Japan are in this movie!
May 23, 2019
Godzilla KOTM returns emphatically correcting what Godzilla 14' got wrong.
May 08, 2019
GOOD MORNING MOVIE FANS . I LOVE THE NEW GOZILLA KING OF THE MONSTERS MOVIE PREMIERE AND I WANT TO SAY IS GOOD GOOD VERY GOOD AND I WANT TO SEE THE GODZILLA MOVIE ON THE SECOND ONE TOO. AND THANKYOU VERY MUCH .
March 18, 2019
This should be a great movie. No more rubber suit. Godzilla as it was meant to be seen.
July 23, 2018
OH THIS SCI FI MOVIE GODZILLA KING OF THE MONSTERS IS VERY GOOD AND ACTION . AND WHAT DO YOU THINK ABOUT IT TOO ?