Godzilla vs. Kong - User Reviews
Thank you for rating this movie!
Read your review below. Ratings will be added after 24 hours.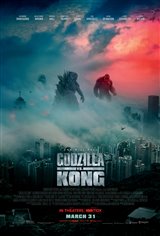 ---
Please rate movie 1 to 5 stars
Showing 1 to 50 of 55
December 07, 2021
Hard to believe it's been 35 years since King Kong Lives, and it's STILL the best Kong sequel.
August 07, 2021
A W E S O M E & T W O T H U M B S U P ! ! ! ! !
June 20, 2021
A movie that kills brain cells and wipes out all memory of grammar and punctuation
June 17, 2021
thank god regal / ua back in business in no better forestave, mariners harbour..original, saw the movie 1965on richmond ave outdoor movie theater a stones throw away. know the turk completely. thankyou staff and nyron speciale. this time around45 years later.. the focus want defined and focused on the story. the movie revolved around the little girl..which takesthe focus off the classic epic..raymond burr added to the saga in the original..godzilla was an outcrop of the defeat and the decimation of the japanese empire a decade later.hero shema ..naga saki, hero hito.. although alot of window display and dressing..the new one doesnt lay a candle..but after following trailingand devouring these morsels from rodans twins -to megalon and the sister act two..it doentapologize for the nuclear accident returns and it should promote the 21 olympics...i cant give hi praise but better than the last two, bomza eyes..
June 09, 2021
I really liked this movie, I was worried that there would only be 1 fight scene that only lasted a few minutes at most, but I was glad I went to go see it. The storylines were good! I don't personally feel like you have to see the other movies to understand this one.
May 30, 2021
Loved everything!!!!
May 18, 2021
Harumbe is on Kong's side! I do wish Penny Pax was in this!
May 17, 2021
Rap music score, no thanks
May 11, 2021
Best Godzilla movie and 2nd best Kong movie in my opinion...overall excellent
April 29, 2021
Admittedly, the sequel sounds appealing, it's just too bad we had to sit through this brainless spoof to get it.
April 28, 2021
Wowzers! If you enjoyed this movie you're going to LOVE what happens next: While still in the planning stages, the ingenious K&G sequel will take Kong back to his roots and show us the events that transformed the thousand foot monkey into the plucky 30ft. brawler kidnapped from his Skull Island home by an overzealous Carl Denham and put on display as a sideshow attraction in the Big Apple. For the first time, we learn the remarkable matchmaking role Godzilla played in setting Kong up with the beautiful Ann Darrow, and we witness him standing at Kong's side, fulfilling the time-honoured tradition of "best man" during a most spectacular wedding scene. When the crafty Denham captures the now 30ft. "8th Wonder" and makes for America, Godzilla follows in swift pursuit and becomes Kong's protector in a strange and violent new world called "civilization." A life and death showdown looms when Godzilla picks up Kong and his diminutive bride and deposits them on the top of the Empire State Building, as a locked and loaded squadron of America's finest closes in to shoot the happy couple down...
April 27, 2021
A must on the small screen. .05/5
April 27, 2021
One of the year's ten WORST.
April 26, 2021
If you have to make a choice between this and Mortal Kombat the smart money is on the latter. Either would have been wise to include a Joe Patroni-type character, but this one especially. Much of the running time is taken up with boring exposition, which is why it's so important to have memorable characters people will cheer for. The titular men in suits still look like walking carpets, and I suppose that's a plus for people who appreciate this sort of thing, but anyone else will feel they've wasted their time and money on yet another unnecessary sequel. 1/5
April 26, 2021
I had to make a choice between this movie and Mortal Kombat and I chose this one honestly I think Mortal Kombat would have been a 4 star movie this is a true 5 star movie no matter what anybody says don't listen to those negative reviews this really is a great movie
April 25, 2021
Not as bad as Kong: Skull Island, but that's like saying it's better to be bald than wear a piece like Trump.
April 25, 2021
It's so depressing -- this is KINO, not Kong. I'd give it zero stars if I could.
April 25, 2021
Completely unnecessary. Why do they make this garbage? Makes Independence Day look like On Golden Pond.
April 25, 2021
I have to confess I thought it was poor.
April 24, 2021
Sorry. But when they used their space ships energy as a paddle to restart kings heart I new it was time to leave. This may be enjoyable for kids. A lot of action and effects but this movie was so goofy it's not even funny. I could t wait until it was over. I would of liked the Godzilla and Kong movies with a little more reality in today's world. Not space ships, Magical hatches, and robotic lizards.
April 24, 2021
Everything
April 24, 2021
Action was what I expected and story was fine but didn't go into detail about reason skull island was no longer inhabitable and would have liked to see what happened to the other titans other than having to read about it in pre credit info
April 23, 2021
I wasn't expecting much, but the movie turned out to be surprisingly entertaining. The key when watching movies like this is to not think of reality to much. This is a fantasy movie and is meant only to entertain. For instance, massive destruction and loss of life would not be forgotten about so quickly in real life the way it is in movies like this. Entire cities can be destroyed and thousands of people can be die and no one seems to notice for more than one or two scenes afterwards. Kind of funny actually.
April 22, 2021
If not for Rebecca Hall this would have been a tv-movie.
April 21, 2021
...A KINO VS. GINO movie! My goodness, how the mighty have fallen!
April 20, 2021
Lousy. This was already bad, and then that infuriating fat bastard from Deadpool 2 shows up, sinking it completely. Miss it!
April 19, 2021
Amazing and exciting.
April 17, 2021
Just from the reviews it looks like all the socialist libtard CNN worshipers are spitting their Hate for this movie. Just on that alone I know this movie is great. I'm taking the entire family to see it tomorrow.
April 17, 2021
The battle scenes were terrific - character development not so much.
April 13, 2021
Loved the movie, the scenery and the fight scenes were amazing. Loved it!
April 12, 2021
I wasn't expecting much, and I got it. Dumb spectacle. This can't hold a candle to SHIN GODZILLA or GODZILLA GMK, but will evidently please the fools who can't differentiate between popular success and actual craftsmanship.
April 12, 2021
Awesome fights n great continuation of the story!
April 12, 2021
LOTS OF ACTION! BLOCKBUSTER. GODD CLEAN FAMILY MOVE. You with the one star rating the numbers at the box office speaks volumes.
April 11, 2021
It's just so bad. Americans can't do Godzilla movies well. They always screw it up. They should stop trying.
April 10, 2021
very bad, too bad because movie had potential.
April 10, 2021
Remarkably, they've made a movie that's WORSE than King Kong Vs. Godzilla.
April 08, 2021
Almost no cliché's I love it when a movie does that they surprised me at the end overall just go and see it you'll enjoy.
April 07, 2021
Took the grandkids and a neighbor kid and everyone loved it, including me. Have long been a Godzilla and King Kong fan. Well done!
April 02, 2021
This film could be avoided to save you from over-spending your money on a film which was grainy, computerized to the max and just plain terrible story line. For such a look forwarded to movie - was ready to fall asleep and go home. Glad it was over with.
April 02, 2021
Blockbuster definitely. Very amusing and surprise ending
April 02, 2021
Watched every Godzilla, & King kong movie made. The Classic match yrs ago was a huge hit & a great battle. This rewrite & additional Titans, splicing storylines was a great idea. Both iconic Kings look great. Do not stop here, more to come and a wide range of additional Titans to be seen. Love what wingards work, now let's see what's to come, but bring them sooner and longer show time. Lastly, let's see The recreation and return of Ultraman, Jonny Sokko, & Gamara.
April 02, 2021
This movie is for the same people who like to see animals fighting. Dogs, roosters. Shame on Hollywood for making this tripe and shame on you if you glorify violence.
April 02, 2021
movie was trash.... monkey no eat banana
April 01, 2021
Fun Kaiju movie
April 01, 2021
Amazing battle.
March 31, 2021
Honestly one of the best movies ive ever seen
March 31, 2021
Full of action from the beginning to the end. Epic special effects. Action packed. Good clean fun movie. Finally...
March 31, 2021
Definitely a thriller, lots of action and overload of technology. Loved the story of the little girl and her being able to communicate with King Kong by way of sign language. Amazing film making and suspense. P.S. Thought it was mighty Joe Young with the blonde in hand on empire state building!!
March 31, 2021
This movie doesn't make any sense! Why did Kong climb the Empire State Building when he could have just stepped over it?
March 31, 2021
A god is stronger than a king