Going the Distance
Thank you for rating this movie!
Read your review below. Ratings will be added after 24 hours.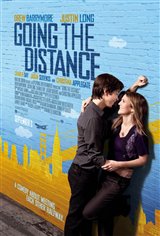 ---
Please rate between 1 to 5 stars
Showing 1 to 50 of 78
February 11, 2012
the only funny part was in the last few seconds.
February 26, 2011
Loved it! Cleverly written with just the right amount of romance and comedy (:
December 02, 2010
some funny parts, but the swearing brought the movie down because i never really hear drew barrymore swear
November 11, 2010
Mediocre, predictable, but cute at the same time.
November 08, 2010
Pretty good movie. Good for some laughs for sure.
November 06, 2010
One of the better romantic comedies I've seen in a long time.
November 01, 2010
cute movie but I couldn't really get past the fact that Drew Barrymore's acting kinda bugs me and Justin Long isn't really that desirable (sorry to any fans! I mean no offense) Other than that, it was a pretty funny movie. Some off colour jokes, but all in good fun.
November 01, 2010
Overall storyline was predictable but the way it was executed was funny. Good casting especially with the supporting characters. Interesting to see a real life on again / off again couple in a movie that kind of mirrors their actual lives.
October 28, 2010
It's an OK movie
October 28, 2010
Great relationship movie...really good comedy.
October 27, 2010
Very cute movie.... not what I expected at all.. *claps*... I mean there are so many parts where you think you know whats going to happen and then it doesn't.. its awesome!
October 20, 2010
Aren't these two a couple in real life? They have great chemistry.
October 12, 2010
it was cute
October 08, 2010
great flic
October 07, 2010
It's like 100 one-liners, strung together by a weak plot.
October 06, 2010
Pretty funny movie. I was really surprised.
October 03, 2010
Loved the movie. Romantic comedy. Drew Barrymore good as usual.
October 01, 2010
I went into this movie not expecting much. I've enjoyed Drew and Justin in previous movies so had to check this one out. It was full of laughs, lots of slapstick and great lines. Sure it's not deep and meaningful but does it need to be? No. Christina Applegate steals the scenes she is in... so funny... no shame.
October 01, 2010
Absolutely funny and worth the price of the tickets. Unfortunately it was very predictable
October 01, 2010
slow moving and boring
September 30, 2010
Very funny and loved the story!!!
September 29, 2010
I took an 80 yr. old friend to this movie and we both laughed out loud at some scenes. Drew Barrymore, as usual, is great in romantic comedy roles.
September 25, 2010
The leads are engaging and funny, but I felt as though I was watching a movie about Tourette syndrome. That's what the stream of blurted out sexual commentary seemed to be: toneless, completely lacking in subtlety and out of control. It ruined the movie for me.
September 25, 2010
enjoyable
September 25, 2010
this movie was pretty funny, had no idea that leighton meester was in it...even tho she was only in it for like 3 mins
September 24, 2010
This was absolutely terrible! It was vulgar and crass and the F bomb was dropped frequently and completely unnecessarily. I picked the movie based on Drew Barrymore as I am a big fan of hers but I don't enjoy that language coming from her at all. My friends don't speak that way and we don't speak that way in my home and I certainly regret paying money to see such garbage. It was just potty humor and vulgarity throughout. Had I been there by myself I would have walked out 15 minutes into it. I should have asked for my money back. VERY disappointing! Drew, what were you thinking taking this role???
September 23, 2010
If you love Drew this is one for you. Both she and Justin Long did an amazing job. This is totally a wonderful chick flick and I would definitely see it again. Really fun to watch.
September 23, 2010
simple funny and interesting take on relationship in this 21st century.
September 23, 2010
just seen this movie last night. it's a good movie to cuddle into your love one a late week night. pretty funny too.
September 21, 2010
One of the funniest movies I've ever seen. Well worth watching again. Can't wait for it to come out on DVD so I can buy it. You won't be disappointed
September 20, 2010
I have to agree with the minority on this one - it was the absolute worst movie I've seen in a long time. Drew Barrymore is such usually such a pleasure to watch, she must have been really desperate to take on this script! They could have cut the profanity in half and it still would have stunk. Almost walked out of the theatre but stayed to see if it would improve - should have left! Absolute garbage!
September 20, 2010
This is the worst movie I've ever seen. Terrible language, potty humour. Simply disgusting.
September 19, 2010
This is the worst movie I've ever seen. Terrible language, just simply disgusting.
September 18, 2010
This is one of the worst movies I have ever seen. Don't waste your money!
September 18, 2010
Good grown-up movie. Not something for the kids, but pretty funny.
September 17, 2010
Great movie....
September 17, 2010
A great movie. Christina Applegate was quite funny. The movie was silly but real in many ways. Recommended!
September 15, 2010
Cute movie with some pretty funny scenes.
September 15, 2010
One of the funniest movies I have seen in a long time! I was surprised by the language used and soooo much sex and talk about it, glad i didn't have a teen with me. Other than this movie not being rated high enough it was worth going to watch! Not a chick flick at all like I expected.
September 15, 2010
It was funnier than I thought it was going to be. I really enjoyed the development of their relationship! Jason Sudeikis and Christina Applegate were great as well!
September 14, 2010
Drew Barrymore is always a pleasure to watch - her quirkiness, to me, is endearing and she carries this movie. Justin Long is a"long" for the ride. Some good laughs - nice rainy day, chick-flick movie.
September 14, 2010
not bad not great
September 13, 2010
This was such a funny movie. I don't understand those who previously commentated on this movie and said it was not funny. They obviously don't have a sense of humor. It was very hilarious and was an overall feel good movie. For those who have been through a long distance relationship, it is comforting to view a movie that depicts many of the emotions one may feel during this time. This movie was better than I expected and I thoroughly enjoyed this it! Go see it!!
September 13, 2010
I LOVED this movie. Drew and Justin were great together, and the supporting cast (Charlie Day in particular) were hilarious. It was funny and romantic, and is now probably one of my favorite movies!
September 13, 2010
Going the distance was a slow-moving comedy. Not great but not terrible. Had some funny moments and some things most people who've ever been in a long distance relationship can relate to. Was surprisingly vulgar - didn't really see that coming...just in case you're overly sensitive about that kind of thing.
September 13, 2010
Sure enjoyed this movie
September 12, 2010
Pretty funny, Drew Barrymore puts out another good performance. And Justin Long does a good job as well.
September 11, 2010
Been to way better movies!
September 10, 2010
Very adult
September 10, 2010
This is a candidate for the title ot 'The World's Worst Movie". The jokes are not funny. Teh actors cannot act.Aside from that the movie sucks.