Good Night, and Good Luck. - User Reviews
Thank you for rating this movie!
Read your review below. Ratings will be added after 24 hours.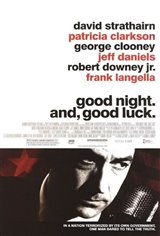 ---
Please rate movie 1 to 5 stars
Showing 1 to 13 of 13
April 09, 2010
Excellent movie. Captures the era superbly. Wonderful acting. One of the best movies I've seen - ever!
October 11, 2006
I had to watch this movie for school, and i thought it was terrible.. the acting was execellent though, but there was no climax and the story seemed to go on and on without a significant ending. i also think that it being in black & white was unneccessary as it didn`t add to the impact of the film and made the movie less visually appealing. i wouldn`t sit through it again.
May 16, 2006
it would of been better if it wasent in black and white
April 05, 2006
Hyperboles used to describe films make me squeamish, but I must say this was an absolutely excellent film. Yes, some could argue that it has a leftist slant; regardless, the point of view via Murrow came through convincingly and loud and clear - you could feel his angst. Straithairn deserved the Oscar. Clear, concise, tempo, excellent acting and beautifully shot. This deserved many Oscar nods - yet it was probably too political for the academy, so they stuck with the films that had the PR machines pushing them: Brokeback?
March 03, 2006
Interesting film and good directorial debut for clooney. The performance of the lead character is worth the watch alone.But not to be outdone overall it had its tendencies of truth.
February 16, 2006
Predictable Leftist dribble--fact is there were MANY communists and spies not only in Hollywood but living and working around the US at the time--well placed sympathizers and others, some of whom directly worked with Soviet KGB. This is a fact--and this movie has no balance at all--hardly a surprise from the `Gucci Left` who drive SUVs, live in mansions, and profit from the free market system.
January 20, 2006
Great movie. It is very poignant in today`s world. The movie is an interesting look into the past while commenting on the present. The abrupt ending was very odd though and leaves the viewer wondering where the rest of the movie is.
January 08, 2006
A strong film that unflinchingly portrays the binary view of many, particularly in America. McCarthy says that if you diasagee with him then you must be a commie pinko. George W. Bush makes exactly the same statemements 50 years later. Have we learned nothing? What happened to the freedom to debate?
January 08, 2006
Highly entertaining movie. Too bad it`s so true, too bad "terrorist" is the new word for "communist", too bad the USA does not have an independent media anymore, and too bad there are not many courageous people left. .
December 30, 2005
A really intelligent film. And incredibly relevant to what is happening today to freedom of speech and thought in the U.S.
December 29, 2005
great movie considering the weak film streak we have been seeing- a movie with actual content!
December 20, 2005
An interesting comment on what happened during McCarty-ism. The more interesting point it makes (without saying it)is that today, 50 years later nothing has been learnt, that television is being used in the same manner by politicians to scare the public into voting for them - George W Bush and his war on terrorism.! And that in many so called civilised countries such as USA, UK and Australia , you can trial someone on suspicion and here-say alone. Obviously no one has learnt anything since the Salem witch trials. Bah!
November 16, 2005
Good Movie. I must say this was a good Movie indeed. And I dont even like Songs