Grease - User Reviews
Thank you for rating this movie!
Read your review below. Ratings will be added after 24 hours.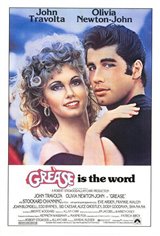 4.11 / 5
User Rating
Based on 2217 votes and 52 reviews
---
Please rate movie 1 to 5 stars
Showing 1 to 50 of 52
August 24, 2022
GREAT MOVIE A CLASSIC, OLIVIA NEWTON JOHN STAR MUSIC AND BEAUTIFUL SOUL. JOHN TRAVOLTA ALSO GOOD ACTOR & PERFECT FOR THE ROLE. SO NICE TO REMEMBER OLIVIA THIS WAY. R.I.P.
June 19, 2020
The Live version on TV was way better
December 26, 2019
Loved the music and actors! Amazing movie!
September 03, 2012
time to go back to school, kiddies! weekday matinees are so much nicer with no bratty kids around!!!
March 06, 2007
I love Grease!!!Sandy is a character of a real true girl...Iam an idol of Danny and Kenickie...wooooohhh....it`s cool...I watched it in an acting workshop and it is good...
February 13, 2007
1978, I WAS ONLY 8 YEARS OLD NEVER EVEN HEARD OF IT UNTIL ANOTHER 5 YEARS LATER, IT`S DONE 30 YEARS OLD GENERATIONS AND TILL THIS DAY IT;S STILL A MUSICAL PHOEMONON. WHO KNOWS WHAT KIND OF REACTION IT WILL HAVE ON THE NEXT GENERATION. I KNOW MY KIDS LOVE THIS MOVIE. I WISH THAT THEY COULD MAKE MORE MOVIES THAT THIS. IT;S ANS ERA GONE BY JUST LIKE THE MUSICAL, LIKE SINGING IN THE RAIN. THERE HTE BEST
February 08, 2007
Grease is the best musical and movie ever made it is absolutely fantastic!!! =] -MaRiTzA!!!
December 28, 2006
Grease is my all time favorite movie.
November 26, 2006
Grease IS the word!! 52 thumbs up!!
October 09, 2006
One of the best movies I ever saw I am a senior 78 years young, and just finished watching it for the 12th time on TV and still enjoy every minute
June 25, 2006
Grease is the best and it`s my favorite movie im your biggist fan in the world....
June 07, 2006
Grease is amazing, i can`t believe it`s still popular!!!!
May 25, 2006
its 1 o da bst movies i av eva seen
March 31, 2006
I like it a lot. I`ve seen it a thousand of times.We did a play at my school.
March 13, 2006
I thought this movie was really well done. this is one of my altime favorite movies. I love the clothing. I can watch it allday long an neva get tired of it. I think the first one was way better than the second one. If they r goin to have a sequal than use the same pl as before.
March 07, 2006
I LOVED IT ! IT WAS THE BEST MOVIE EVER ! BUT I HATE GREASE 2 . GREASE IS STILL THE WORD!!!!!
December 15, 2005
i think it was the best movie ever made. i have the sountrak and know every song on the cd
December 02, 2005
i love the movie grease!! ui have seen it 50 times since the time i was 3. i saw it for the first time in 1997 in theaters. i was little at the time so during every song, i would get up and dance. i think that it is one of the best films ever made, and the soundtrack is totally awesome 2!!!!!!!!!
October 30, 2005
Wow this movie is frieken amazing! Especially Rizzo shes like wow. I love her attitude she takes no prisoners
October 29, 2005
It was so good i can`t stop watching it i`m obsessed with the music and the movie.
October 22, 2005
this is the best movie of all time!! :D :) i am 15 and have been watching it scince i was about 8! i love it s0o s0o much! The music is great too!!
October 21, 2005
GREASE IS THE BEST MOVIE EVER MADE!!! (besides harry potter) BUT BESIDES THAT ITS THE BEST MOVIE EVER!!! I LOOOOOOOVE GREASE!!! *pheeeeeeew* okay....glad thats off my chest. well, okay, bye! :P
October 04, 2005
WAS DA BEST MOVIE OF MY LIIIIIIIIIIIFE!!!!!!!!!!!!
July 20, 2005
I love this movie.
July 15, 2005
WELL I HAVE SEEN IT ALL OF MY LIFE AND IT GETS BETTER EVER TIME I WATCH IT
June 24, 2005
Well I watched it 5 times and all 5 times it was fun like heck! My boyfriend made it funny by singing along to the better songs * he`s a singer so it sounded awesome* Anyways I`m 13 and I think it`s the best movie ever made!
May 21, 2005
Grease is the best movie of all time without grease my life would be nothing
April 25, 2005
I thought it was absoulutally brilliant!!! Five stars!!!
April 03, 2005
I am only 9 and i think it is the best movie my fav song is summer loving
January 26, 2005
I DID LIKED GREASE MOVIE THAT NOW I`M TRYINGTO SET IT UP AT SCHOOL IN A YEARLY ENGKISH PERFORMANCE. THE STUDENTS ARE GOING BANANAS!!!!1
January 22, 2005
My daughter`s high school will be doing this production ..after viewing what GREASE is about and the songs, I am SO disappointed in the director`s choice. There are much better musicals out there than this !
December 27, 2004
i have seen grease so many times that the tape to my video broke, that`s how much i love that movie. the musical movie i have ever seen.
November 21, 2004
I have seen grease many times...and it always feels same...i mean cool !!! The thing is...i´m from Finland...!!! AND OF COURSE... I LOVE JOHN TRAVOLTA IN THAT VIDEO!!!
September 10, 2004
we thought it was great!
August 19, 2004
~**GREASE**~ THE BEST MOVIE OF ALL TIME...WITH THE BEST CAST...THE MUSIC, DANCING, AND ACTING IS ALL SO GOOD!!!!!!GREASE IS SO AWESOME!!!!!!!!!!
August 16, 2004
i love the movie grease our skool did a play on the movie n i got to dance wit a cutie
April 21, 2004
Grease is the best movie of all time!!!!!. It`s hilarious and is a classic movie that will be remembered forever.
April 09, 2004
GrEaSe is sssssssssssoooooooooo awsome i love it so much and one of my fav songs is GREASED LIGHTNING. As a matter a fact i love grease so much that this year 2004 i am in the school play that is GREASE.
March 10, 2004
.... Grease is definetly the word... almost 30 years later and it is still a classic... i just wish i could i have been in that movie...i wish we had those kinds of days now...the old fashioned kind...i would have loved it... great job on grease... and keep spreaden the word... and dont forget that a hickey from kenicky is like a hallmark card...good enough to send the very best!!!!!
January 26, 2004
Now grease is a classic. I just never agreed with teh ending. Shouldn`t good girls always be good? where`s the morals?
August 21, 2003
It`s a classic.
June 16, 2003
IT WAS AWSOME!!!!!!!!!!!************
March 13, 2003
the best film ever i watch it every day!!!!!!
December 29, 2002
who wouldnt like grease? its funny interesting and a delight to watch!
November 08, 2002
It is the best movie I have ever seen and I pity those who do not realize it. Okay, so the actors are a little old to be high school students, but you can still imagine it.
November 03, 2002
Fantastic
October 05, 2002
They sing to much like all the time !!!!!!!!!
October 04, 2002
I thought Grease was an excellent movie and the actors were well chosen. John Travolta and Olivia Newton John worked great together. Over all, I think the movie was well performed, edited and directed.
June 05, 2002
Ilove grease it`s the best movie every.