Guess Who - User Reviews
Thank you for rating this movie!
Read your review below. Ratings will be added after 24 hours.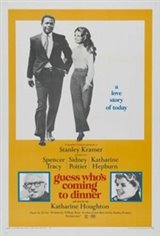 3.12 / 5
User Rating
Based on 2535 votes and 73 reviews
---
Please rate movie 1 to 5 stars
Showing 1 to 50 of 73
January 24, 2007
Not a good movie, but at least it has a few funnny parts in it. But other than that, it felt like a damn soap opera, blech!! 3/5 stars
October 11, 2006
I thought this movie was funny, Bernie Mac and Ashton Kutcher worked really good together. But the fact that a white man dating a black girl as being a problem kind of bugs me. If we`re getting used to homosexuals then we should get used to mixed races next.
October 20, 2005
best date movie ever
August 29, 2005
I loved it. Thought it was more a chick flick though. But very funny.
August 04, 2005
LAUGH OUT LOUD it was the best movie ever my mom is now in love with ashton kutcher lol
July 25, 2005
This movie was something I would go see once. As in buying it no DVD thats not a good thing at all.
July 10, 2005
one of the worst movies i have ever seen it was racist and disgustig!!!!!!!!!!!!!!!!!!!!!!
July 05, 2005
wasnt as funny as i thought it would be but was still good
July 01, 2005
Great Movie!
June 16, 2005
Fantastic move, litteraly on the ground by laughing my but off, very nice acting, ashton is cute and nice songs, the scenario was brilliant!
May 23, 2005
Awesome, Hilarious, worth my $9.95
May 08, 2005
I haven`t seen it yet and I hope it will be good.
May 04, 2005
It`s was better than okay....... i guess
May 04, 2005
Zzzzz......Zzzzzz.....Racist un-fun (with the Af-Can community no doubt doubling-up).
May 02, 2005
it`s the bomb baby!!!!!!!!!!
April 30, 2005
I wasn`t expecting much and I found myself laughing hysterically. Worth the price of admission.
April 29, 2005
This movie was pretty good. It was funny, the acting was great, and no irrelevant scenes in the movie. Not a blockbuster film but worth going to see it with a gf, or with a group of friends. 3 stars.
April 26, 2005
The movie was pretty funny.. but wasn`t as good as i expected..but the plot was great!
April 26, 2005
not as good as it looked
April 21, 2005
what were you guys thinking??? Guess Who was the worst movie in the history of movies! it was not funny at all it was horrible. i would have walked out if i didn`t fall asleep first. big let down my advise to the people who havn`t seen it yet, don`t.
April 16, 2005
This movie was one of the funniest ever! A must see ***** stars
April 16, 2005
THE BEST !!!!
April 13, 2005
I thought that is rocked and Bernie Mac uhhh I love him so much aspesially when he tag-teamed with Ashton and Man are they ever good together.Over All ITROCKS!!!! ***** 5 star rating
April 09, 2005
This is a very good movie
April 03, 2005
good romance/comedy movie
April 03, 2005
please dont compare this to meet the parents, it was nothing like it meet the parents was way better and a lot funnier.
April 03, 2005
I loved this movie. i must say, to all those people who compared it to Meet the Fockers/Meet the Parents, I actually (gasp!) didn`t like Meet the Parents (haven`t see Fockers yet). It stressed me out as the dissapproval was never ending. I didn`t feel this way at all about Guess Who. Obviously the story line is similar, but I found this movie SO much more enjoyable. Not non-stop laughs, but good laughs, good characters and actors, and highly enjoyable. And I love the soundtrack. And Ashton....ahhhh, Ashton. I can`t wait for A Lot Like Love to come out.
April 03, 2005
Guess Who is the BOMB, GO SEE IT!!!
April 03, 2005
This is the most racist movie ever.....but its right to eachothers face, so it`s not really taht bad. Like saying a black joke to a black guy, its jsut not as bad. This movie is one of those movies where ur mom who loves those funny corny chik fliks, will both cry and wet herself laughing. Its better if u go wiht a friend tho, the jokes are just better then. Over all, its hilarious!
April 02, 2005
I thought that Guess who was the absolute best movie I have ever seen! It was so hilarious! Bernie Mac and Ashton Kutcher fit the part so well. I loved this movie. I would go see a million times more! Love it!
April 02, 2005
OMG I saw this movie with my girlfriend and 6 other people and it was soo funny. i would recommend it for anyone that likes to have a lot of laughs. asthon kutcher and bernnie mac are a perfect tag-team and they should continue to make movies together.
April 02, 2005
i think it is so so funny
April 02, 2005
Ashton Kutcher & Bernie Mac r hilarious!!!!!!!!!!!!!!!
April 02, 2005
it was an awesome movie :) definitely five stars >>> totally recomended :P
April 01, 2005
Being a fan of movies such as, "American Pie" and "Meet the Fockers" I really enjoyed this movie. In my opinion it`s not as good as the above five star movies mentioned, but it definately deserves four stars. I thoroughly enjoy the kind of humour used throughout this movie.
April 01, 2005
The Movie was aight but i`ve seen better. But It was okay, Bernie and Ashton Had a few good jokes but the majority was kinda corny thought still.
April 01, 2005
guess who is the worst movie ever
March 31, 2005
mess u all, the movie was great, it was like a black version of meet the fockers!!! SO WHO CARES IF ITS LIKE THAT MOVIE!! NOT ME!!!
March 31, 2005
We gave the movie "Guess Who" a three star rating which personally I think was still higher than what the movie really deserved. Why didn`t the director of this show call the movie "Meet the Parents" or more recently "Meet the Fockers." The plot and the entire story was based on the much better and "reknown" comedy hit Meet the Parents. Talk about lack of creativity. We walked out of the show before the movie actually ended. Sorry, but this movie lacks a lot. I found myself nodding off a few times, knowing what was going to happen next. Come on, lets be a bit creative now!!!!
March 30, 2005
BEST MOVIE EVERR!!!
March 30, 2005
Great movie ,It was a great time from start to finish...You will have a ball ...
March 30, 2005
It was cool. I laughed at some points.
March 30, 2005
I guess I would give the movie 3 stars out of 5. It won't win any Oscars (then again, I don't think any comedy has ever won any Oscars - I could be wrong), and it won't be the best comedy of the year, but the movie was decent. The story was predictable, but there were a few good laughs throughout the film. It's not really a "feel-good" movie, but it is a comedy with light humour if all you want is to enjoy a night out with some friends or your significant other. A simple movie that doesn't require much thinking during or after the film. Pol.
March 29, 2005
It is a overall good movie .. some scenes are jokes. [ bump bump bump HAHHAHA] buts its juss another low budget movie to hack in your wallet/ purse.. i would give it a 4.5/5.
March 29, 2005
Bernie and Aston are a hiarious team!! Much better than i thot!!!
March 29, 2005
Great comedy , must see movie!!! very funnnnnnnyyy!!!!!!
March 29, 2005
I`m guesing by the other comments they were mainly written by teenagers. Trust me when I say this, the movie is funny in places but overall a big let down. Now for me Hitch is far better...so if you want to compare apples and oranges go right ahead.
March 29, 2005
This is the worst movie that I have ever seen, I almost walked out
March 29, 2005
big disappointment