Gunless - User Reviews
Thank you for rating this movie!
Read your review below. Ratings will be added after 24 hours.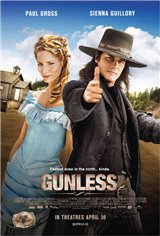 ---
Please rate movie 1 to 5 stars
Showing 1 to 44 of 44
February 18, 2019
When he came out in that purple blazer, I was hooked. Watched it a second time to make sure I didn't miss anything. Great show and ir was shot just north of Vancouver . Thanks Paul. From Passchendaele to westerns, you can do them all.
December 28, 2016
Funny, charming western which shares Canadian comedy with its audience.
April 20, 2014
It was very funny...I really enjoyed it....especially the out takes at the end.
January 04, 2011
clueless comedy .. thumbs down. canadian need help as actors
October 02, 2010
Loved this movie....thought it was really well done...love Paul Gross
August 28, 2010
I waited like 30 min for this movie to come out and be funny (it was marked as comedy) when it never did I had to turn it off. I came back to the movie a few days later to give it a second chance and tried to think of it not as a comedy. I am sad to say I watched the whole thing and the only thing this movie is, is bad. Bad bad bad. I cannot think of anyone that would enjoy this movie.
August 24, 2010
FANTASTIC .....HILARIOUS... ATTENTION ALL DIRECTORS.......THIS MOVIE IS HOW ITS DONE !
August 24, 2010
Now that was one funny movie!
August 23, 2010
I really enjoyed this movie. It was a great combination of funny and serious with a terrific deeper message. I highly recommend it.
May 31, 2010
More fun than CROCODILE DUNDEE in LOS ANGELES!
May 30, 2010
I didn't think I'd like it but I did. Cute story. :)
May 18, 2010
Saw it last night and loved it! I want to see it again, I think I'll be buying it on DVD. It wasn't as funny as I thought it would be from the trailer, but I loved it because it has a really good story. And the outtakes at the end are hilarious!
May 15, 2010
My husband fell asleep (he wasn't overly tired). I liked it only because I'm a huge Paul Gross fan, however, I felt the movie, especially the plot, was very average.
May 14, 2010
Best western for years. Dynamic theme: good vs evil What you can do with friends to help you. Seen it twice and enjoyed it more the second time
May 14, 2010
Funny and entertaining. A great Canadian cowboy movie.
May 13, 2010
No I haven't seen this movie but just a week later my theater in Niagara Falls already has this movie on only one theater and one time period only! what B.S!
May 10, 2010
Great example of classic entertainment. Nothing that will get you out of your seats in suspense nothing that will piss yourself laughing over but thats what I loved about it it was good enough but not to good
May 10, 2010
Terrible, we walked out 40mins into the movie.
May 09, 2010
I really enjoyed this movie! The only thing was a couple of times it turned serious (i.e. the dog scene). All in all, very enjoyable :-)
May 08, 2010
This movie was so cute and adorable. Very funny. And clean. I liked it alot. And I did not know what to expect.
May 08, 2010
it was sooooo fun seeing a Western again! Make is with Paul Gross and Callum Rennie with Canadian content and it's WONDERFUL!
May 08, 2010
The movie "Gunless" is not funny, poorly acted and so boring you could fall asleep. I went with my husband and he finally said to me, "Do you want to leave?" The answer was yes, so we left and wasted our $20.50 it cost to get into the movie. For those who think that they want to see it, save your money and your time. We thought that we could trust CTV on its rating but that was comletely off base.
May 08, 2010
Comical characters throughout. Loved it!
May 07, 2010
I generally dont like cowboy movies...but this one was off the hook. I liked it when the cowboy fell off the cow and ate an apple while dangling from the roof. It was awesome!
May 06, 2010
I drove my happy little self 2 hours to Canada all the way from the US just to see this film. It didn't disappoint. It's simple, silly, charming and in a word: FUN. It put a smile on my face for the drive home!
May 06, 2010
enjoyable romp - i enjoyed it and so did the rest of my party even though there were only 12 people in the theatre. Paul gross still looks fab
May 05, 2010
Was NOT disappointed...enjoyed the movie, made me laugh outloud!
May 05, 2010
I have never purposely went to see a Canadian made film and I can honestly say I thoroughly enjoyed Gunless. Americans should be watching this movie.
May 04, 2010
very funny characters with some dark undertones, this movie will entertain you, go watch it
May 03, 2010
I almost never give 5 stars but I am with Gunless. What a fun, fun, movie. We both laughed out loud and enjoyed the 'in' jokes for Canadians.
May 03, 2010
What a charming, delightful and warm-hearted movie. Go see it and enjoy yourself! Paul Gross is a wonderful dramatic actor and a masterful light comedian and this movie makes the most of his talents.
May 03, 2010
This is a "feel good" movie, and I enjoyed all the corny laughs. The cast are all great fun in their parts, and I enjoyed the film very much.
May 03, 2010
For a paroday to work, it has to work within the parodied genre. Gunless does.
May 02, 2010
Thoroughly enjoyed it from start to finish. Amazing that such a great show was completed on a $10 million budget - way to go CANADA!
May 02, 2010
A refreshing story without the constant drone of special effects of other Hollywood productions. You are able to laugh at the simplicity of many aspects and truly see the excellent acting skills of its' cast.
May 02, 2010
I went hoping this would be a good movie. i was not totally disappointed. the story was good. the acting was good. there was parts i was laughing so hard i was in tears. but i felt that it didn't go far enough with the quirky characters. all in all i walked out enjoying the movie. but it could have been so much better with a little more character dialog, when it was there i was in tears, but they could have develop it so much more. worth a watch!! support canadain movies
May 01, 2010
Gunless is a funny, sweet little film with a lot of heart. You will leave the theater with a smile on your face. It shouldn't be compared to Unforgiven or Blazing Saddles. It is not trying to be anything other than what it is...a lot of fun.
May 01, 2010
It was a great Canadian movie. Good family fun.
May 01, 2010
I so wanted to like this movie,but it just isn't that funny.This film had a 10 million dollar budget and it obviously did not go to the writer.A waste of Graham Greene but nice scenery in BC.
April 30, 2010
I don't usually enjoy Canadian made movies but this one was good. Be sure to stay for the out takes at the end of the movie...very funny!
April 30, 2010
We laughed to the point of tears! Wildly funny
April 30, 2010
So funny and Paul Gross is amazing as always!