Hacksaw Ridge - User Reviews
Thank you for rating this movie!
Read your review below. Ratings will be added after 24 hours.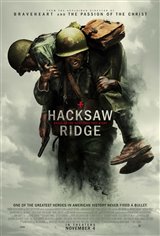 4.53 / 5
User Rating
Based on 316 votes and 111 reviews
---
Please rate movie 1 to 5 stars
Showing 1 to 50 of 111
August 07, 2017
i loved it ... it was a awesome movie i have a question though ... is this on DVD i would recommend to buy the DVD if you like\loved the movie!
June 15, 2017
A well done movie that is entertaining from start to finish. It is made even better by the fact that it is based on a true story of a real hero.
April 18, 2017
Beautiful, simply beautiful!
March 24, 2017
Another incredible WWII story with an excellent cast. The story of Pfc. Doss is nothing short of miraculous. A man true to his virtues who won't let his own countrymen and commanding officers stop him from doing, what he believes, is the right thing. True to his beliefs and true to his fellow countrymen, Doss believed that all life is sacred. He even sacrificed his own life to save a couple wounded Japanese soldiers. Enjoy the Hollywood rendition of this amazing story but I encourage everyone to read about this amazing man to decipher what was real and what was fiction. The world would be a much better place if we were all like Pfc. Desmond Doss.
March 03, 2017
Amazing movie.
March 01, 2017
Truly amazing. Compare this to Moonlight that won best picture just made me realise that a Oscar means nothing. This is in my top ten films of all time.
February 27, 2017
All I can say is wow! Rarely am I short of words for a movie. Brilliant film!
February 21, 2017
Great !!!!!
February 21, 2017
Greatest war movie ever!! saw it 5 times in the theather just bought it this morning :)!!!
February 17, 2017
Terrific acting with very emotional plot. and a real story.
February 10, 2017
If you don't feel extremely emotional from the powerful message of this movie and its true hero...then I don't know if you even got a heart. Movie left me speechless, can only speak through tears. Best movie of 2016!
February 06, 2017
Not my type of genre so I didn't think I'd like it as I got dragged to see it. But to my surprise, I loved it. Great casting. Great story line. It's exciting the whole way through. Watch this one!
January 29, 2017
this was a fabulous movie. Fabulous acting, effects, story. Amazing
January 26, 2017
Never heard of Desmond Doss or Hacksaw Ridge before this movie. Very well done film about a Godly man who stood for his beliefs under very trying circumstances and came out a hero. The horrific battle scenes, even more so than in Lone Survivor, really bring home the cost of war.
January 18, 2017
Great movie! Like Andrew Garfield's acting. Vince Vaughn's performance in this movie is also impressive.
January 13, 2017
"My comment it to the "propagandist""...you must be a DJT supporter, as these people actually don't engage in analysis of the criticism that is against anything they don't like, but instead, just attack the critic's personal being, i.e., "see a 'metal' (sic) health professional..." etc. Life is hard and it must be really terrible indeed, if a person goes through it by not being able to distinguish between the criticism of cultural products, on the one hand, and the actual human being who is doing the criticism. In my opinion, it just shows a complete lack of understanding and poor moral values if you have to resort to 'name calling' and not actually intelligently engage the criticism itself.
January 12, 2017
a great film about personal conviction and service to country.
January 08, 2017
Very moving portrait of a true hero. Almost, unbelievable story of courage and sacrifice. Truly special and hope it honors his memory.
January 06, 2017
My comment it to the "propagandist" that peppered these reviews with their negative agenda and a one star rating. This is entertainment and not what you see which is the glorification of war. Your comments are almost laughable if they weren't so bitter and self serving. You in fact ARE the propagandist, grow up and spew your negative biases to a metal health professional, perhaps they can help you.
December 27, 2016
Amazing human interest story.
December 26, 2016
History of brabery and faith
December 25, 2016
This movie was excellent. Awesome story about an amazing man. Will win awards for sure.
December 24, 2016
Amazing, inspiring and uplifting to the human soul... I usually do not go to movies, but found this to be worth it... Most movies are thoughtless brainwashing that degrades society...as the Jesuits planned...
December 23, 2016
This is a very good movie. I would give it 4.5 if I could. The movie is good itself, the fact it's a true story is unreal!
December 19, 2016
Excellent movie! So sorry it's not at Landmark anymore.
December 18, 2016
Best war story I have seen. The fact that the story is true is what makes this movie great. And the real life man was a bad ass
December 18, 2016
The story
December 18, 2016
amazing movie. Was glued to the movie the whole time. What a story, fabulous acting, great writing. A must to see over and over.
December 16, 2016
True story.... excellent cinematography one of the best war movies ever
December 14, 2016
Everything in this movie was outstanding! Best movie we have seen in years ! Would Vote it number one for 2016 👍
December 13, 2016
One of the best war movie I've ever seen...It's a must see !
December 13, 2016
o stars. reviewers here keep saying "we owe it to our brave young..." blah, blah, blah...Well the fact is these people who went to war, a lot of them, were either drafted, unemployed or victims of propaganda. EVERY vet I've ever talked to from this time says the same thing "I wish I hadn't gone...war is hell...what a waste...wish I had my LEGS" All these people watching this don't realize that it is subtle manipulative propaganda getting the populace ready for another conflict...go ahead then, like this, but I WANT YOU to be the first in line when the call comes up, otherwise, shut your cake holes and just accept what other media experts are saying about this movie. It is modern propaganda...or better yet, go watch a Communist party sanctioned movie or an ISIS recruiting video...i'm not against the soldiers doing their job, that is to be commended, but no person in their right mind would willingly subject themselves to this horror, including the Japanese and Germans, unless they were manipulated against their wills by propaganda...
December 10, 2016
You know, I think those who rate this zero stars have not seen this movie but are just disgruntled ignorant lefties who espouse eating grass and bark over chicken and beef. These people have their ivory tower opinions and know zero of our history and its heros.This was not a glorification of war; but the opposite.....We owe our freedom to brave young men and women and had we not had these heroes the disgruntled anti everything American few would be speaking Japanese on our West Coast and German on our East Coast and would be arrested/detained/put in camps for their very speaking out. Great movie.
December 09, 2016
Thankfully this did not promote war as a wonderful thing. It showed the bravery and really stupidity of carnage by focusing on young American men who were just farmboys pretty much and Japanese youth thrown into an unwinnable situation. Yeah, there was blood and gore; but that is what war is. We owe our freedom to our Vets and this movie did not glorify war.....but only the common soldier we owe so much to.
December 07, 2016
Incredible movie! Saw it with my father and we both thought it was the best war movie we have ever seen. True story, so well done, such an incredible man
December 06, 2016
0 stars. terrible propaganda. go to the library and look up all the bombing victims in the last few years all over the world...see if you can stomach it. what is the purpose of this movie to be so manipulative? heading toward the apocalypse maybe? is that what we need in the world right now?
December 06, 2016
This was one of the best movies I have seen in a long time. Thanks Mel Gibson for making this movie. I feel like I was right in the war with them on the screen. It was the best real life story told. I had tears in my eyes for all the guys that served in that war. I thought of my dad. He fought in Germany. He got shrapnel in his leg. That he always had a limp. Now I know why my dad would not talk about the war, All that they saw during that time. Thanks for everyone who served or is serving now.
December 06, 2016
As a combat veteran this is truly graphic and deals with the issues that many soldiers question themselves before going into battle. This was based on a true hero that stuck to his beliefs and in no way was a coward. The man risked everything and was truly willing to lay down his own life for his fellow soldiers. No greater love than that. War is never pretty and war movies shouldn't glamourize or sugar coat it. Too many kids playing xbox think life is a do-over. Well it isn't. What this man did was incredible and he saved alot of men that would have surely perished had he not been there. The point of the movie is not to glamourize his faith but put yourself into his shoes for a few hours and ask yourself could or would you have acted as bravely or noble as this man did.. I just wish I could have thanked him for his service and the lives he saved
December 05, 2016
Great movie!
December 05, 2016
I saw the documentary from the real person this movie is based upon and I found his story very touching. To see the movie almost a year later and the story be told in the same humble way was extraordinary.
December 04, 2016
A very good movie !
December 03, 2016
This is pornographic violence and blind dangerous faith couched in Christian piety...basically the other side of the coin of radical Islam, or any other radical insurgency for that matter. Good Christian folk, and empathic people everywhere, I implore you, by your actions, don't fall for this Neo liberal/ Communistic/ Totalitarian/ Fascistic melting pot of propaganda, or you too will be blindly following the path to your own destruction!
December 02, 2016
It's a true story, and one of the best movies I have ever seen in my 50+ years of going to movies!
November 30, 2016
Fantastic movie! I'm not usually of fan of war films but this one is a must see! One of the best movies I've ever seen! Very well done! Want to see it again!
November 29, 2016
Awesome story. Loved this movie.
November 28, 2016
The storyline, stand for what you believe in.
November 28, 2016
I LIKED EVERYTHING ABOUT THE MOVIE, THE ACTORS, THE STORY, THE DIRECTOR, THE PRODUCER, ETC. I HIGHLY RECOMMEN IT FOR EVERYONE TO WATCH IT AND ALSO BECAUSE I AM A BELIEVER OF GOD, BLESSINGS
November 26, 2016
Mel Gibson is a controversial figure, but he is a master story teller. This movie well illustrates the duality of human nature. Our species can be peaceful, loving, and merciful. We also glorify war, because of its brutality, sadism, and death. To summarize, "Hacksaw Ridge" is definitely worth seeing.
November 25, 2016
WWII American hero's story told by Mel Gibson.
November 25, 2016
This movie is FANTASTIC!!!! Definitely a MUST SEE. Don't miss it. I want to see it again and again.