Harry Potter and the Half-Blood Prince - User Reviews
Thank you for rating this movie!
Read your review below. Ratings will be added after 24 hours.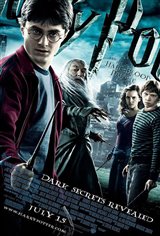 3.72 / 5
User Rating
Based on 7501 votes and 273 reviews
---
Please rate movie 1 to 5 stars
Showing 1 to 50 of 273
November 19, 2010
I LOVEEEEEEEEEEEEEEEEEE IT !
July 28, 2010
If you liked the last few Harry Potter films, you'll like this one. It is every bit as artful as the last ones, and hits all the right targets. The humour is side-splitting, the dark moments are terrifying and the imagery was haunting. One shot in particular might even have been too scary for use in a children's film: when Katie Brown falls victim to a curse - it was like something out of a Japanese horror movie. But yes, everything fit. I didn't even find the romantic subtext out of place or detracting. There are a few things I might have done differently though, like the design of the zombie (...things) or of Fenrir Greyback. I also might have cast someone else as Bellatrix LeStrange, or a
February 21, 2010
AWESOME I loved it!
December 12, 2009
I really liked this movie, but I have to say that it did not have the "magic" of harry potter and I did not enjoy the ending. Not that true to the book ether.Don't get me wrong I LOVE harry potter and I loved the movie.
December 04, 2009
Was very exciting and engaging, can't wait for the next one.
November 29, 2009
I am a big fan of Harry Potter and I just would like to say I really enjoyed this film, But i do not recommend this for younger children.
November 24, 2009
amazing!!!!! its exacly the way i pictured it and more....cant wait to own it...:) xox
November 13, 2009
i love the Harry Potter and the Half-Blood Prince .........................
September 15, 2009
This movie ROCKED!!!!!! It was EXACTLY the way I saw it in my mind after reading it.... You FOOLS who thought it was bad, do not know a good movie if it bit you in the assssss Get a brain and smarten up...It was AMAZING, and only Harry Potter can be this AMAZING!!!!!
September 06, 2009
I must confess I thought it was poor.
September 05, 2009
stunning! this film was amazing. the best movie of the summer.
September 04, 2009
AMAZING
September 02, 2009
I thought this movie in the series to be the best yet. I cannot wait until the last two come out. The special effects are incredible, not to mention the storyline is very well structured. This movie showed more depth in each of the characters' personalities. I very much enjoyed this movie and I give credit to all those who made it.
September 01, 2009
worst movie ever ....
August 29, 2009
its a good movie to see
August 29, 2009
im disapointed but it is what it is.. its funny
August 27, 2009
If you love the book, your going to hate this movie.
August 27, 2009
THIS IS THE MOST AWFULL MOVIE EVER IT IS SO DUMB AND OLD
August 27, 2009
worst movie ever.. so so boring. waste of time. romance part is just stuppid!
August 24, 2009
such an eye catching film. loved it
August 22, 2009
Yes! this movie was AMAZING. I SMUDGE too much romance but still....Great!
August 19, 2009
Don't see this alone -- you'll need someone to wake you when it's over!
August 18, 2009
Boring- nothing really happening- left 1 hr into it.
August 18, 2009
the ending of the miovie made me feel really sad
August 17, 2009
good character plot,extremely well done
August 17, 2009
cool movie
August 16, 2009
I thought it was very good, alot of the scenes were word perfect from the book, which was a nice change. It had a good mix of humour and action, and alot of romance. They did add in a new scene though, which was ok, and they did cut alot, but it still worked. 4/5.
August 15, 2009
it's not like it's a bad movie!? but at some point, he added too much unnecessary material. it's like, the opening of the movie (i mean when Harry Potter reading the papers)... omg, that was the worst opening of all. it just doesn't make anymore sense to me~~~ they might have fun, but i am so disappointed
August 15, 2009
it was the worst movie yet!
August 14, 2009
AWFUL! Go see G.I. JOE, at least it's about something.
August 14, 2009
I think that this Harry Potter was the best Harry Potter so far. But what the movie is leading into is the next movie. The ending of it will be real inteeresting.
August 14, 2009
It blew. I'll never watch a Harry Potter again.
August 11, 2009
it was the best harry potter yet
August 11, 2009
Worth seeing, my how they have grown. Good character development and a bit darker than the other four but enjoyable.
August 11, 2009
It was ok...I guess. Definately not as action packed as past movies.
August 09, 2009
this movie is so good
August 09, 2009
it was awesome!!!!!!!!!!!!!!!
August 09, 2009
Entertaining!Those who have not read the books will not like it/get it as much as those who have.It set up important points needed for the last movie to work (which will hopefully have enough action to satisfy everyone, since this movie did lack it a little). Overall, I thought it was enjoyable.I found the humor refreshing, though i have heard comments that it was out of place, oh well.
August 08, 2009
This film had two conflicting elements that made it hard to watch. It starts off very dark, very ominous, very much in line with the greater story arc. This plays out for 30 minutes or so. Then a romantic plot takes over and lasts nearly an hour and a half. I actually found myself laughing at how uncomfortable the characters seemed with their sexuality and adolescence right before the climactic conclusion. This gave the climactic conclusion no much emotional resonance for me. The ending, as a result, came away very contrived as though it were an afterthought to tie up every loose end possible in 20 minutes or less.
August 08, 2009
Great movie for Harry Potter fans. If you've read the books and know what's going on it's very fun! But if you've never read the books you probably will get bored. There is a lot missing from the book, but OBVIOUSLY as they can't put all the information into a movie which is already 3 hours. It's funny, magical, and brilliantly done
August 07, 2009
I've been very disappointed with the HP movies in the past, but was pleasantly surprised with this one! It was the HP film that has stayed the most faithful to the books so true fans will enjoy it best.
August 07, 2009
waste of time and money
August 07, 2009
The movie was way diffrent than the book.
August 06, 2009
The worst of the series. Too much teenage romance and not enough action. Not very impressive.
August 06, 2009
It is ssssuuuppppeeerrrr good!
August 06, 2009
Not much of a story line and not much for visual effects. Nothing special or memorable. Disappointing!