Hello, My Name Is Doris - User Reviews
Thank you for rating this movie!
Read your review below. Ratings will be added after 24 hours.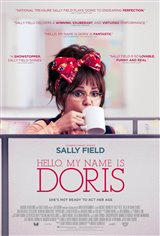 ---
Please rate movie 1 to 5 stars
Showing 1 to 36 of 36
January 11, 2018
I've watched it six times and love it and have great laughs and love "Doris.
July 07, 2016
Totally loved it!!!!!!!!!!!
July 07, 2016
I liked it, I really really liked it!
June 01, 2016
A warm, comfortable movie with Sally Field performing perfectly in a role made for her. See it!
May 19, 2016
An excellent movie. Hopefully the positive reviews will encourage the movie makers that their focus should not always be sex,violence and general societal mayhem. We have enough craziness in our daily lives. Let`s hope that we can return to a more positive movie time.
May 18, 2016
This movie was so bad it defies all logic. There seems to a race to the bottom btetween the bad acting, poor writing, and bad cinematography. What surprises me is that anyone could rate this movie as acceptable.
May 17, 2016
The one person who gave this no stars is way off the mark. This was so funny, I couldn't stop laughing and my husband was howling when she was imagining the "kiss". It was just a lot of fun.
May 16, 2016
What a pleasant surprise! I have always liked Sally but sometimes find her roles full of fluff. This role is full of substance and depth of character. In my opinion she is an Oscar candidate! This movie is a pleasant surprise and very funny!
May 09, 2016
The audience was laughing out loud a lot. My husband and I want to see it again. No violence, no nudity and no swearing! This movie proves it is possible. Amazing.
May 08, 2016
Amazing! Hilarious! Heart Warming!
May 07, 2016
I truly enjoyed this light comedy after a long week of hard work. Sally Field was perfect as Doris. She made me laugh often.
May 06, 2016
Excellent movie. Highly recommended.
May 06, 2016
Really loved this movie. Sally Field was fantastic. The story had heart.
May 05, 2016
Good movie. Very funny. Sally Field do a great job in this movie.
May 05, 2016
Sally Field was AMAZING!!
May 05, 2016
I loved this movie!!
May 05, 2016
Really enjoyed this movie
May 05, 2016
Sally Field is hilarious!
May 05, 2016
Lots of LOL LOL. Sally Field was perfection as Doris. So nice to enjoy a movie without any violence!
May 05, 2016
I loved this movie. It was a wonderful mix of drama and comedy, entertaining at times, thought provoking at others. Sally Field was fantastic as usual and she was supported by a great cast as well. I could not find anything not to like about this one. Recommended.
May 05, 2016
Every thing I expected it to be! Sally Fields was brilliant ! I give it 5 stars!
May 05, 2016
I loved it! A funny, sweet and uplifting movie.
May 04, 2016
Sally Field makes any movie a Masterpiece!
May 04, 2016
Great cast. Sally Field was fantastic
May 03, 2016
This movie is realistic although Sally Field portrays her as extremely excentric, she is believable. It's funny and sad but all round a interesting and entertaining movie!!
May 02, 2016
Very good movie. Sally Field and Tyne Daly both played excellent roles.
May 01, 2016
I have never rated a movie before, but I absolutely loved this movie. Everyone in the theater was laughing out loud. I would go see this again.
April 29, 2016
Well written, well acted. Amusing. Probably best suited for an older audience.
April 28, 2016
Very funny, charming & realistic. Good acting from two time Oscar winner Sally Fields. We truly enjoyed this movie….laughed and smiled a lot. It moved along briskly and we did not want it to end. Would definitely see it again!!
April 28, 2016
If I could give it less stars I would. It was the story of a sad old (sorry Sally Fields) lady who Catfishes her co-worker. Take out the quirky music and add a darker soundtrack and you got yourself a crappy artsy thriller. I walked out before it was over and I can't walk...This movie is so awful it gave me the ability to walk!
April 25, 2016
What a lovely movie. Sally Field is such a talent, i wish hollywood would make more wholesome movies like this and less of those bloody shoot em up blow em up picture shows the kids are into.
April 23, 2016
LOVED IT!! ... and I rarely ever say things like this. It's a must see!
April 03, 2016
Sally Field is a comic gem!