Holmes & Watson - User Reviews
Thank you for rating this movie!
Read your review below. Ratings will be added after 24 hours.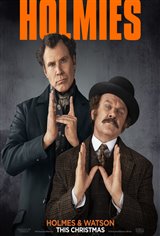 ---
Please rate movie 1 to 5 stars
Showing 1 to 50 of 95
May 16, 2019
It had its moments though not many. The one thing that bothered me though was the left wing progressive politipreach that would pop up on occasion. Hollywood has got to learn to never bark your political ideologies at an audience. Especially in a supposed comedy. And especially when those view points are just plain wrong.
May 04, 2019
ha ha So bad it's insanely good
April 08, 2019
terrible !!
March 22, 2019
Exactly what you should expect from these guys. Don't expect anything but Shake n Bake and it's a good time.
March 01, 2019
It's good, particularly if you know your Sherlock Holmes.
February 28, 2019
I enjoyed it ...lol laughed a lot :) love these 2 together
February 19, 2019
Horrible. One of the worst movies that I have ever paid to see. I actually fell asleep twice while trying to enjoy at least a few minutes of this bomb of a movie.
February 16, 2019
Terrible.....saw this at a DOLLAR theatre........I want my money back....not funny and not interesting. Ferrell absolutely "phoned it in".... hope he enjoyed his 10 million paycheck !
February 01, 2019
The movie was great. Will Farrell made the movie to be about Sherlock Holmes and John Watson. So what more does the audience would want with this movie. The movie was very funny. I would like to see the movie again.
January 26, 2019
I wish I could give zero stars, what a total waste of time & money! Such a garbage movie! Can't believe ppl still make these movies.
January 25, 2019
Only giving one star because I cannot give zero. This movie was not funny. It was gross and disturbing. It seems they tried so hard to try to make it funny that it ended up disgusting. Disappointed because these two crack me up in Step Brothers and Talladega Nights. Worst movie we have seen in a long time. Wish we could get the money and time we spent on this movie back.
January 18, 2019
Awful. Just not funny!
January 15, 2019
This reminds me of the stains on the seats of the old movie houses. Sticky floor, and strange people hiding in the corners. RT posts this one at 6%, down for it's high of 9%. Stinker doesn't quite describe it.
January 14, 2019
Great hilarious movie! Fish pie..yeah!
January 11, 2019
It was an awful movie. The writers & producers don't know how to do movies.
January 10, 2019
Zero the worst movie I have ever seem. You should be paid to watch this.
January 08, 2019
Will Ferrell has begun to believe his own press clippings !!
January 08, 2019
See all the other reviews...enough said !!
January 08, 2019
Look for this on cable, very, very , very soon ...
January 08, 2019
Terrible, if you saw this movie and laughed all the way through it.......see a counselor.. Both these actors can act/and be funny BUT not here !
January 08, 2019
This was the worst movie I've ever saw in my whole life I'm 51 years old and I've never seen a worse movie if I can this a - 1 * or a 0 * that's what it would get it's the worst movie ever it was so bad that I ended up talking to a manager to get my money back the Holiday Cinemas and Wallingford manager was so nice that he gave us tickets to come back on another Tuesday he didn't have to do it but I think God he did thank you Wallingford Cinemas
January 08, 2019
Funny, movie cant believe the ratings, I laughed out loud most of the movie, How could you not laugh at the silly antics and so sorry people have lost their enjoyment of laughter at a silly funny movie.
January 06, 2019
Crass and humorless - no wit at all and horrible accents.
January 06, 2019
First time my wife and I ever walked out o movie after 30 minutes. It just did not get better!
January 05, 2019
Unless you like goofy and corny comedy, this was a waste of time and money. The only funny parts were in the traile.
January 05, 2019
Extremely disgusting experience. Worst movie ever!
January 04, 2019
Awful movie! Total waste of time.
January 04, 2019
You could smell the stink coming off the screen as soon as the credits began! PeeYew!
January 04, 2019
Will Farrell hasn't made a good movie since Talledega. Don't bother going to this one either. Stupidity is not comedy.
January 04, 2019
This is very possibly the worst movie ever produced. It's a trifecta of zero story line, completely random vulgarity, and poorly written jokes. Throw in a really stupid, long, boring musical number that is painful to watch because you KNOW that it's supposed to be funny, and there you have it. If you liked Stepbrothers, avoid this one---you'll be disappointed.
January 03, 2019
I work as a teacher, and have several students who work part time at the local theater. I was asking them for movie suggestions, and when I asked about that new Holmes and Watson movie, they told me everyone was walking out and asking for refunds. My daughter went anyways, and lasted 20 minutes.
January 03, 2019
RT has this at 9%, I think that is generous, that would equate to a half star on this site. Can't stand either of these actors, so my choice was easy. Thanks for everyone's opinion. It saved me from doing something stupid like seeing this movie.
January 02, 2019
No stars. Worst movie ever!!
January 01, 2019
Will Ferrell !! Enough said
January 01, 2019
Don't write reviews often. But had to for this one. I thought with the other negative reviews it was just anti-humorous people writing in. But I'm a big fan of these two and thought the movie legit sucked. Was very disappointed. I'm a lover of ugly and crude comedy, like these two have put on in the past but this one was far from it. I understand why people got up and left. Save your money on this one and wait until it comes out on tv.
January 01, 2019
Terrible. Want the hour back I sat thru. Terrible. Humor is weak. More ridiculous than funny, there's a difference.
January 01, 2019
Terrible. Not that funny. Waste of money and time.
January 01, 2019
TERRIBLE, LEFT ABOUT 30 MINS LATER.UGH HATED IT
December 31, 2018
WTF? I stayed and hated it. Checked my watch every 10 minutes because i wanted it to be over. Only reason I went for it was because there is such awful crap on - 3D this, aquaman/spiderman/bumblebee/J-Lo that. Crap. Come on holywood, wtf???
December 31, 2018
No rating. Because this movie should have never beeen made. It felt like someone ripped a catheter right out me . The comments say it a lot more funnier stuff then this movie. Will never watch another movie with them in it.
December 30, 2018
The Ending Was perfect, Full Circle!
December 30, 2018
0 is a better rating...Terrible... we walked out half way through.
December 30, 2018
This was the worst movie we have ever seen. Boring, mindless and not funny. Adding to it was the constant hunting that people in America are idiots who just dont know how to run their country. Of course we couldn't have anything come out of Hollywood without a couple swipes at Donald Trump. They can even work it in to a movie that takes place in the late 1890s, early 1900s. High schoolers could've put together a better movie. There are so many other ways I could've spent that two hours...scrubbing toilets, cleaning out a litter box, or picking up dog s#it. Dont waste your money or your time.
December 30, 2018
The unfunny Will Ferrell strikes again.
December 30, 2018
Wasn't very funny
December 30, 2018
It was SOOO funny! Hope they make another.
December 29, 2018
This movie was not funny and was very cheesy
December 29, 2018
Based on the reviews the only person giving this movie 5 stars is the actors so ouch I'll pass thanks everyone for reviewing you saved me 2hrs of my life your sacrifice is noted!