Home - User Reviews
Thank you for rating this movie!
Read your review below. Ratings will be added after 24 hours.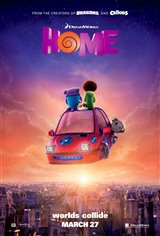 ---
Please rate movie 1 to 5 stars
Showing 1 to 23 of 23
September 18, 2015
Good funny movie. Some of the jokes were dry humor but still good. Really loved the guy from Big Bang voice. I think he made the character.
August 13, 2015
Good cute movie for kids... It's a one and done type movie.
July 01, 2015
Great Movie my 4 year old granddaughters loved it.
June 19, 2015
My kids loved this film. It is funny, nicely done and has a heartwarming story!
May 24, 2015
This movie is amazing, it has everything u could want for family fun and more. Warm fuzzy feeling ahead!
May 22, 2015
They need to make a home 2 that would be so amazing
May 15, 2015
I think it is cool to have a friend as a alien
May 12, 2015
Fantastic family friendly show for all ages
April 14, 2015
good family movie
April 07, 2015
It was ok. Nothing spectacular, I'd recommend to wait till out on Netflix or something.
April 03, 2015
The movie was classique
March 29, 2015
great movie:) loved it:) and a great movie to take the kids to see and going to see this movie again:)
March 28, 2015
AMAZING FAMILY MOVIE!!!!!!!!!!!!!
March 28, 2015
Horrifying film i rate m8 not so gr8 its f8 is 0/8 :(
March 28, 2015
It was kinda gæ no? Ahh 0/10
March 28, 2015
Childish trash...
March 26, 2015
I saw the movie with my 9 year old girl. We both enjoyed it. It is fun, witty and it definitely sends a good message. Lots of funny parts and Rihanna songs ;) Must see.
March 25, 2015
"Home" is a solid double in a time when DreamWorks really needs a home run.
March 24, 2015
I really loved this movie. The animation is beautiful. I loved the colors. Rihanna and Jim parsons did great as oh and tip. I'm going to take my niece. She'll love it too.
March 23, 2015
Home has an original, convincingly satirical concept at its heart, but much of the execution feels overly familiar.
March 22, 2015
RIHANNA AND JLO AWESOME
June 14, 2014
Rihanna's best since BATTLESHIP!