Hoodwinked Too! Hood vs. Evil
Thank you for rating this movie!
Read your review below. Ratings will be added after 24 hours.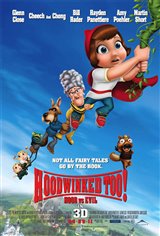 ---
Please rate between 1 to 5 stars
Showing 1 to 16 of 16
September 21, 2011
Definitely a movie to watch with the kids, but nowhere near as novel as the first, and with some changes to the voice actors the characters lost some of their feel and the woodsman and yodeling crew were way out in left field (deus ex machina anyone?). All in all it was somewhere between OK and good, popcorn in frot of the TV with the kids kind of movie.
July 26, 2011
Some good scenes mostly does not work!!
July 25, 2011
I love kids movies and it was a clever one;)
July 25, 2011
Sub par at the most.
July 22, 2011
Loved it!!!
July 20, 2011
Unfortunately this movie was even worse than the first one, and the first one was BAD!
July 19, 2011
really cute
July 17, 2011
It was okay. I saw it because I loved the first one. The only reason why I gave it a 2 is because the singing goat was amazing.Other than that, just rent it.
July 09, 2011
For teens and adults - not for children under 9. Not as good as the original (which was off-the-charts funny - a must-see!!!) but still quite good, especially if you have watched the many movies it riffs on. The squirrel is still by far the best part in this series but the wolf is great in his expanded role and the singing goat hilarious in his cameos.
June 30, 2011
commented but forgot to rate it... duh... it was that bad... well, not super bad.
June 30, 2011
Kiddoe movie with some teen humour but teens would hate it... Fell asleep in parts because it was all the same ongoing humour, about as bad as Gnomeo & Juliet... zzzz. For the little kids, HOP, Mars Needs Moms, or Rio, and Cars much better overall.
June 25, 2011
Awesome movie! A must see!
June 02, 2011
Not really for kids.... Did not enjoy
May 08, 2011
my son watched trailer of hoodwinked too!hood vs.evil(3d) in computer. he likes very much so we are planing to watch this movie in theater. he is very exciting.
April 09, 2011
CANT WAIT 2 C IT