Hunter Killer - User Reviews
Thank you for rating this movie!
Read your review below. Ratings will be added after 24 hours.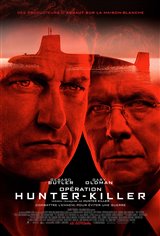 ---
Please rate movie 1 to 5 stars
Showing 1 to 42 of 42
March 13, 2019
This is one of the best movies I have seen in years. Gerard Butler at his best; Oldman; Carlellinni; Common, Nyqvist and the whole seal team - were just incredible. Loved it from beginning to end. Don't listen to the trolls and these people that get paid to criticize movies. They have given rave reviews to some of the worst movies in existence and that have won awards and don't deserve it. This movie truly deserved praise. Bravo
February 08, 2019
If it's raining outside, and you're bored, you watch this movie, waste 2 hours of your life, and then promptly forget even the plotline by next week. Not bad, just a predictable churning out of a mediocre movie
January 05, 2019
SO, SO BAD !!!!!
December 27, 2018
WTF was Butler thinking taking on this movie ....... like LOW LOW budget ...... :(
December 26, 2018
BAD BAD BAD ! I don't even have words .... Personally I see this as a career killer for Gerard Butler.... its definitely no Hunt for red October or Crimson Tide, I'm not even sure this move makes the B Movie List ...
November 30, 2018
I LIKE IT. I LIKE IT. I LIKED IT. ACTION, ACTION AND MORE ACTION.!!! VERY, VERY, GOOD ACTING AND NICE, MILD DRAMA'S AT VARIOUS TIMES, DURING THE MOVIE. IT GAVE YOU A GREAT FEELING, OF BEING UNDER THE ARTIC POLE ICE CAP. IT SHOWED, WHAT THE SILENT SERVICE IS ALL ABOUT IN A POSITIVE WAY. THE JUMPING IN, OF THE NAVY SEALS INTO THE SITUATION, OFF THE BACK OF THE AIR RAMP WAS TRUE. THE COMBINATION OF THE SUB CREW AND THE SEALS WORKING TOGETHER, ADDED TO THE PLOT AND STORY LINE. THE COOLNESS OF AN ENLISTED SAILER, WORKING HIS WAY UP, TO A NAVAL CAPTAIN OF A SUB WAS DIFFERENT TO SAY THE LEAST. HIS THINKING SURE WAS NOT NAVAL ACADAMY, BUT, MORE OF AN EXPERIENCED MAN, WHO USED HIS EXPERIENCES AND HIS TRAININGS AND HIS WITS, TO ACCOMPLISH THE MISSION IN A VERY POSITIVE AND SUCCESSFUL MANNER. THE END OF THE STORY WAS KIND OF NICE TOO. IT REMINDED ME OF ROMANS 12:21. DO NOT, BE OVERCOME BY EVIL AROUND YOU, BUT, OVERCOME EVIL, WITH GOOD ACTIONS. IT WAS INTERESTING TO SEE, TWO ENEMIES, DOING GOOD AND GROWING IN TRUST AND WORKING TOGETHER AND BECOMING FRIENDS, FOR A MORE POSITIVE WORLD OF THE FUTURE. CPT SCOTT.
November 18, 2018
An absolutely absurd plot. Feels like a direct to Netflix movie.
November 11, 2018
This movie had us from the get go. Great story line and acting.
November 11, 2018
Absolutely a great movie-kept my interest from beginning to end
November 09, 2018
Realistic. Gripping action. Best submarine movie in a decade. Not to be missed if you go for this sort of flick.
November 07, 2018
The best movie I've seen in ages!! Non-stop action and a great tribute to our Navy and service people! Even the music was awesome! I have seen it twice so far and intend to purchase it when available. I am surprised that there was not a crowded theater to see this film. A must see film in my book.
November 07, 2018
What can I say? If you like action movies, you'll like this movie! Both me and my husband liked it
November 07, 2018
Wasn't bored at all during the movie. In fact, it's rare to say, movie could have been 5-10 min longer to add more elegance & polish to some moments. Very good movie I give it 4-4.5/5. Good action thriller suspense - good acting, fast paced from start to finish. I prefer bit slower but more dramatic tempo, but that's just me.
November 05, 2018
Really good!
November 05, 2018
Non stop action. Great movie.
November 04, 2018
This had a lot of good life lessons to learn. A must see movie.. I loved it and will be buying it to own.
November 04, 2018
This is a tough action movie that appears to be two movies in one movie. A relentless going to war submarine movie. A superb Navy Seal dropped behind enemy lines, petal-to-metal ASSIGNED MISSION, gripping war movie. This movie honors our U.S. military and other honorable warriors throughout the world. It definitely honors our U.S. Navy and U.S. Navy seals big time. Thanks for making it. Salute from a humble veteran.
November 03, 2018
It would be an O.K. television movie. I was disappointed.
November 03, 2018
I don't rate many films 5 star, but this one is remarkable. What a relief to watch some men of conscience and their effect on situations.
November 02, 2018
I loved this movie. It was an unexpected find. There were no F words (what a relief) no sex scenes (also a relief). It was just tense, believable and well acted. I sat on the edge of my seat the entire movie.
November 02, 2018
Excellent action movie. Same old message of America saves the day - not true to life, but entertaining
November 01, 2018
A few really tense moments, but a few problems with logic. Not bad, but not great. Not a total waste of time, but not worth seeing again.
November 01, 2018
This was by far a great movie.loved it!!! If it had 10 stars I would of given it a 10 star!!! The rotten tomatoes critics got it all wrong , and in the future will no longer rely on their assessment of movies they rate or critic. They seem to have various biased opinions included in their assessment ..Gerard Butler nailed his role beautifully!! And kudos also to the special forces, Navy seals actors, as well the Russian main characters in the movie. Will watch it again, and looking forward to buying it on blue ray. Well worth your money. Can't say enough about this movie. It was refreshing to see something different for a change. We plan on seeing it again at the theatres as there's a lot going on, and probably missed. Well acted and highly entertaining, as well as intense!!!
October 31, 2018
Great movie and very enjoyable. Interesting how the cretins at Rotten Tomatoesgave it a low rating. This is about the fifth movie that I loved that they rated low. Lot of good action and interesting storyline.
October 31, 2018
Not all that great .... very predictable and cheesy dialogue ....... some of the visuals were impressive ..... but I think this was poorly written .... This was actually entertaining .... but I think I expected too much .... the trailer looked awesome ... but it did not live up to the actual film ..... I would give it about a 6.7 out of 10 ....
October 31, 2018
Gary Oldman nails every role he's ever played from, True Romance, Churchill, to Hunter-Killer and everything in between.
October 31, 2018
Liked special effects and fast pace action.
October 31, 2018
Great Movie!!!
October 30, 2018
Excellent movie well worth watching
October 29, 2018
Great movie, great submarine excitement, a nail biter 👍👍👍👋. Very entertaining.
October 28, 2018
Pretty good flick ,a little far fetched in places with the typical Hollywood ,"America saves the day" plot . Otherwise it's a pretty entertaining flick. One minor annoyance for me was the acting of Common the rapper .His dialogue kind of bugged me for some reason ....sounded weird to me, yet in other films he's pretty good .
October 28, 2018
Gerald doesn't dissapoint. Great action flick. Men of concience on both sides of the conflict. A bad russian general and an incompetent reactionary American general round out the cast. Will see again
October 28, 2018
Can't agree with the critics on this movie. An excellent U.S/Russian military interaction yarn. Gerard Butler heads a varied cast of characters in two hours of well paced action in a very possible scenario in our 'today' world. Right up there with Tom Clancy type stories. Enjoy!
October 27, 2018
Great movie
October 27, 2018
Decent little popcorn chewer that doesn't break any new ground.
October 27, 2018
A great, all American, action movie. Went big in every way. I want to buy the blu-ray disc and watch it again in my home theater. You will not be bored with this on.
October 27, 2018
A decent and entertaining movie .... I think I expected too much, as the trailer looked awesome .... I found this movie to be very predictable and the dialogue was pretty darn cheesy in many spots .... just not very well written. Again it was entertaining .... but not great ....
October 27, 2018
Best movie
October 24, 2018
Great camera work. Good choice of actors for main characters. Difficult to hear Linda Cardellini explain main plot line at front of film. I didn't realize that Russians used Mercedes Benz trucks! Don't they make their own trucks. Two sub captains were great.
August 17, 2018
HEY MOVIE FANS . THANKYOU TO SHOW ME A NICE GOOD ACTION MILITARY MOVIE PREVIEW HUNTER KILLER FOR ME PLEASE . AND I LIKE THIS MOVIE AT ALL TOO. AND I JUST GIVE THIS MOVIE AT 5 STARS AT ALL TOO. AND THANKYOU VERY MUCH.
April 11, 2018
It's so funny that the boat's name is the USS Toledo....my husband served on the real USS Toledo, and he was teaching at the Subschool in Pearl Harbor when Gerard Butler and other movie crew were learning about subs.....he will be so happy to hear this info Lololol